Keltie Ferris
18 Jan - 05 Apr 2014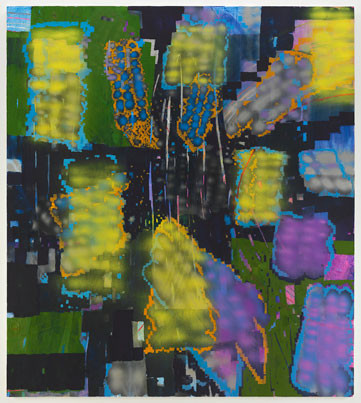 © Keltie Ferris
Doomsday Scenario, 2013
Oil, acrylic and oil pastel on canvas
90 by 80 inches
Collection of Dan Desmond and Uya Chuluunbaatar
KELTIE FERRIS
Doomsday Boogie
18 January – 5 April 2014

Keltie Ferris is a New York-based artist who, armed with a spray paint of vaporized oil pigments, has developed a fresh and entirely original abstract language. Doomsday Boogie includes several of Ferris's large-scale paintings, along with a series of thin vertical paintings—physical realizations of the zips that originated in Barnett Newman's abstract expressionist work. The larger paintings, with their pixelated backgrounds and neon, atmospheric foregrounds, evoke technological cityscapes. They have all the layered space and temporality of Tron, City of Night, and masterpieces of sci fi-noir. The paintings measure up to nine feet and juxtapose earthy blacks, greens, purples, and browns with vivid, chemical shots of gold, red, pink, acid green, and chartreuse. To achieve her desired effects, Ferris overlays hand painted geometric grounds with her signature, graffiti-like markings in spray paint. In select pieces she also outlines the fields of spray in abrupt, vertical strokes of color.

Keltie Ferris: Doomsday Boogie is organized by Jeffrey Uslip, curator-at-large for the Santa Monica Museum of Art.

About the artist:
Keltie Ferris was born in Kentucky in 1977 and lives and works in Brooklyn. She received her MFA in 2006 from Yale University in New Haven, CT and her BFA in 2004 from Nova Scotia College of Art and Design (NSCAD). Her solo show Maneaters was on view at the Kemper Museum, Kansas City, MO in 2009. In addition, her paintings have been included in group exhibitions at institutions around the country, including The Kitchen, New York; The Addison Gallery, Andover, MA; the Nerman Museum, Overland Park, KS; and the Indianapolis Museum of Art in Indiana; in addition to galleries in the U.S. and abroad. She is the recipient of both a Jacob Javits Fellowship and a Rema Hort Mann Foundation Grant.

About the curator:
Jeffrey Uslip was born in 1977 and lives and works in New York City. At SMMoA, he most recently organized Michael Queenland: Rudy's Ramp of Remainders; Agnes Denes: Body Prints, Philosophical Drawings, and Map Projections, 1969 – 1978; Samira Yamin: We Will Not Fail; and Joyce Pensato: I KILLED KENNY. Uslip has also organized exhibitions for PS1/MoMA, New York; Artists Space, New York; Columbia University's Graduate School of Arts and Sciences, California State University, Los Angeles; and LA><ART, Los Angeles. He has lectured at the Yale University School of Art, New Haven, and the Whitney Museum of American Art, New York, and is an online contributor to Artforum. Uslip is currently a PhD candidate at The Institute of Fine Arts, New York University.

This exhibition has been made possible by SMMoA's Ambassador Circle. Support has also been provided by the City of Santa Monica and the Santa Monica Arts Commission and the Los Angeles County Board of Supervisors through the Los Angeles County Arts Commission.