Martin Kersels
13 Sep - 13 Dec 2008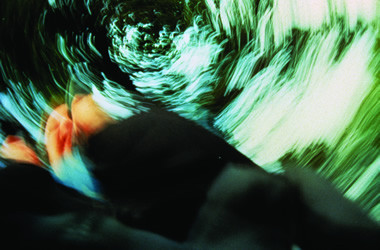 © Martin Kersels
Whirling Patty, 1999
Cibachrome
31 x 46 1/2"
Collection of Jonathan Dayton and Valerie Faris, Los Angeles
MARTIN KERSELS
"Heavyweight Champion"

September 13 - December 13, 2008

"I'm not a photographer. I'm an artist who uses photography when the idea dictates. And I think that's okay because I'm also a performance artist who makes objects, or I'm an object-maker who does performances. I think these labels are less important than the ability to go in the directions I'd like for each work."
—Martin Kersels in conversation with Ian Berry, Associate Director, The Frances Young Tang Teaching Museum and Art Gallery at Skidmore College

From September 13 to December 13, 2008, Santa Monica Museum of Art presents Martin Kersels: Heavyweight Champion, the first retrospective of this influential and pioneering Southern California artist. Spanning the years from 1994 to 2007, the exhibition includes thirty three multi-media artworks ranging from small sculptures, to large-scale photographs, to monumental installations.
Kersels has long been an aficionado of Buster Keaton. On first encounter, Kersels' artwork might seem to exude that deadpan slapstick style that balances the humorous with the wistfully awkward. On further study, this initial impression gives way to darker layers; the performances and works reveal what Kersels refers to as "wink-wink humor mixed with a tragic element." Early pieces, including the large-scale photographic series of Kersels falling, tripping, tossing people, and people smacking Kersels with assorted objects, finds the artist experimenting with the creative possibilities of his 6-foot, 6-inch, 350 lb. frame. But the trajectory of Kersels' career as illuminated in Heavyweight Champion clearly indicates that he is not a single-issue artist; he is not, in the words of Ian Berry "the body-issue guy." Particularly in his later work, the artist has gone on to explore themes of scale, time, space, sound, and gravity in more conceptual directions.
Highlights of Heavyweight Champion include the monumental installation Dionysian Stage (2004-2005), a 14-foot in diameter nest that spins like an enormous, natural disco ball, and incorporates all manner of homey, domestic debris in its woven willow branches. The work evolved from Kersels' interest in utilizing traditional craft in non-traditional ways, and from his study abroad in Sweden and Denmark with master craftspeople. Rickety (2007), the artist's latest work, is a sculpture that compresses and oppresses furniture and other oversized objects beneath a platform. This lower, slightly topsy-turvy world stands in sharp contrast to the clean openness of the top part of the installation. Unlike some of the other sculptures in the exhibition that are surrogates for Kersels' physical being, Rickety is about the experience of the trials and tribulations of navigating a large body through the world.
Heavyweight Champion is accompanied by a full-color catalog illuminating the scope of the artist's work. The publication includes an interview with Martin Kersels by Ian Berry, Associate Director at The Frances Young Tang Teaching Museum and Art Gallery at Skidmore College where the exhibition debuted.
A native of California, Martin Kersels attended the University of California at Los Angeles and studied with the artist Chris Burden. His multi-disciplinary practice focuses primarily on sculpture, performance, audio, and photography. In addition to his performance career, Kersels has had numerous solo shows, and has participated in many group exhibitions including Departures: 11 Artists at the Getty, Young Americans 2 at the Saatchi Collection, and the 1997 Whitney Biennial. His work is in the collections of the Museum of Contemporary Art, San Diego; Los Angeles County Museum of Art; Los Angeles Museum of Contemporary Art; Museum of Contemporary Art, Miami FL; Madison Museum of Contemporary Art, Madison, WI; Centre Georges Pompidou, Paris, France; Museu d'Art Contemporаni de Barcelona, Barcelona, Spain; and the Hammer Museum, Los Angeles. In 2008, Kersels received a Guggenheim Fellowship and a FOCAFellowship. He is a School of Art faculty member and co-director of the Program in Art at CalArts. Kersels lives and works in Los Angeles.
Martin Kersels: Heavyweight Champion was organized by Ian Berry, Malloy Curator of the Frances Young Tang Museum at Skidmore College, in collaboration with the artist. The project was made possible by support from Peter and Jill Kraus in honor of Suzanne Strauss Kraus.
In Los Angeles, Heavyweight Champion has been funded by the Audrey & Sydney Irmas Charitable Foundation; Pasadena Art Alliance; ACME., Los Angeles; California Institute of the Arts Dean's Interdisciplinary Fund; and the Los Angeles County Board of Supervisors through the Los Angeles County Arts Commission.