The Puppet Show
17 May - 09 Aug 2008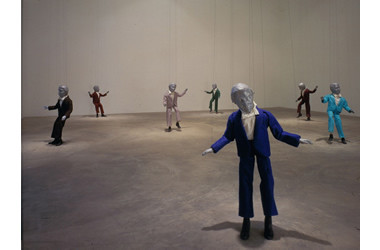 © Dennis Oppenheim
Theme for a Major Hit, Detail, 1974.
Motor driven marionettes, wood, cloth, felt, soundtrack, tape player, and external speakers. Soundtrack lyrics: "It ain't what you make, it's what makes you do it." Recorded at Angel Sound, New York in 1974 with: Jim Ballard, vocals; Roger Welch, drums; Bill Beckley, guitar/vocals; Christa Maiwald, vocals; Diego Cortez, electric organ; Connie Beckley, vocals; Dennis Oppenheim, lyrics. Dimensions variable. Courtesy the artist.
THE PUPPET SHOW
May 17 - August 9, 2008
Opening reception: Friday, May 16, 7 - 9 p.m.

International in scope, The Puppet Show features extraordinary works in different media by acclaimed contemporary artists that explore the imagery of puppets. The exhibition includes actual puppets—marionettes, shadow puppets, and hand puppets—as well as works that evoke topics associated with puppetry—manipulation, miniaturization, and control—while others introduce intriguing new perspectives of the puppet theme. All the works are movable and/or moving objects that function as alter-egos for the artist or as human surrogates—often with wicked good humor. The Puppet Show takes as a historic point of departure one of the first episodes of avant-garde art history, Alfred Jarry's 1896 French puppet show Ubu Roi. Beyond Ubu, puppets continue to appear as central images and metaphors within contemporary art and have recently taken hold of pop consciousness as well. The exhibition will include works by Nayland Blake, Louise Bourgeois, Anne Chu, Nathalie Djurberg, Pierre Huyghe, Christian Jankowski, Mike Kelley, William Kentridge, Cindy Loehr, Annette Messager, Matt Mullican, Paul McCarthy, Guy Ben-Ner, Bruce Nauman, Dennis Oppenheim, Philippe Parreno + Rirkrit Tiravanija, Laurie Simmons, Kiki Smith and Kara Walker. The Puppet Show is a traveling exhibition organized by the Institute of Contemporary Art, Philadelphia.