Xylor Jane
18 Jan - 05 Apr 2014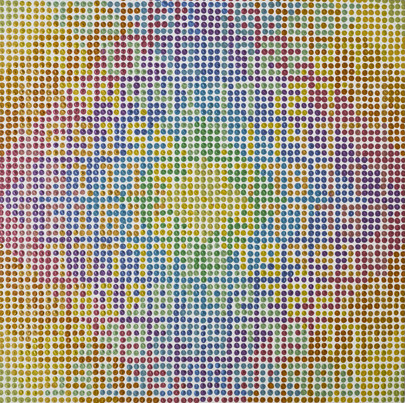 © Xylor Jane
2 Column List of 7 Prime Palindromes, 2008
Oil on panel
12 x 12 inches
Courtesy of the Artist and CANADA, LLC
XYLOR JANE
Sea Legs
18 January – 5 April 2014

Sea Legs includes a series of recent paintings by Xylor Jane, a a Massachusetts-based artist whose paintings are made up of regimented numerical patterns and spectrums of color. The paintings in Sea Legs look like vibrant abstractions but are in fact made up of thousands of dots, methodically applied according to complex numerical systems. Jane regularly uses palindromes and prime numbers in her paintings, along with the Fibonacci sequence—the golden ratio used by Mother Nature and financial analysts alike. She also employs the Julian date system, a calendaring sequence that has assigned a unique decimal to each day since January 1, 4713 BC. Through compulsive patterning, Jane subverts and queers logical systems as a means of ordering the universe. Her signature use of the ROYGBIV color scale riffs off of the gay pride flag, but insists on the inclusion of indigo—presenting a challenge to the commodification of LGBTQIO symbols and broader normative systems.

At its core, Xylor Jane's work is embedded in human experience. One recent painting lists the full moons of her life by Julian day number, and another is a hauntingly precise numerological translation of a near death experience. Rather than existing as industrialized abstractions, her paintings approach the spiritual and even the sublime. The Santa Monica Museum of Art is pleased to highlight her recent work and present her heavily-coded canvases in the context of Southern California's Silicon Beach.

Xylor Jane: Sea Legs is organized by Jeffrey Uslip, curator-at-large for the Santa Monica Museum of Art.

About the artist:
Xylor Jane was born in California in 1963 and lives and works in Greenfield, Massachusetts. She received her BFA from the San Francisco Art Institute in 1993. Her paintings have been included in group exhibitions at institutions and galleries around the world, including the Boston University Art Gallery; Galerie Rodolphe Janssen, Brussels; International Art Objects, Los Angeles; The Garage, Moscow; Deitch Projects, New York; and Yerba Buena Center for the Arts, San Francisco. She has had solo shows in Boston, Chicago, Los Angeles, San Francisco, New York, and Dublin.

About the curator:
Jeffrey Uslip was born in 1977 and lives and works in New York City. At SMMoA, he most recently organized Michael Queenland: Rudy's Ramp of Remainders; Agnes Denes: Body Prints, Philosophical Drawings, and Map Projections, 1969 – 1978; Samira Yamin: We Will Not Fail; and Joyce Pensato: I KILLED KENNY. Uslip has also organized exhibitions for PS1/MoMA, New York; Artists Space, New York; Columbia University's Graduate School of Arts and Sciences, California State University, Los Angeles; and LA><ART, Los Angeles. He has lectured at the Yale University School of Art, New Haven, and the Whitney Museum of American Art, New York, and is an online contributor to Artforum. Uslip is currently a PhD candidate at The Institute of Fine Arts, New York University.

This exhibition has been made possible by SMMoA's Ambassador Circle. Support has also been provided by the City of Santa Monica and the Santa Monica Arts Commission and the Los Angeles County Board of Supervisors through the Los Angeles County Arts Commission.