Love
15 Jan - 19 Feb 2010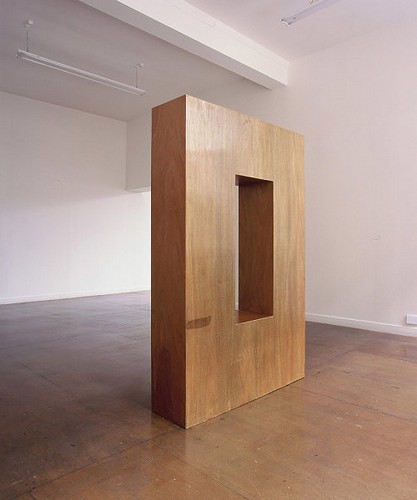 © Joanne Tatham & Tom O'Sullivan
This has reached the limit conditions of its own rhetoric, 2005
bees-waxed plywood
189 x 122 x 33cm
LOVE
15th January–19th February 2010
Preview Friday 15th January 7-9pm
Rita Donagh and Richard Hamilton, Gilbert and George, Joanne Tatham and Tom O'Sullivan
This exhibition celebrates artists working in partnership, from long term collaborators Gilbert and George, local duo Joanne Tatham and Tom O'Sullivan to Rita Donagh and Richard Hamilton - two independent artists whose marriage has forged a common concern over the years in their artistic subject matter. The exhibition's title is an ironic take on the idea of respect or 'love' in some way assisting in the formation of the work and a contradiction to the political subtext and criticality inherent in each of the artist's practice.
Rita Donagh is one of Britain's greatest living painters. In the 1960s and 70s her work was largely conceptual, with her Irish ancestry contributing to the subject of many works which focused on the Northern Ireland political situation. Over the years she has taught at many art schools including the University of Newcastle where she met Richard Hamilton, who she later married. Both Donagh and Hamilton's work have crossed over in their use of oil paint and collage to depict weighty political issues. Richard Hamilton is a groundbreaking artist whose life and influence seems impossible to summarise in a few short lines. In 1952 he founded the Independent Group at the Institute of Contemporary Arts in London together with Eduardo Paolozzi, Lawrence Alloway and several other architects. This group turned out to be decisive for the development of English Pop Art. At that time he taught at the Central School of Arts and Crafts in London and at the Royal College of Art. After a trip to New York in 1963 he began to combine elements of photography and painting in his pictures. During the 1980s he intensively studied the opportunities provided by digital media and their effect on image perception and fine arts. Both Hamilton and Donagh will exhibit works from their Northern Ireland conflict series.
Gilbert and George's entire body of work has been created in and focused on a particular area, London's East End, a microcosm of the world within walking distance of the flat they share. Their pictures capture a broad human experience, rendered in their distinct sloganistic style. They established their reputation with the 1969 performance, 'The Singing Sculpture'. This piece was presented all over the world but the limits it placed on restricted audience size sparked an interest in creating films and pictures that could extend the idea of the living sculpture without requiring their physical presence. This exhibition features two 1972 film works, 'A Portrait of the Artists as Young Men' and 'In the Bush'.
Joanne Tatham and Tom O'Sullivan have been working together since 1995, making enigmatic drawings, sculptures, performances and installations. They use recurring motifs and props to create a range of two and three-dimensional scenarios, offering a participatory position to the viewer and surrounding environment. For this exhibition they will exhibit two sculptures alongside four new drawings made for their 'Artists Taking the Lead' Olympic bid, titled 'An unsuccessful proposal for the 2012 Cultural Olympiad (An experience like an experience you just had)'.
With thanks to: Caroline Douglas and Arts Council Collection, Southbank Centre, London; Michael Bracewell; Rita Donagh and Richard Hamilton; Joanne Tatham and Tom O'Sullivan; Toby Webster and The Modern Institute and Malcolm Dickson at Streel Level.
Please contact the gallery for further information and images: tel + 44 (0) 141 553 2662 /
info@sorchadallas.com