Under The Same Sun
Art From Latin America Today
10 Jun - 11 Sep 2016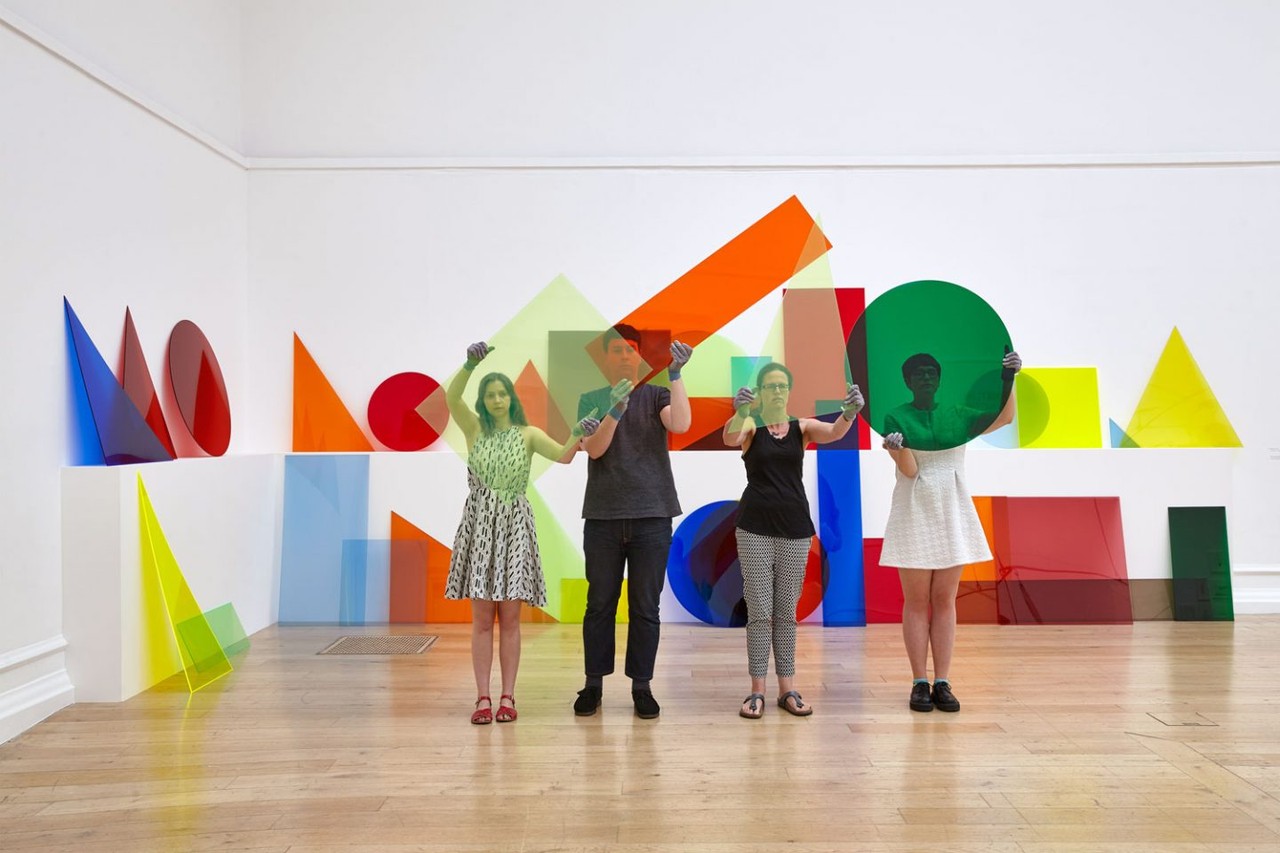 Installation view of Amalia Pica's, A ∩ B ∩ C, 2013 in Under the Same Sun: Art from Latin America Today © Amalia Pica. Photo: David Heald © Solomon R. Guggenheim Foundation
UNDER THE SAME SUN
Art From Latin America Today
10 June – 11 September 2016

Curated by Pablo León de la Barra

"Latin American artists triumph at the South London Gallery" – Anny Shaw, The Art Newspaper

"Whimsy and subversion make a real statement" – Ben Luke, Evening Standard

"... the South London Gallery is a sincere, rooted organisation which has, for many decades, not only put on groundbreaking and intelligent shows for those who come from all over London but, more importantly, offers an ingrained relationship of permanence, development and community to the local community." – Will Jennings, The Quietus

The South London Gallery (SLG) presents Under the Same Sun: Art from Latin America Today, the second exhibition of the Guggenheim UBS MAP Global Art Initiative.

Curated by Pablo León de la Barra, Guggenheim UBS MAP Curator, Latin America, in collaboration with the SLG, the exhibition highlights recently acquired works by more than 40 artists working with mediums and methods including installation, painting, performance, photography, sculpture, and video.

Participating artists include: Jennifer Allora & Guillermo Calzadilla, Carlos Amorales, Alexander Apóstol, Tania Bruguera, Luis Camnitzer, Mariana Castillo Deball, Alejandro Cesarco, Raimond Chaves & Gilda Mantilla, Adriano Costa, Eduardo Costa, Minerva Cuevas, Jonathas de Andrade, Wilson Díaz, Rafael Ferrer, Regina José Galindo, Mario García Torres, Tamar Guimarães, Federico Herrero, Alfredo Jaar, Claudia Joskowicz, Runo Lagomarsino, David Lamelas & Hildegarde Duane, Marta Minujín, Carlos Motta, Iván Navarro, Rivane Neuenschwander, Gabriel Orozco, Damián Ortega, Amalia Pica, Wilfredo Prieto, Paul Ramírez Jonas, Beatriz Santiago Muñoz, Gabriel Sierra, Javier Téllez, Erika Verzutti, Carla Zaccagnini.

With a focus on work made by artists born after 1968, in addition to several early pioneers who were active internationally in the 1960s and 70s, Under the Same Sun at the SLG examines a diversity of creative responses by artists to complex, shared realities that have been influenced by colonial and modern histories, repressive governments, economic crises, and social inequality, as well as by concurrent periods of regional economic wealth, development, and progress.

The exhibition will be the first to be housed in both the SLG's main site and the ground floor of its new building, a neighbouring former Fire Station currently under restoration.

The SLG is the final venue on the exhibition's international tour, following the Guggenheim Museum, New York in June 2014 and the Museo Jumex, Mexico City in November 2015.

CURATOR
Pablo León de la Barra, Guggenheim UBS MAP Curator, Latin America

Pablo León de la Barra was selected by a committee of five esteemed experts in Latin American art as the second curator for the Guggenheim UBS MAP Global Art Initiative in fall 2013. León de la Barra is currently in a two-year residency at the Guggenheim and organized the initiative's second exhibition Under the Same Sun: Art from Latin America Today. First presented at the Guggenheim Museum from June 13th October 1, 2014, Under the Same Sun travelled to Museo Jumex in Mexico City in fall 2015.

Born in Mexico City in 1972, LeÃ3n de la Barra earned his PhD in histories and theories from the Architectural Association, London. In November 2014, he was named the director of the Casa França Brasil in Rio de Janeiro and will hold that post concurrently through the end of his residency at the Guggenheim.

In addition to writing for numerous publications around the world, León de la Barra edits his own blog, Centre for the Aesthetic Revolution, and documents his research trips for the Guggenheim UBS MAP Global Art Initiative in a series of photo essays titled Dispatches.

León de la Barra has curated or cocurated more than a dozen exhibitions in the past decade, at institutions including the David Roberts Art Foundation and the Architecture Foundation, London; Centre de Art Contemporaine, Geneva, and Kunsthalle Zürich; apexart and Art in General, New York; Casa Luis Barragán, Casa del Lago, and Museo Tamayo, Mexico City; Museo La Ene, Buenos Aires; Museu Carmen Miranda, Rio de Janeiro; Beta Local, San Juan; Centro Cultural de España, Guatemala City; Casa Encendida, Madrid, Spain; and Proyecto AMIL, Lima. In London, he was a founding member of 24-7, a collective of artists and curators (2002–05); artistic director of Blow de la Barra Gallery, London (2005–08); and founder and cocurator of the community art space White Cubicle Gallery, London (2005–12). He is also the founder of the Novo Museo Tropical, and was the curator of the first Bienal Tropical in San Juan (2011). León de la Barra serves on the advisory committees of the Cisneros Fontanals Art Foundation, Miami, and the Fundación Luis Barragán, Mexico.

León de la Barra has lectured widely and participated in many international symposiums including the Serpentine Gallery Marathon, London (2008, 2010, 2011); Cisneros Seminar, Caracas (2012); Temas Centrales, Teorética, Costa Rica (2012); Rethinking Latin American Art Symposium, MOLA/LA, MALI/Lima (2011); Video Brasil, Sao Paulo (2011); and The Curators, Witte de With, Rotterdam (2009). In 2012, León de la Barra received the first Colección Patricia Phelps de Cisneros Travel Award for Central America and the Caribbean in honor of Virginia Pérez-Ratton.