Uri Aran
11 Dec 2013 - 23 Feb 2014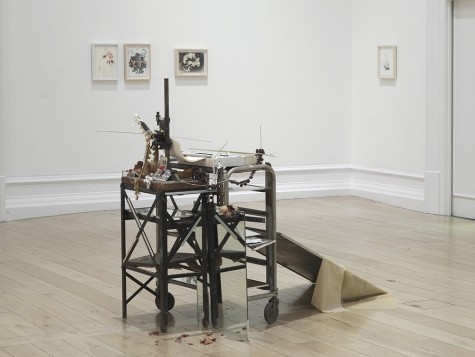 © Uri Aran
installation view of Five Minutes Before at the South London Gallery, 2013. Photo: Andy Keate
URI ARAN
Five Minutes Before
11 December 2013 - 23 February 2014

"There's a lovely improvised quality to this show, a sense of an artist at play" Evening Standard

Having spent the summer months of 2013 living in the SLG's artists' flat as the Outset Artist-in-Residence, Uri Aran presents his first major UK solo exhibition.

Born in 1977 in Jerusalem and currently based in New York, Aran works in a variety of media, including sculpture, drawing and video. His work has recently featured in the international exhibition The Encyclopedic Palace, as part of the 55th Venice Biennale, and was the subject of a solo exhibition at Kunsthalle Zürich. Aran has also been selected for the forthcoming Whitney Biennial 2014 in New York.

Supported by Outset Contemporary Art Fund and The Henry Moore Foundation.
With thanks to mother's tankstation, Dublin, Gavin Brown's enterprise, New York, and Sadie Coles HQ, London.