Craig Kauffman
29 Apr - 25 Jun 2016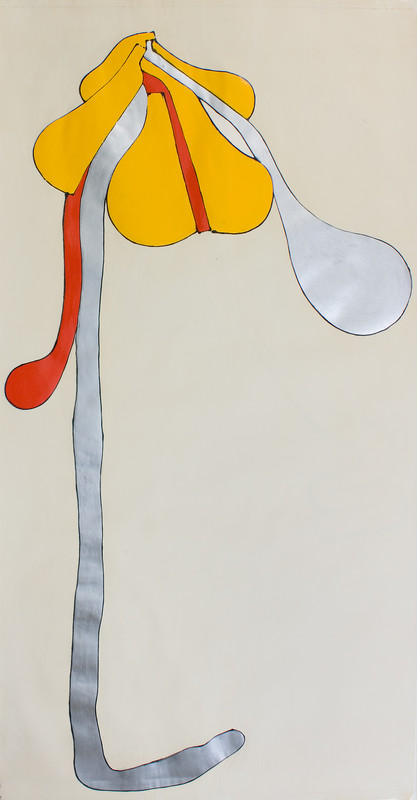 Craig Kauffman
Untitled, 1962
acrylic and mixed media on paper
208,3 x 106,7 cm
82 x 42 inches
Copyright Estate of Craig Kauffman
Courtesy Sprüth Magers
Craig Kauffman
Works from 1962 - 1964 in dialogue with Francis Picabia and Marcel Duchamp
Sprüth Magers, Berlin
30/04/2016 - 25/06/2016
In Sprüth Magers inaugural exhibition with the Craig Kauffman estate, the gallery will present a
selection of early works on paper and plastic pieces from the 1960s that examine diagrammatic and
fragmented abstract female forms as a precursor to his later three-dimensional wallworks. Following a
period of travel in Europe from 1959-61, Kauffman returned to his native Los Angeles to commence
work on several series that looked to his personal interests in the historical avant-garde, namely a
reworking of the nude as machine which took place some decades earlier by Marcel Duchamp and
Francis Picabia. Their shared interests in new materials and the mechano-erotic human form inspired
Kauffman to react against the abstract painting of the 1950s. A selection of their works in the
exhibition investigates this dialogue.
In a series of collages and drawings dating from 1961-63, sensual and mechanical pendulous forms
are derived from lingerie catalogues – both as source material and the ground onto which he works.
Borrowing shapes from these commercial magazines, the increasingly abstracted designs incorporate
underwear bursting at the seams, perilous high heels and isolated sections of an erotically charged
female form. These often appear as technical appendages, creating a diagrammatic bionic form.
Trailing tentacles and teats resemble limp hosiery or loosely drawn anatomical diagrams, reducing the
human body to its constituent parts.
These forms underwent subsequent degrees of abstraction and his plastic works continued in a
similar vein, experimenting with acrylic lacquer applied to the back of clear plastic. This technique
ensured the front remained sleek and flat, a lustrous surface for fetishized fragments of the human
form. The use of colour incorporates both saccharine primary colours, seemingly fresh out of the can,
and hues more akin to skin tones. By displaying these larger panels in shadow box frames, ambient
light is captured behind the intensely coloured translucent plastic, making them seemingly float and
cast shadows on the white backing. Kauffman also discovered he could spray rather than brush the
lacquer on. This execution demanded clear planning and precision as they could not typically be
reworked. His first experiments in vacuum forming then took place in 1964, making use of a
commercial process that was still in its infancy, to add literal depth to some of his bulbous twodimensional
forms.
The dialogue with Marcel Duchamp is clear in these works, particularly in his experiments with
painting on transparent surfaces, often with similar mechanical forms. Nine Malic Moulds (1914/15), a
small study for a section of The Bride Stripped Bare by her Bachelors, Even (1915-23), presents the
bachelors from the latter work as a cluster of bulbous machine parts, as if a set of plugs or gears for a
greater machine. Similarly, Nude Descending A Staircase (1937) dramatically represents the body in
motion with the tessellated planes appearing like polished pistons. These reproductions circulated in his Boîte-en-valise (1935-41), a suitcase containing miniatures of sixty-eight of the artist's works.
Presented as originally printed in the journal 291, published by Alfred Stieglitz, Francis Picabia's
Portrait of a Young American Woman in a State of Nudity (1915) strips down the tradition of the
female nude by presenting only a linear diagram of a spark plug. These erotically charged 'Machine
Drawings' resemble both circuit diagrams and the electrical fixings they represent. The form is
functional yet phallic, and simultaneously mimics the contours of a woman's body.
The influence of Duchamp and Picabia upon Kauffman is evident, particularly during the early stage of
his career as he navigated the transition from figuration to abstraction. Yet rather than follow them
closely, he created his own visual vocabulary to describe the mechano-erotic human form across
various media.
Craig Kauffman was born in 1932 in Los Angeles and died in 2010. Selected solo exhibitions include
Frank Lloyd Gallery (2015, 2014, 2013, 2012, 2011, 2010, 2008), the Whitney Museum of American
Art, New York (1987), Pace Gallery, New York (1972, 1970, 1969, 1967), and the Ferus Gallery, Los
Angeles (1967, 1965, 1963). A comprehensive retrospective organised by the La Jolla Museum of
Contemporary Art, San Diego, toured through 1981-82. Selected group exhibitions include Centre
Pompidou (2016, 2006), the Los Angeles County Museum of Art (2015, 2007, 2000, 1981, 1973), and
the Museum of Contemporary Art, Los Angeles (2010, 2004, 1991).
The Berlin gallery is concurrently presenting solo exhibitions by Thea Djordjadze and
Alexandre Singh.