George Condo
27 Apr - 22 Jun 2013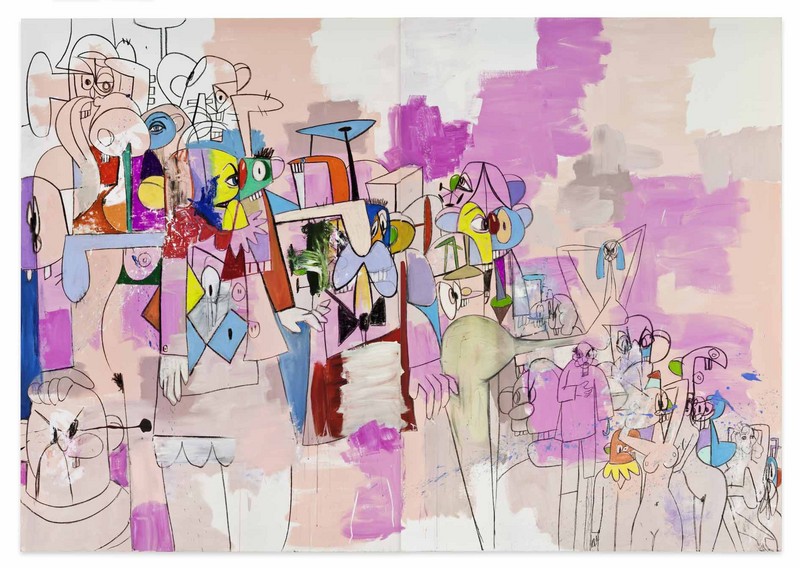 Captions:
George Condo
Prescription for the Clinically Normal, 2012
Acrylic, charcoal & pastel on linen
228,6 x 330,2 cm
(zweiteilig, je 228,6 x 165,1 cm) (unframed)
90 x 130 inches
(two panels, each 90 x 65 inches) (unframed)
Copyright George Condo / ARS (Artists Rights Society), New
York, 2013
Courtesy Sprüth Magers Berlin London

George Condo
Paintings & Sculpture
27/04 - 22/06/2013
Monika Sprüth and Philomene Magers are pleased to present the third solo exhibition of George Condo in
Berlin. The New York artist is showing a selection of the Drawing Paintings, as well as some bronze sculptures
created last year.
Condo has been connected with the gallery for almost thirty years now. In February 1984, when he lived for a
short time in Cologne, the Monika Sprüth Galerie hosted one of the first solo exhibitions of the artist's career.
Today Condo is considered to be one of the pioneers of the international revival of figurative painting. With a
sensibility schooled in Pop Art, he single-handedly reintroduced the pictorial language of the Old Masters into
the discussion concerning contemporary art. With great gusto and virtuosity, he applied the classic primers,
glazes, and drawing techniques of art history to inferior, often absurd subjects. In a project of painterly
investigation that was one of its kind, he turned his attention to the religious light of the Baroque and to the
iridescent, transitional tones of the Florentine cangiante, to Rembrandt and Frans Hals, to Tiepolo, Caravaggio,
and Rubens, to Raphael, Velázquez, Arcimboldo, and Fragonard. What imparts unity to his works is their
dystopian, simultaneously empathetic view of people at the end of the twentieth and beginning of the twentyfirst
centuries, his sense for the absurdity of his existence, and his feeling of dehumanization.
Born in 1957 in New Hampshire, the artist had already at the age of nineteen filled two- to three-hundred
sketchbooks, and had painted a large number of completed pictures. Before moving to Cologne, he lived for a
short time in Boston, New York, and Los Angeles, abandoned a course of studies in art history, played in a
Punk band, and worked in one of Andy Warhol's printshops. He was a close friend not only of Basquiat and
Haring, but also of William Burroughs and Allen Ginsberg. In 1985 he moved to Paris where, among other
things with the help of a certified copyist of the Louvre, he polished his painting techniques in imitation of the
Old Masters. Ten years later, he returned to New York, where he still lives today.
The large-format Drawing Paintings shown in the exhibition are the most recent results of his ongoing arthistorical
investigations. They also constitute a continuation of his Expanded Canvases from the mid-nineteeneighties.
In these new works, Condo does not focus on the visual vocabulary of the Old Masters, but instead on
Abstraction, on the lines of de Kooning, the forms and colors of Matisse, Tanguy and Klee, the all-over of
Pollock, and – as is unmistakably evident in the central figure of the canvas entitled Figures and Masks – again
and again on Picasso. With charcoal, pastel, and acrylic, Condo designs improvisations of human
consciousness which not only freshly illuminate the territory between the abstract and the figurative, but also
eliminate the difference between drawing and painting. The Drawing Paintings are meditations on the freedom
of color and line and on the fact that beauty and horror frequently go hand in hand.
Abstraction is not only a further visual language which Condo appropriates. What is much more the case is that
in the Drawing Paintings, abstraction seems to issue a challenge to the figurative elements of his oeuvre and to
block their impulse to emerge upon the canvas. In such works as Compounded Figures, African Nights, and
Day and Night, Condoesque grimaces, clown faces, individual eyes, breasts, and arms are woven into a dense
atmosphere of charcoal lines and colored sections. Again and again, bow-tied butlers and nude, lecherously
gazing figures make their fragmentary entrances into this play of color and lines – almost as if one were looking
at a primal soup which already contains in nuce the entirety of Condo's oeuvre. Downtown New York conveys
the impression as if a human mass of art-historical hybrids were approaching the viewer at a street intersection.
With Blue Nudes, Prescription for the Clinically Normal, and Comic Strip, tableaus of persons with cheerful
deformation have been created. In a certain sense, the Drawing Paintings depict psychological landscapes,
Condo's mental states, each compressed onto an individual canvas.
Over the course of his career, Condo has turned his attention to a variety of subjects, styles, and media. The
five bronze sculptures on display in the exhibition present a further block of works to which he returns again
and again. Apparent in Constructed Head, The Philosopher, and Totemic Personage is the procedure of
psychological Cubism which he uses, not by combining fragments which come from different perspectives as in
Cubism, but by joining fragments of various emotional and psychological states. The Sea Lion and Liquor Store
Attendant refer to the manic-depressive melodrama between repulsion and seduction which is familiar from
Condo's grotesque portraits. Today the conditio humana seems to the artist to be a conditio idiotica; his works
are always part of a political statement. All his figures evince features of ecstasy and madness; they have
become caricatures of themselves and laugh in the face of the desolateness of the world. These are damaged
beings who nonetheless enjoy themselves thoroughly.
George Condo's oeuvre does not derive inspiration from refined, art-historical masochism; his pictures are not
quotations, pastiches, or appropriations. One must instead conceive of Condo as a collector of the languages
of artistic representation, of languages whose essence he filters out through painting and reinterprets for our
era. To this purpose, he systematically destroys familiar pictorial structures and demolishes the stable
significatory field of the image. Condo is always concerned as well with the pleasure of painting – and with the
question of how it can still be experienced today.
George Condo (born 1957, Concord, USA) lives and works in New York. His extensive retrospective Mental
States opended at the New Museum, New York (2010), and subsequently travelled to Boijmans van
Beuningen, Rotterdam, the Hayward Gallery, London and the Schirn Kunsthalle, Frankfurt (2011-2012). Further
solo exhibitions include ones at Le Musée Maillol, Paris (2009), One Hundred Women. Retrospektive, at the
Museum der Moderne, Salzburg, which travelled to the Kunsthalle, Bielefeld (both 2005), New York Expression
at the Bergen Art Museum (2002), at Le Palais des Congrès, Paris (1995), at the Contemporary Arts Museum,
Houston (1994, 1995), and Le Visage Dans L'Art Contemporain at Le Musée du Luxembourg, Paris, which
travelled to Le Musée des Jacobins, Toulouse (1990). Major group shows include, among others, Looking back
for the Future at the Kunsthalle Zurich (2012), the Whitney Museum of American Art, New York (2010, 1995,
1991, 1989, 1988, 1987), the Kunstmuseum Luzern (2008), the Deste Foundation for Contemporary Art,
Athens (2007), the Kunstmuseum Bern (2006/2007), the MoMA, New York (1994, 1992), and US Paintings in
the 80s at The Irish Museum of Modern Art, Dublin (1994).