Walter Dahn
30 Jan - 02 Apr 2015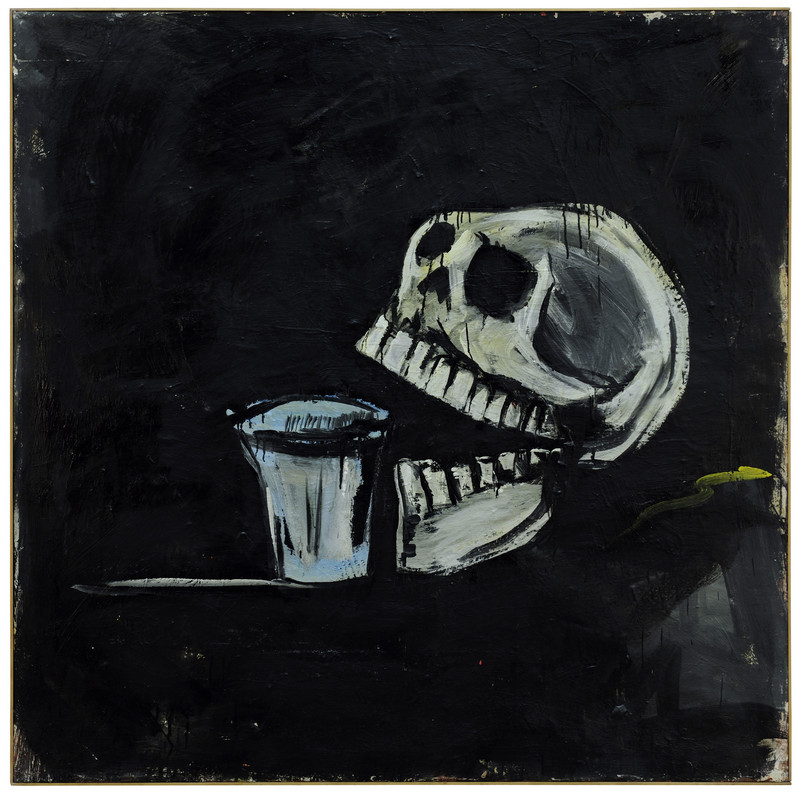 Walter Dahn
Immer Trinken, 1982
Acrylic on canvas
150 x 150 cm
59 x 59 inches
Copyright Walter Dahn
Courtesy Sprüth Magers
Walter Dahn 1980 - 83 / 2014: 2 Spaces
30/01/2015 - 02/04/2015
The majority of artistic careers are stories of ruptures and interruptions. Frequently it is only in hindsight that
continuity becomes visible. "Walter Dahn 1980 - 83 / 2014: 2 Spaces", the new exhibition at Sprüth Magers
Berlin, focuses on works from two periods by the influential Cologne artist Walter Dahn, which may initially
appear disparate. The gallery's main space is hung with Dahn's early painterly work, which emerged from the
milieu of the "Mühlheimer Freiheit" artists' group. Those paintings, which were also shown at documenta 7 in
1982, forged perceptions of a generation of artists who today are often identified as the "Neue Wilde". In
contrast Dahn's screen prints from 2014 are on display on the upper floor of the gallery. In an almost tender
manner, they engage the visual spaces of our everyday perceptions and our inner phantoms. Only under closer
examination does it become clear that in many respects these are actually a continuation of the artist's early
works.
Both Dahn's large and small-scale paintings from 1980 to 1983 are united in their singular historical
examination of painting, all of them appearing to have been done rapidly, even carelessly. The acrylic and
emulsion paints run, composition and brushwork appear impulsive and negligently painted figurative elements
are frequently mere outlines perfunctorily delineated on the pictorial surface. Skulls morph into peace symbols
or stare at a drink, bizarre body parts hold cigarettes, and Beuysian hats on sticks are arrayed against an
abyss. These images are paintings that embrace content, which is expressed above all by means of jokes and
erratic slogans. Painting that proclaims the figurative, but which repeatedly lands in the grotesque and semiobscene.
Painting that infuses its pictorial space with emblems of Punk's attitudes to life, whilst simultaneously
poking fun at them. Dahn's paintings are apparently against everything. They are evidence of an extraordinary
artistic instinct, one which only finds itself when working against itself. They are paintings which are painting
despite themselves.
Nevertheless and paradoxically these works possess an impressive painterly quality. It is not only the influence
of his teacher Joseph Beuys' fundamental painterly doubts that is recognisable in them, but also the influence
of the painterly virtuosity of other such Beuys students as Jörg Immendorff. Dahn's early paintings appear to be
the work of a sophisticated painter who is attempting to resist being just that, employing all the means at his
disposal. They are evidence of an ongoing examination of painting's questionable position within a late
capitalist art system that tends to exploit painting as a decorative and speculative object. They appear to
incessantly ask what and why one should paint, whether there is any real reason for it. They repeatedly attempt
to clarify the significance of painting by painterly means.
Dahn succeeded, in his paintings, in laying one of the principal cornerstones of the "Bad Painting" movement,
exuberantly deconstructing the numerous ideological premises and norms prevailing in the art world of the
Seventies. Together with the Mülheimer Freiheit artists, the Italian Transavantgarde around Francesco
Clemente and American Neo-Expressionism around Julian Schnabel, he demonstrated a means of proceeding
in the wake of Fluxus, Minimal Art, Arte Povera and Conceptual Art. His approach opened an art historical door
that nobody knew existed. A door which, shortly thereafter, artists such as Martin Kippenberger and Albert Oehlen would also go through.
The notion that art is nothing less than a model for freedom, is again apparent in Walter Dahn's screen prints
from 2014, for which he uses silk and emulsion paint. The found imagery, textual fragments and slogans which
these works are based on, often appear vaguely familiar to the viewer. A photograph of an early ethnological
expedition to Australian Aborigines is combined with an album cover for the Scottish indie band Primal Scream,
the unequivocal slogan "Punk is the sound of my soul" with a photo of a follower of the Indian Naga cult proudly
riding naked on a horse, and Oscar Wilde's well-known bon mot "We are all in the gutter, but some of us are
looking at the stars" with a photograph of one of the first woman surfers in America. Dahn's life-long interest in
music, which was already an important point of reference in his early works, becomes increasingly
foregrounded in the most recent output. The name of the band Lonesome Savages is combined with a "shoe
tossing" image, an allusion to street art and hip hop culture. The work "Three records" melds iconic elements
from three famous album covers by The Smiths, the Sex Pistols and The National.
In the three decades between the two groups of work Dahn not only experimented with such artistic media as
film and photography, but also ultimately abandoned painting, which he had challenged for such a long time.
Even if it never came to a rupture in his artistic project, a break with the medium appeared inevitable. The
turning away from painting occurred gradually. For a long time Dahn's screen prints looked like painting, the
screen painted with quasi-painterly gestures. Later imagery, painted with the assistance of an overhead
projector, imitated almost exactly the look of screen-printing. For Dahn the current screen prints are also
nothing less than the logical continuation of his painting, a perpetuation, which has nonetheless been achieved
by non-painterly means. These new works too are largely unique pieces. The prints are sustained by their
colouring, their lineal melody, the balance of their painterly surfaces, their subtle humour and dense content.
They are emanations of a life lived. Pictorial emanations, calmly informed by observations of the beauty that we
chance upon in the course of our lives, which will subsequently haunt our minds like an echo.
Concurrently to the exhibition Walter Dahn is showing a selection of music, literature and films that have
influenced him and continue to accompany his artistic activities, at Image Movement.
Walter Dahn (*1954, St. Tönis) lives and works in Cologne. His work has been shown in numerous solo
exhibition, including Rheinisches Landesmuseum Bonn (1985), Van Abbemuseum, Eindhoven; Museum für
Gegenwartskunst (1986 and 1989) and Kunsthalle Basel; Museum Folkwang, Essen; Kaiser Wilhelm Museum,
Krefeld; Kunstmuseum Hannover (all 1986); Kunsthalle zu Kiel (1994) and Stedelijk Museum, Amsterdam
(1997). Additionally Dahn has participated in numerous group exhibitions, including Groninger Museum (1981),
Martin-Gropius-Bau, Berlin (1982 and 2009), MoMA – Museum of Modern Art, New York (1984), Kunstmuseum
Düsseldorf, Schirn Kunsthalle Frankfurt and Solomon R. Guggenheim Museum, New York (all 1989), Museum
für Moderne Kunst, Frankfurt (1994, 2000 and 2011), Whitney Museum of American Art, New York (1996),
ZKM – Museum für Kunst und Medientechnologie, Karlsruhe (2003 and 2005), Museum für Gegenwartskunst,
Basel (2006), Galerie für Zeitgenössische Kunst, Leipzig (2007), Museum Boijmans Van Beuningen, Rotterdam
(2012), Kunsthalle Nürnberg (2013) and Marta Herford (2014). Dahn's works were exhibited at documenta 7 in
Kassel (1982) and at the Biennale of Sydney (1992).
For more information and press enquiries, please contact Silvia Baltschun (
sb@spruethmagers.com
).
Exhibition Opening: 29.01.2015, 6 – 9 pm. Opening Times of the Gallery: Tue – Sat, 11 am – 6 pm