"Working Papers: Donald Judd Drawings 1963 - 93" curated by Peter Ballantine
15 Mar - 12 Apr 2014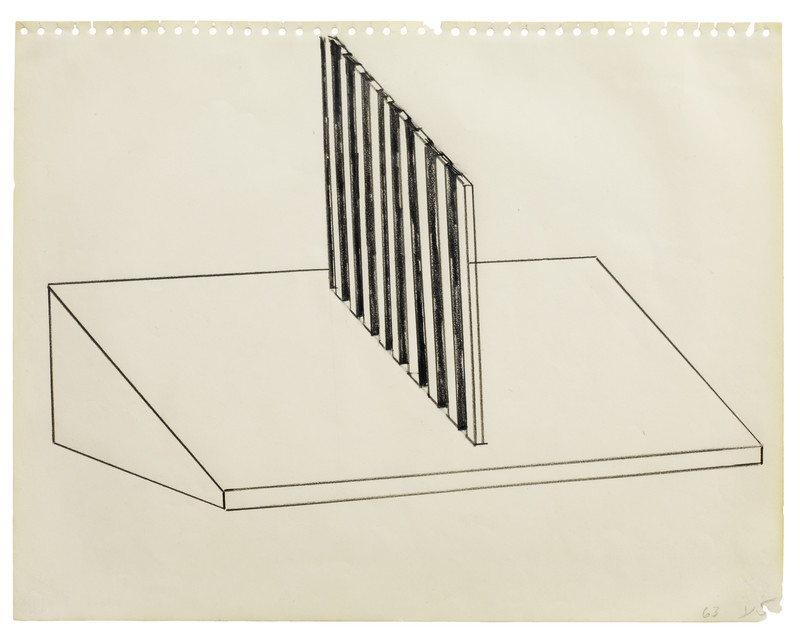 Donald Judd
Untitled , 1963
Pencil on white drawing pad paper
27,9 x 35,6 cm
11 x 14 inches
50,2 x 57,2 x 2,7 cm (framed)
19 3/4 x 22 1/2 x 1 1/16 inches (framed)
Working Papers:
Donald Judd Drawings, 1963 – 93
Curated by Peter Ballantine
15/03 – 12/04/2014
Monika Sprüth and Philomene Magers are pleased to announce the exhibition of 35 drawings by
Donald Judd (1928-94), covering nearly the entire period he made three-dimensional works – after
1964 using an increasingly radical type of delegated fabrication. The show is curated by Peter
Ballantine, who since 1969 has specialised in almost all aspects of the artist's work. The drawings
were first shown in Sprüth Magers' London gallery in 2012, most for the first time ever.
All 35 of the drawings on display have some connection to Judd's objects. In the earliest ones he is
still working out (or rejecting) sculptural ideas he would make himself. Later drawings are Judd's
part of the fabrication process, a script or score-like relationship to the work's subsequent
'performance' by others – simultaneously the original of the work and not comparable to the real
thing at all. For context (and comparison), the exhibition includes 48 previously unavailable
fabricator's shop drawings and related correspondence.
The largest (and most formal) drawings in the show were made after the actual works the drawings
document had already been completed, as a kind of guarded-but-quietly-charged 'portraiture'.
Several elements are more 'available' in Judd's drawings than in any of his other works. There is the
rare opportunity to see his 'hand' and signature, both otherwise deliberately absent from the
objects, for reasons vital to maintaining the hard-fought position he had achieved against symbolic
expression. There is also a privileged view into the delicate navigation Judd makes between
depiction and anti-depiction – the subtle and not so subtle ways he sabotages pictorial
representation while communicating enough (usually pictorial) information to make (or in other
cases to record) the object.
In connection with the exhibition in 2012, a catalogue with colour illustrations and a short essay by
Peter Ballantine was published by Sprüth Magers Berlin London.
Sprüth Magers Berlin is concurrently presenting the solo exhibitions Knick-Falte in der
Schädeldecke by John Bock and Bad Director's Chair by John Waters.