Marcel Van Eeden
24 Jun - 13 Aug 2011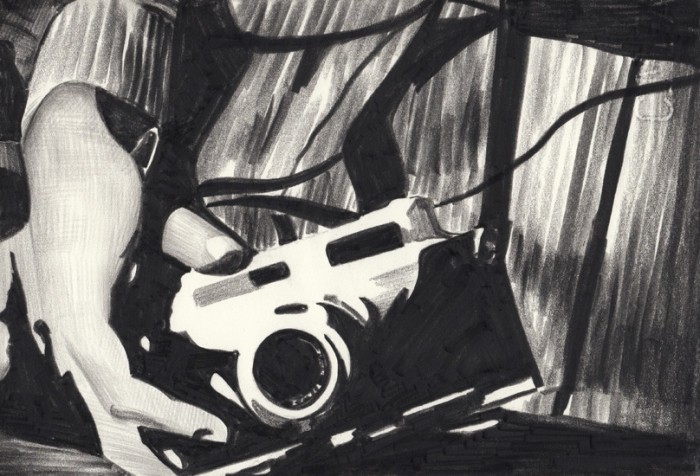 © Marcel Van Eeden
Untitled (from the series 'November 22, 1948'), 2011
Nero pencil on hand-made paper
Series of 38 drawings and 2 sculptures: 33 pieces: 19 x 28 cm, 5 pieces: 28 X 38 cm, 2 Sculptures: 20 x 37,5 x 31 and 24,5 x 25 x 7 cm
MARCEL VAN EEDEN
November 22, 1948
24 June - 13 August, 2011

Sprüth Magers London is delighted to introduce the work of Dutch artist Marcel van Eeden with the exhibition 'November 22, 1948'. For this latest installment of his work van Eeden has created a new series of drawings that reveal the artist's ongoing exploration of the concept of narration through the lives of a range of semi-fictional characters and their global exploits.

Since 1993, van Eeden, a graduate of The Royal Academy of Art, The Hague, has almost exclusively worked in 'nero' pencil to articulate a series of events that are part of a continuous yet inherently unstable narrative in constant flux. The resultant predominantly monochromatic images are stylistically reminiscent of 'film noir', and the accompanying text within the drawings crosses into the territory of the graphic novel. Van Eeden works to a series of self imposed rules: the paper he works on has been hand-cut to specific dimensions; he fills the picture diagonally starting from the upper-left-hand corner; and he has worked relentlessly to the rhythm of at least one drawing per day since 1993. However, the most crucial and revealing example of this regulatory approach is the conceptual decision to refer only to found images and textual sources that predate the artist's birth date on November 22, 1965. Van Eeden is fascinated by this notion of absence, of 'nonbeing', as espoused in the philosophy of Arthur Schopenhauer. For van Eeden, the time before his birth is equivalent to the time after his death: 'When you were not yet around, it did not affect anyone, and when you will no longer be there, everything will, in fact, be the same.'

Around November 22, 1948 the lives of three key characters, who have sporadically inhabited van Eeden's shadowy image realm since 2004, intersect and diverge once more. Karl M. Wiegand, whose colourful and varied life has seen him become a championship boxer, mountain climber and husband to Elizabeth Taylor, calls Oswald Sollmann, the globetrotting archaeologist-cum-assassin and Matheus Boryna, artist, art expert, and psychiatrist, to a meeting in Vienna as a result of Wiegand's obsessive quest for the elusive works of the German Renaissance painter Matthias Grünewald. Shortly after, Sollmann heads to the Seychelles, where murder is afoot. Tropical climes are hinted at by the fronds of a palm tree, violence rears its head in the form of a cache of weapons, a ship explodes out at sea, a house burns in the distance, a man is hit by a tram in Zurich, a woman screams and in the same drawing suggestively scarlet fingernails clutch a perfume bottle. This series of dissonant visual and textual cues encapsulates the disjointed experience of witnessing van Eeden's drawing sequences, where nothing is quite what it seems. We are given characters to follow but as quickly as they arrive, they disappear again, to resurface at an earlier or later date in an unexpected location. The viewer is thwarted time and time again by van Eeden's casual lacunae. Recurring motifs throughout van Eeden's works are equally slippery. Buildings, trams, trains, boats, cars, fashions and the people that inhabit these structures or concepts, can clearly be traced to the 20th century but to no specific situation. There are no landmarks, no public figures as such, nothing too recognizable. Rather his work is loosely hewn together out of the residue of life, snippets of text and images from forgotten or ignored situations.

Van Eeden's refusal to adhere to a linear chronological narrative structure, to use sources that represent a recognizable connection with a specific time, place or person, subscribes to the notion of History as fragmentary and fluid as opposed to an absolute and static view of the past. For van Eeden, History - and the process of narration - is fundamentally unstable and incoherent by definition, mirroring the way in which the human mind sorts and accesses the past through memory. The amalgamation of fact and fiction is a further reproach to History as it is made, defined and disseminated, a reproach van Eeden shares with the writer W.G. Sebald, whose work is an acknowledged influence on the artist. Van Eeden, like Sebald, demonstrates that a creative intervention into Historical 'fact' is necessary to allow us to successfully begin to question and re-think notions of authority and authenticity that so often dominate the retelling of the past.

Marcel van Eeden was born in The Hague in 1965. In 2006 he moved to Berlin and then to Zurich where he has lived and worked since 2008. His work has been exhibited widely internationally. Solo shows include 'Marcel van Eeden, Retrograde, Drawings 1993-2003' at GEM, Museum voor Actuele Kunst, The Hague, The Netherlands and Centro Galego de Arte Contemporánea, Santiago de Compostela, Spain (2003); 'Marcel van Eeden' at Museum Franz Gertsch, Burgdorf, Switzerland (2004); 'Celia' at Kunstverein Hannover, Germany and Museum Dhondt-Dhaenens, Deurle, Belgium (2006); 'The Archeologist, The Travels of Oswald Sollmann' at Kunsthalle Tübingen, Germany and Draíocht Arts Centre, Dublin, Ireland (2007); 'Witness for the Prosecution' at Hamburger Kunsthalle, Germany (2009) and 'The Cornelia Maersk' at Nederlands Fotomuseum (2010). Selected group shows include: 'K.M.Wiegand, Life and Work' at 4th Berlin Biennial for Contemporary Art, Berlin, Germany (2006).

Current and upcoming exhibitions include the group show: 'Zwischen Film und Kunst - Storyboards von Hitchcock bis Spielberg' until July 17, 2011 at Kunsthalle Emden, Germany, and the solo show 'Marcel van Eeden: Schritte ins Reich der Kunst' at Institut Mathildenhöhe, Darmstatt, from November 13 – February 19, 2012. This exhibition previously travelled to Haus am Waldsee, Berlin (November 25 2010 – January 30, 2011) and Kunstmuseum St. Gallen (February 19 – May 8, 2011).