Gardar Eide Einarsson / Marius Engh / Matias Faldbakken
08 Jan - 06 Feb 2010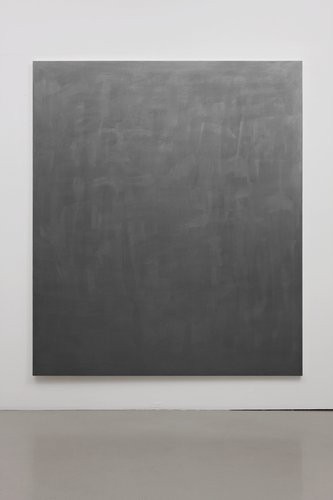 © Gardar Eide Einarsson
Stainless Steel (Fine) II, 2009
Acrylic paint on canvas /wooden stretcher
183 x 220 x 4 cm / unframed
GARDAR EIDE EINARSSON / MARIUS ENGH / MATIAS FALDBAKKEN
"I like the work, but my wife is still concern. Please keep me inform about new works"
08.01.-06.02.2010 / Preview: 08.01.2010 / 19.00-21.00
"When the question is raised, of writing an introduction to a book of a creative order, I always feel that the few books worth introducing are exactly those which it is an impertinence to introduce. I have already committed two such impertinences; this is the third, and if it is not the last no one will be more surprised than myself. I can justify this preface only in the following way. One is liable to expect other people to see, on their first reading of a book, all that one has come to perceive in the course of a developing intimacy with it."
– T. S. Eliot: "Introduction", Preface to Djuna Barnes: Nightwood, Harcourt, Brace & Co., New York, 1937
-----
"As my admiration for the book has not diminished, and my only motive for revision would be to remove or conceal evidences of my own immaturity at the time of writing – a temptation which may present itself to any critic reviewing his own words at twelve year's distance – I have thought best to leave unaltered a preface which may still, I hope, serve its original purpose of indicating an approach helpful for the new reader."
– T. S. Eliot: "Note to Second Edition", Preface to Djuna Barnes: Nightwood, Faber and Faber, London, 1949
-----
Throughout the course of the exhibition works by the artists can be seen in exhibitions such as:
Matias Faldbakken: "Shocked Into Abstraction", IKON Gallery, Birmingham; Gardar Eide Einarsson: "Gardar Eide Einarsson – Focus", Museum of Modern Art, Fort Worth; Marius Engh: "An Aggregation of Adversary", Layr Wuestenhagen, Vienna. For further information please visit our webpage:
www.standardoslo.no
or contact Eivind Furnesvik at
eivind@standardoslo.no
or +47 917 07 429 / +47 22 60 13 10. STANDARD (OSLO) is open Tuesday-Friday: 12.00-17.00 / Saturday: 12.00-16.00. Sunday and Monday: Closed.
Next exhibition projects:
Art Los Angeles Contemporary
Marius Engh / Matias Faldbakken / Alex Hubbard / Oscar Tuazon
28.01.-31.01.2010
Marius Engh
12.02.-13.03.2010
Matias Faldbakken
19.03.-24.04.2010
Gardar Eide Einarsson
07.05.-05.06.2010