Kim Hiorthøy
01 Apr - 07 May 2011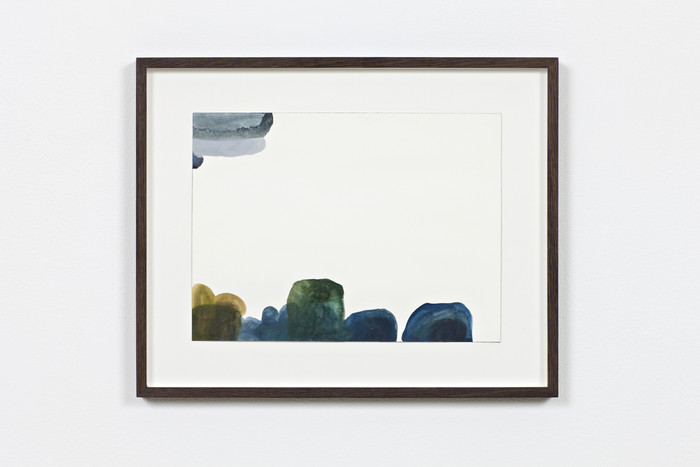 © Kim Hiorthøy
Price, 2011
Watercolour on paper / Framed
23.1 x 31.1 cm / 34.3 x 42.3 x 3 cm (framed) / 9 x 12 1/4 in / 13 1/2 x 16 2/3 x 1 1/4 in (framed)
KIM HIORTHØY
My Lucky Number Is 4.000.000.000
1 April – 7 May, 2011

STANDARD (OSLO) is proud to announce Kim Hiorthøy's "My Lucky Number Is 4.000.000.000", the artist's third solo exhibition at the gallery. Comprising a set of eight watercolours, the densely layered realism of Hiorthøy's drawings previously exhibited has been replaced by a biomorphic abstraction. The thinned and diluted patches of colour and pictographic reduction that appear in his watercolours seem to address the very figural moment of perception – when forms emerge and reify.

"Loudspeaker playing Muzak.
Light fire under loudspeaker.
Listen."
- John Cage, from Brown, Carolyn: Chance and Circumstance – Twenty Years with Cage and Cunningham, 2007

"If I speak of having a subject to paint, I mean there is a forgotten place of beings and things, which I need to remember. I want to see this place. [...] I paint what I want to see."
- Philip Guston, from Philip Guston – Collected Writings, Lectures, and Conversations, 2011

The eight watercolours in Kim Hiorthøy's current exhibition – all installed on the end wall of the gallery – favour the inconsistent and incomplete. While coherent in terms of visual vocabulary and all treated with the same value and texture, these works seem to be seeking out a source material of emerging rather than solid forms. Or rather, Hiorthøy's works arrange shapes equally likely assembled from imagination as having been re-assembled from recognition. Abandoning drawing and confining to the watercolour's conditions of non-precision, colour becomes the primary parameter of his compositions. In each of these works Hiorthøy restricts the composition to a single or reduced number of organic shapes, which for the most part are executed in broken colours and consistently left isolated against the creamy white background of the paper.

In their pictogram realist manner they share a certain resemblance to maps, mosaics, typography or architectural drawings. One could claim that the exaggerated flatness of these works evoke memories of early twentieth century still life. Even so, one is left with elements of uncertain iconographic value. What is being observed (in case it is the optic and positivistic logic of the 'still life' should be what establishes the foundation for these works)? The answer could partly be that one is observing the method of observation – in which an object is finally possible to extract from its surroundings. In Hiorthøy's works this figural moment is stretched out, lending trust to both intuition and the inherent imperfection of imprint. As is the case with the non-specificity of asemic writing, Hiorthøy's watercolours occur to have formatting and structure while still leaving the viewer unsure as to what extent one is reading, looking or interpreting.

Analogous to the construction of jokes, a recognizable pattern is broken or made untrustworthy. This collapse is at once familiar and surprising, or as claimed by the philosopher Immanuel Kant: "Laughter is an effect that arises if a tense expectation is transformed into nothing". Flat and fleeting – the sheer and fluid paint making the objects and surroundings equally void of any true substance – these eight works sketch an account of what a conversation between Paul Cezanne and Paul Rand could have been like.

Kim Hiorthøy (b. 1973, Trondheim) lives and works in Berlin, Oslo and Stockholm. Recent exhibitions include Bergen Kunsthall, Bergen, Galerie Juliette Jongma, Amsterdam, "14th Vilnius Painting Triennial: False Recognition", CAC, Vilnius; "Sonic Voices, Rocking Hard", Montevideo / Nederlands Instituut voor Mediakunst, Amsterdam; "The End of the Line: Attitudes in Drawing", Fruitmarket Gallery, Edinburgh, Bristol's City Museum and Art Gallery, Bristol, Middlesbrough Institute of Modern Art - MIMA, Middlesbrough; "The Line Is a Lonely Hunter", New Jerseyy, Basel; Bergen Kunsthall, Bergen. Coinciding with this exhibition, STANDARD (OSLO) will do a solo presentation of Kim Hiorthøy as part of the Open Space section of Art Cologne (April 12-17).