Simon Denny
13 Nov - 13 Dec 2009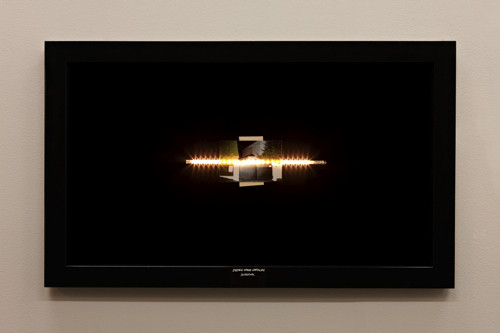 © Simon Denny
Celebrities' Houses at Night – Øystein Stray Spetalen, 2009
Broadcast artwork: Rigid LED bar, inkjet print on photograph, inkjet print on adhesive label, wooden frame, glass, plexiglass, power supply
60 x 90 x 2.80 cm (framed)
SIMON DENNY
"Celebrities' Houses at Night: A Projection"
13.11.-13.12.2009 / Preview: 13.11.2009 / 19.00-21.00
EDITOR: "Look, kid, you got a nice idea, with the house thing, it's just not something I can get behind, alright?"
WILL SMITH: "Ok, ok, alright – see 'cos you not lettin' your cerebellum rotate man. Listen, look at this: It's not just pictures, I wrote little stories with them too! B-blam! Ahh! You didn't notice that one, right? See? It's different now, see, cos I'm not just a photographer, man, I'm photographer and a writer – I'm ambidextrous"(i)
Every spectator of a television mystery knows with absolute certainty how it is going to end. Tension is but superficially maintained and is unlikely to have a serious effect any more. On the contrary, the spectator feels on safe ground all the time... Everything somehow appears 'predestined'."(ii)
"Mass culture, if not sophisticated, must at least be up to date." (iii)
For his exhibition at STANDARD (OSLO) Simon Denny will focus on an understanding of television as a material object. The traditionally opposed fields of broadcast television art and video art1 will be pitted against each other in object hybrids that reframe the forms and systems that contain Television content. Spotlighting the advance of display technology in exhibitions, Denny will bring together the current formats of LCD monitor and the digital projector. This time taking his cue from the international hit television show "The Fresh Prince of Bel-Air" and feeding it through the filter of the in-progress event of the show's reissue - season-by-season, as boxed set DVDs - Denny will project on the anticipation of the delayed release and production-to-shelf-materialization of the series' final two seasons and link the gradual physical thinning of the box-sets' packaging to the receding perceived differences between digital images and physical objects, content production and commodity production, LCD monitor and digital projector.
Following a close reading of Adorno's classic "How to Look at Television", the project will interpret genre guidelines of the medium, presenting a show consisting of "various layers of meanings superimposed on one another, all of which contribute to the effect"2. The final presentation will resemble the style of other exhibitions, everything somehow seeming ultimately predestined3. Just as the radio listener who catches the beginning of Tschaikovsky's Piano Concerto as a theme song, knows automatically, 'aha, serious music!' or, when he hears organ music, responds equally automatically, 'aha, religion!' viewers will approach Denny's show with the phrase 'aha, video installation'.4
Denny will frame the exhibition around the expanded-marketing group Omni Consumer Products' practice of what they call 'de-fictionalising'5 from the screen, such as True Blood's drink "Tru Blood", manufactured by the company in collaboration with the series' second season release. The exhibition will aim at a similar effect — "Due to their calculative nature, these rationalized products seem to be...clear- cut in their meaning...[and are, in a way, able to be]...boiled down to [an] unmistakable 'message'."6
From an episode of the as-yet-not-re-released fifth season of the Fresh Prince7, Denny 'de-fictionalises' an idea for a coffee-table book that Will Smith dreams up to impress his girlfriend. "Celebrities' Houses At Night" is a series of photographs taken by Smith of Bel-Air Celebrities' abodes that, although intended for book publication, never makes it into page form. Resembling canonical moments in west coast conceptual photographic and book making practice such as Ed Rushca's "26 Gasoline Stations", Celebrities' Houses At Night is a never-to-be-realized book of serial photography, with its inception in a TV show, and its realization as a pile of photographs. Denny broadcasts this idea to Oslo, in a re-run that anticipates a re-release, in a transmission that takes the form of a physical product, in a blurring of contemporary moving image display formats, in a projection of marketing that uses only the distribution available to a gallery.
"The entertainment business was a distribution business, in other words people who controlled pathways to people's eyeballs, where they sat in the movie theatre or how they got cable, those people controlled the media business...What makes the Internet a radical game changer is that it makes distribution a commodity – in other words, anybody can have a pathway to an eyeball – marketing becomes more important but distribution is almost trivial."8
-----
(i). Borowitz, A., Borowitz, S (creators)., "Will's up a dirt road", episode 11, season 5, The Fresh Prince of Bel Air, 1994-5
(ii). Adorno, T. W., "How to look at television", in The Culture Industry: Selected essays on mass culture, Routledge, London, 2001
(iii). ibid
1. See :Martha Rosler, Video: "Shedding the Utopian Moment", (1984), as quoted in Doug Hall, David Ross, Sally Jo Fifer (editors): Illuminating Video: An Essential Guide to Video Art, Aperture Foundation, 1991
2. Adorno, 2001
3. Ibid
4. Ibid
5.
http://omniconsumerproductscorporation.com/
"Omni Consumer Products is a product development company located in the San Francisco Bay Area, with a focus on licensing, defictionalization, and reverse-branding."
6. Adorno, 2001
7. "Will's up a dirt road", 1994-5
8.
http://www.pixelheadsnetwork.com/2008/07/08/expert-32-dean-valentine-ex-ceo-of-disney-tv-and-ceo-of-comedycom
, 2008