Bad Thoughts - Collection Martijn and Jeannette Sanders
20 Jul - 09 Nov 2014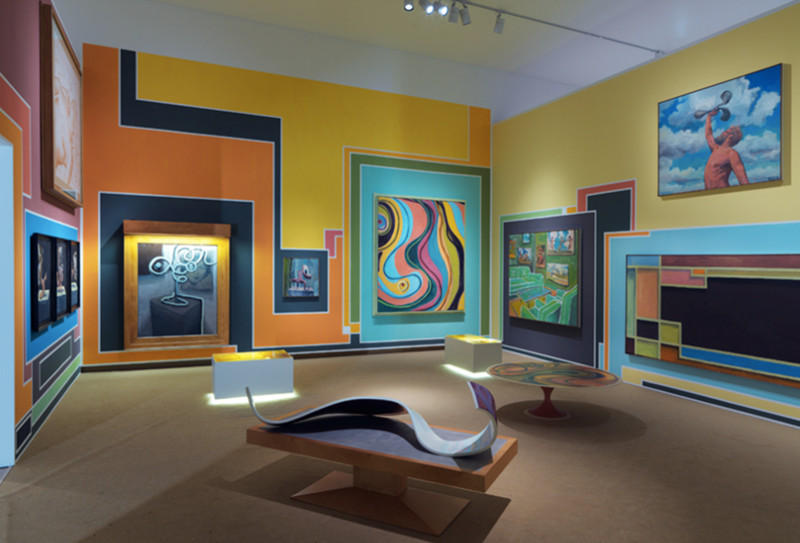 Installation by Anton Henning in the exhibition Bad Thoughts, the collection of Martijn and Jeannette Sanders, Stedelijk Museum Amsterdam, 2014. Photo: Gert Jan van Rooij
BAD THOUGHTS - COLLECTION MARTIJN AND JEANNETTE SANDERS
20 July - 9 November 2014

A unique, largescale survey of the works assembled by Amsterdam collectors Martijn en Jeannette Sanders. With work by David Claerbout, Gilbert & George, Anton Henning, Anselm Kiefer, Cindy Sherman and many others.

The Sanders Collection is one of the most important private collections in the Netherlands and contains a diverse array of several hundred paintings, sculptures, assemblages, photos, drawings, text-based artworks, films, videos, and installations by over 350 mostly European and American artists.

The title of the exhibition, BAD THOUGHTS, is derived from a photo work by Gilbert & George. It's a light-hearted comment on the adventure of private art collecting, as well as the interest in the darker side of the human psyche, evident in many of the works in the Sanders Collection.

Martijn and Jeannette Sanders began collecting art in the 1970s. Unlike many private collections, the Sanders Collection is notable for featuring a significant group of "core artists" whose work is represented in great depth, including Ger van Elk, Gilbert & George, Anselm Kiefer, Cindy Sherman, David Claerbout, Thomas Demand, and Anton Henning. The collection also holds a substantial body of conceptual art and "narrative art" of the 1970s, and German painting of the 1970s and 1980s (Lüpertz, Penck, and Baselitz). For the Sanders, collecting art is both a personal matter and an intuitive process. It is their way of life, and their collection reads as a journal.

The exhibition BAD THOUGHTS is dedicated to Adriaan van Ravesteijn and Geert van Beijeren of Art & Project (1968-2001), with whom the Sanders developed a long term friendship.

The presentation will occupy the spacious lower-level gallery in the new wing, in a special architectural configuration designed by Florian Idenburg of SO-IL architects (New York), who has been shortlisted for the Prix de Rome 2014.