Catherine Christer Hennix
Traversée du Fantasme
16 Feb - 27 May 2018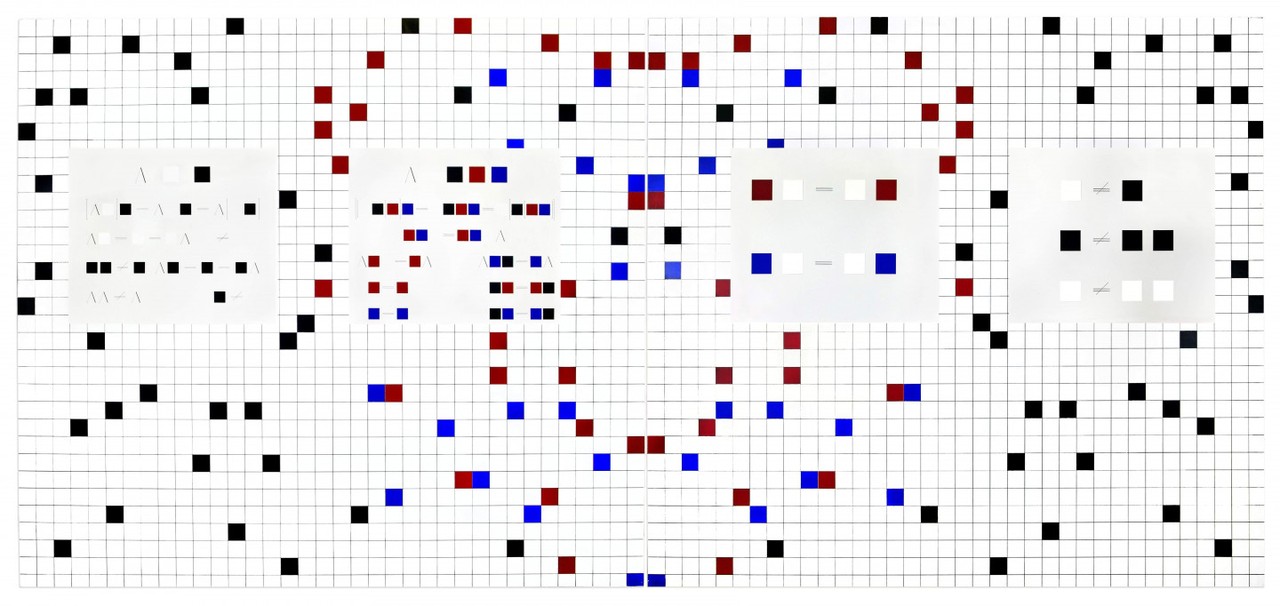 Catherine Christer Hennix, Algebra w/ Domains, acrylic paint on canvas, dyptich, total dimensions 200 x 500 cm, 1973-1991
CATHERINE CHRISTER HENNIX
TRAVERSÉE DU FANTASME
16 February - 27 May 2018

Retrospective by the Swedish artist and composer.
Stedelijk Museum Amsterdam is pleased to present Catherine Christer Hennix: Traversée du Fantasme, the first museum solo exhibition in over 40 years by the Swedish composer, philosopher, poet, mathematician, and visual artist Catherine Christer Hennix (1948).

While Catherine Christer Hennix is best known as a sound artist and composer, and for works including Illuminatory Sound Environments and Infinity Compositions, she has also produced a body of visual art that crosses the boundaries between painting, sculpture, and anti-art—what Hennix refers to in own personal nomenclature as Epistemic Art.

EPISTEMIC ART
This exhibition spotlights Hennix's Epistemic Art practice, including a series of paintings, wall drawings, and found objects—mostly made between 1974 and 2004—as well as a brand new sound work. Occupying two galleries loosely designed to resemble a psychoanalyst's office and a waiting room, Hennix's installation creates a concatenation of complex abstract thought, juxtaposing various fragments and formulations and leading the viewer through a model of self-illumination. Hennix's work plays with the transmission of meaning, drawing on a wide range of references that touch on logic, intuitionistic mathematics, modal music, and psychoanalysis. Using an overtly obtuse and densely formalized personal language, Hennix forces the uninitiated viewer towards a state she terms homosemioesis—a subjective process of meaning-making that nullifies any possibility of a transfer of knowledge between the work of art and the viewer.

ALGEBRAIC AESTHETICS
Traversée du Fantasme is a retrospective of a body of work only partially realized; the exhibition revisits and reimagines an unfinished project that Hennix undertook with her late partner Lena Tuzzolino, for which they produced a series of performances and installations based on each of Jacques Lacan's seminars. The retrospective takes as its starting point a suite of paintings Hennix created for a 1991 group show at Museum Fodor, Parler Femme. In Parler Femme Hennix recast her Algebraic Aesthetics, a set of four-color and black-and-white mathematical equations that was originally conceived as a painted work on paper, flanked by two red and blue homotopies side panels—one of which included a recreation of Lacan's schéma XX, the French psychoanalysts' infamous formalization of sexual difference. Other elements of Algebraic Aesthetics include a set of paintings entitled Algebras w/ Domains also made in 1991, four variations of Hennix's Ultra-Black Paintings from 1976, the 1996 wall text Fragments of Writings on the Unconscious, and a new set of found object "patients" named Encore & Encore, among other work.

Catherine Christer Hennix, C- Algebra w/ Undecidable Word Problem, acrylic paint on canvas, 195 x 270.5 x 5.5 cm, 1975-1991. Collectie Stedelijk Museum Amsterdam.
Catherine Christer Hennix, C- Algebra w/ Undecidable Word Problem, acrylic paint on canvas, 195 x 270.5 x 5.5 cm, 1975-1991. Collectie Stedelijk Museum Amsterdam.
URINARY DISCRIMINATION
For this exhibition, Hennix reconfigures and remodels her own historic works through the lens of contemporary and evolving discussions around gender nonconformity. Hennix addresses bathroom designations, forms of urinary discrimination, and the social construction of gender, adding new layers of meaning to her work.

BIOGRAPHY
Catherine Christer Hennix started her creative career playing drums with her older brother Peter growing up in Sweden. In the mid-1960s she saw jazz luminaries such as John Coltrane, Eric Dolphy, Dexter Gordon, Archie Shepp, and Cecil Taylor perform at the Golden Circle, Stockholm. Directly after high school, Hennix went to work at Stockholm's pioneering Elektronmusikstudion (EMS), where she helped develop early synthesizer and tape music. After traveling to New York In 1968, she met Dick Higgins and Alison Knowles and developed a fruitful relationship with many composers in the burgeoning American avant-garde, including, most significantly, Henry Flynt and La Monte Young. Young introduced Hennix to Hindustani raga master Pandit Pran Nath, and she would later study intensively under him. During this time Hennix led the just-intonation live-electronic ensemble The Deontic Miracle, drawing inspiration from Japanese Gagaku music and the early vocal music of late-Middle Age composers Perotinus and Leoninus. In 1976 the ensemble would perform Hennix's original compositions as part of Brouwer's Lattice at the Moderna Museet in Stockholm, which was followed later that year at the same institution by Hennix's first and only solo exhibition, Topos and Adjoints. While Hennix continued to make music performing alongside Henry Flynt, Marc Johnson, Arthur Russell, and Arthur Rhames, she also served as a professor of Mathematics and Computer Science at SUNY New Paltz and as a visiting Professor of Logic (at Marvin Minsky's invitation) at the Massachusetts Institute of Technology's Artificial Intelligence Laboratory. She currently resides in Berlin, Germany, where she is active as a composer and writer. A two-volume collection of her writing as well as a series of archival recorded releases is forthcoming through Blank Forms Editions.

SIDE PROGRAM
In 2017 the Stedelijk began a long-term research project with Sonic Acts highlighting the lesser known pioneers of sound art. Last year, the archives of American composer and sound artist Maryanne Amacher (1938-2009) were presented. This will be followed in 2018 by a performance and exhibition on 16 and 17 February 2018 by the Swedish musician Catherine Christer Hennix (1948). On 18 February 2018, a seminar will be held were Marcus Boon will discuss the work of Hennix.

Traversée du Fantasme is curated by Karen Archey, Curator of Contemporary Art and Time-based Media at the Stedelijk and Lawrence Kumpf, Artistic Director of Blank Forms, a non-profit organization dedicated to supporting emerging and underrepresented artists working in time-based media.

This exhibition has been generously supported by Empty Gallery, Hong Kong.