Eyes Wide Open
22 Dec 2007 - 01 Jun 2008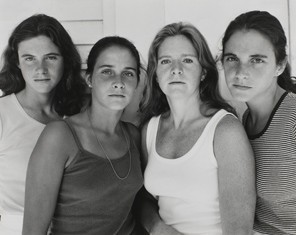 Nicholas Nixon, The Brown Sisters, 1981 ontwikkelgelatinezilverdruk, (Totaal 9 foto's, 20,2 x 25,2 cm.)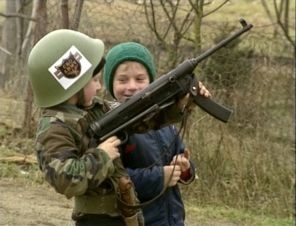 Aernout Mik, Raw Footage, 2006, video
Eyes Wide Open
New to the Stedelijk & The Monique Zajfen Collection
22.12.07 - 1.06.08
Over the last few years, the Stedelijk Museum Amsterdam has expanded its collection through the acquisition of a number of extremely important works by artists such as Mike Kelley, Neo Rauch, David Goldblatt and Atelier Van Lieshout.
PLEASE NOTE: The second part of this exhibition with work by Kippenberger, Luc Tuymans en Neo Rauch will open on Friday, January 18, 5 p.m.
Among the most outstanding is Three Houses with Slits, a masterly monumental triptych by Martin Kippenberger, who died in 1997 – the first painting by this influential artist to be included in any public collection in the Netherlands. It is striking how many of these new acquisitions demonstrate a clear – if sometimes indirect – involvement with political or social issues.
In Eyes Wide Open the Stedelijk Museum presents a selection of recently acquired paintings, photographs, examples of film and video art, sculptures and graphic works by artists working in the Netherlands or elsewhere. These acquisitions represent the realisation of the museum's plans to expand the collection, in particular in the field of narrative painting, paintings that reflect on the medium, and contemporary photography and film. In addition, the museum has aimed to strengthen existing powerful clusters by acquiring work by winners of The Vincent Award.
The exhibition includes many works which demonstrate an engagement with society, politics and (art) history. In his 1985 painting Three Houses with Slits Martin Kippenberger ingeniously interrelates his own personal history with that of his country, Germany, by depicting three places with a strong emotionally charge: the Betty Ford Center, a Jewish primary school and Stammheim prison (where members of the Red Army Faction were tried and several of them committed suicide in the 1970s).
Kippenberger links these places through their relationship to his own biography. By depicting institutions concerned with correcting behaviour, Kippenberger self-mockingly situates himself on the margins of society: addicted, taken firmly in hand and probably a risk to those around him. This acquisition, made with the support of three major art funds, is a welcome addition to the posters and artist's books by Kippenberger which already formed part of the collection of the Stedelijk Museum.
In Rome (2007), the personal also becomes political and vice versa. The imposing canvas is by Luc Tuymans (b. 1958) and has been acquired for the Monique Zajfen Collection (which is allied to the Stedelijk). Tuymans frequently blends references to his Catholic, Belgian background with film footage of mass public events – in this case the investiture of a Belgian cardinal at St Peter's Basilica in Rome – to produce a vision of a church triumphant.
In Slave University (Female) (2006), Atelier Van Lieshout takes a similarly critical look at the utopian idea of an efficient society, revealing it as a dystopia in which there is no room left for humanity. In Der Vorhang (The Curtain, 2005), by contrast, Neo Rauch looks to the past and refers to history and art history (in particular that of East Germany).
The exhibition also includes work by artists who act almost as sociologists, monitoring their subjects over long periods of time. In his series entitled The Brown Sisters, Nicholas Nixon has been photographing his wife and her three sisters every year since 1975. Rineke Dijkstra shows how French teenager Olivier changes when he joins the foreign legion and in Black Curtain Mike Kelley uncovers forgotten examples of popular culture and reconstructs them using actors.
The museum has likewise acquired work by South-African photographer David Goldblatt: an early black-and-white series and a recent one in colour offer a penetrating and moving portrayal of the tensions and complexity of post-Apartheid society.
Some artists, like Maaike Schoorel, Matthias Weischer and Mark Grotjahn, reflect on the medium of painting. For example, the work of Grotjahn is clearly related to that of Brice Marden, which is already prominent in the collection of the Stedelijk.
www.stedelijk.nl