Jordan Wolfson
Manic / Love / Truth / Love
27 Nov 2016 - 23 Apr 2017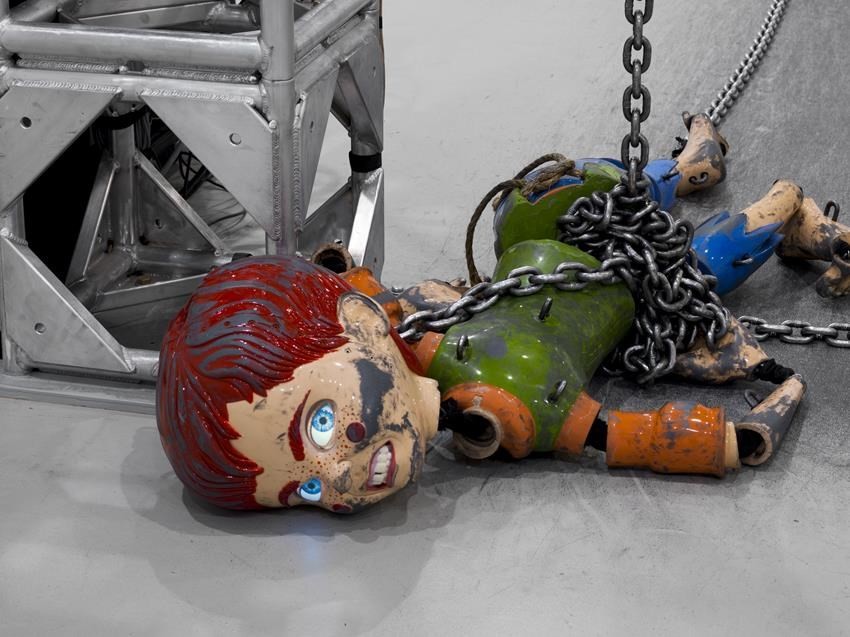 Jordan Wolfson, Colored sculpture, 2016, photo by Dan Bradica, courtesty the artist, Sadie Coles HQ London and David Zwirner, NY

Jordan Wolfson, Raspberry Poser (video stills), 2012, Projected video animation, 13:54 min (loop), color, sound, Dimensions vary with installation, Courtesy the artist, David Zwirner, New York, and Sadie Coles HQ, London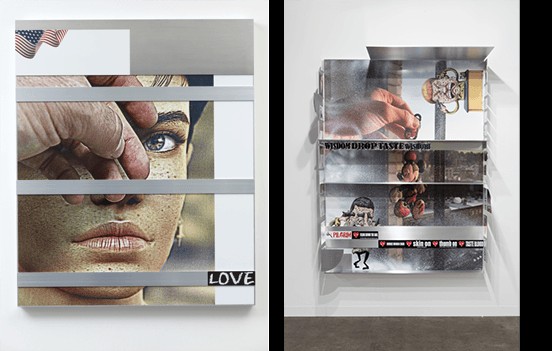 Jordan Wolfson, Untitled, 2014, inkjet print on glossy photo paper on aluminium panel. Jordan Wolfson, Untitled, 2015, inkjet print on glossy photo paper on aluminium panel. Copyright the artist, courtesy Sadie Coles HQ, London
JORDAN WOLFSON
Manic / Love / Truth / Love
27 November 2016 - 23 April 2017

Part 1: MANIC / LOVE - Nov 27, 2016 - Jan 29, 2017
Part 2: TRUTH / LOVE - Feb 18, 2017 - April 23, 2017

This autumn, the Stedelijk Museum will present Jordan Wolfson (New York, 1980), one of the most outspoken representatives of a new generation of artists who explore the increasing digitalization of society and other technological developments.

The solo show is conceived as a diptych and will occupy the upper galleries of the Stedelijk. Part one is on view from November 27 to January 29, and the second chapter opens on February 18, 2017. Both presentations revolve around Wolfson's spectacular animatronic creations: robotic human figures, seductive yet repulsive, which interact with the viewer using motion sensor technology. The exhibition also includes video works and digital paintings. This is Wolfson's first solo presentation in the Netherlands, and is set to open during Amsterdam Art Weekend.

PART 1: MANIC / LOVE
Nov. 27, 2016 – Jan. 29, 2017
The exhibition begins with Colored sculpture (2016), Wolfson's latest animatronic artwork, which is based on the legacy of American pop culture. Wolfson's work strips back the glossy veneer of the American dream to expose the darker side lurking beneath. The robot's red hair and freckles recall pop cult characters like Huckleberry Finn, Howdy Doody, and Alfred E. Neuman, the Mad magazine mascot. The boy's movements are controlled by a computer program as he dangles from heavy chains attached to a steel gantry. The figure floats effortlessly through the space before being thrown bodily to the floor. From time to time, the boy attempts to establish contact with the viewer, but he can never break free from the software which subjects him to torments that viewers experience on an almost visceral level.

The relentless physicality of the gallery-scale installation suffuses the work with a sense of violence and unpredictability. With his sculptures, Wolfson merges the boundaries between abstraction and figuration, challenging the formal and narrative potency of the sculptural discipline.

Colored sculpture is presented alongside a selection of video works and digital paintings. One of the highlights is the video Raspberry poser (2012), which features a world populated by a medley of Disney-like cartoon characters, mutating red blood cells, a peripatetic condom, images from art history, and a punk, played by the artist himself. A blaring soundtrack of pop hits, from Beyoncé to Roy Orbison, melds the images into a cohesive, disturbing narrative.

The solo show also features Wolfson's wall mounted digital paintings. These pristinely painted montages containing a hint of Pop Art offer a strident pairing of words and images borrowed from wildly divergent origins. Several of the captions echo the texts found on bumper stickers: horizontal bands printed with punchy, witty, religious, or political messages attached to the rear bumpers of American automobiles.

PART 2: TRUTH / LOVE
Feb 18, 2017 - April 23, 2017
Centerpiece of the exhibition's second part is Wolfson's first animatronic creation, the thought-provoking Female figure (2014). This computer-controlled, hyper-sexualized blonde robotic woman flaunts the kind of outfit ordinarily worn by pop stars in music videos: a see-through miniskirt, high-heeled thigh-high boots, and long gloves. A device loaded with motion tracking software, concealed beneath a green, bird-like mask, enables her to lock eyes with viewers. While the woman speaks to her audience—accompanied by a soundtrack of pop music—she gyrates before the mirror, alluring yet repugnant, in an endless ballet of watching and being watched.

The new video installation Riverboat Song (2016) will also be on view.

CATALOGUE
The solo presentation will be accompanied by a publication containing an interview with Jordan Wolfson by the curators of the exhibition, Beatrix Ruf, Bart van der Heide, and Martijn van Nieuwenhuyzen.

ABOUT THE ARTIST
Jordan Wolfson earned his Bachelor of Fine Arts in sculpture at the Rhode Island School of Design in 2003. His work has been widely exhibited internationally at venues such as the Cleveland Museum of Art in Ohio, S.M.A.K. in Ghent, Kunsthalle Wien, REDCAT in Los Angeles, Galleria d'Arte Moderna e Contemporanea di Bergamo, Italy (2007) and Kunsthalle Zürich (2004). In 2009, Wolfson was the recipient of the prestigious Cartier Award of the Frieze Foundation. He lives and works in New York and Los Angeles.

STEDELIJK CONTEMPORARY
The 2016 exhibition program includes a series of dynamic solo exhibitions by a young generation of artists. Many of these are new productions and recent purchases that are associated with the museum's acquisitions policy. The Stedelijk seeks to respond to current events and stimulate contemporary talent by also taking on the position of commissioner in some cases. Its commitment to developing lasting relationships with young artists shapes the future identity of the museum's collection.

The Stedelijk Contemporary exhibitions in 2016 and 2017 are made possible thanks to the generous support of Ammodo.

The exhibition is made possible in part with generous financial support of LUMA Foundation, Fonds 21, Fundación Almine Y Bernard Ruiz-Picasso Para El Arte, Sadie Coles HQ and David Zwirner.

With special thanks to the members of the Jordan Wolfson Exhibition Circle: ProWinko Nederland B.V., Ringier Collection and donors who wish to be unnamed. The catalogue is made possible by M. + J. Donnelly.