Paul McDevitt & Cornelius Quabeck
17 Jul - 15 Aug 2009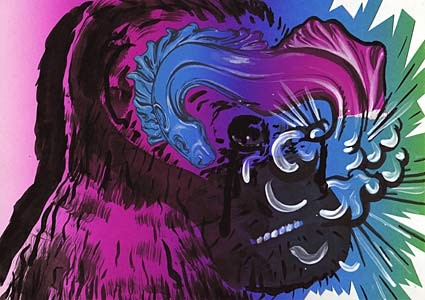 © Paul McDevitt & Cornelius Quabeck
Untitled (Monkey Horse Face), 2009
Acrylic and ink on coloured paper with cut outs
Paper size: 20.5 x 29cm (8 x 11 3/8in)
PAUL MCDEVITT & CORNELIUS QUABECK
"Bierstadt"

17 July – 15 August 2009
Private view Thursday 16 July 2009, 6-8pm

Stephen Friedman Gallery is delighted to present an exhibition of collaborative work by British artist Paul McDevitt and German artist Cornelius Quabeck.

It is in the fantastical setting of Bierstadt (Beer City) that McDevitt and Quabeck form this, their third artistic alliance developed over the last two and a half years. An imagined meeting space, or conceptual 'pub,' Bierstadt provides the point of contact for two friends working in geographically disparate studios to share their daily thoughts and practice. The very tangible results created within this imagined space are a series of rich collaborative drawings populated with a world of cartoon-like figures, fantastical creatures, and pop cultural references. Borne out of a postal exchange between Quabeck in San Francisco, and McDevitt in Berlin, each artist started a loose drawing before sending it to the other for his contribution in a trans-Atlantic re-working of the Surrealist game of the 'Exquisite Corpse'.

The sculptural elements and paintings included in this exhibition are also the result of the collaboration but in this case, worked onsite together in studios in Germany and the UK. Frequently alluded to in this body of work is the 19th Century German-American landscape painter, Albert Bierstadt. An historic figure, whom both artists encountered together during a residency in San Francisco. An aptly named inhabitant for their 'Beer City', this figure is but one example of their shared cultural references that make up this rich body of work. The collaboration as a whole is thus characterized by a swift pace of exchange and an insistence on each work as open-ended, each one possibly the continuation, contradiction or counterpart to its predecessor.

A site-specific sculptural installation has also been conceived for the gallery and is positioned between the front and back spaces. Here, a disused wardrobe becomes the boundary between the two spaces. Covered with drawings, Polaroid photographs and paintings, the wardrobe acts as a gateway or threshold for the audience to complete their visit. Conjuring memories of childhood fairy tales the piece suggests that one of the two exhibition spaces is the 'normal' world and the other is a magical realm – though which is never made clear.

The joining of the two spaces further encourages an awareness of the movement from one place to another; the communication of an idea from one to another. This threshold, and the very physical act of moving through it, is marked and consequently endowed with a surprising poignancy. A drawing exploded into three dimensions and impossible to see as a whole from any one angle, one can see it would be a fitting doorway into the realm of this elusive Bierstadt.

To coincide with this exhibition McDevitt and Quabeck have self-published a limited edition book containing black and white images of works shown, within a hand printed linol-cut cover.

Paul McDevitt (b. 1972, Scotland) lives and works in Berlin. Recent solo shows include: Ecstatic Visions etc., Martin van Zomeren, Amsterdam (2009); Spastic with Cheer, Kunstverein Schwerte (2009) and A Journal of the Winds, Sommer & Kohl, Berlin (2008). Recent group shows include: Nus, Galeria Fortes Vilaça, Sao Paulo (2009); Space to Draw, Jerwood Space, London (2008); Supernatural, Kunsthalle Andratx, Mallorca (2008); Stardust, Musee d'art contemporain du Val-de-Marne (2007) and Cult Fiction, Hayward Gallery, London, touring to New Art Gallery, Walsall (2007). McDevitt is currently working on an extensive book project with Artspeak in Vancouver, Canada.

Cornelius Quabeck (b. 1974, Germany) lives and works in Düsseldorf. Recent solos shows include: C Monster, Taro Nasu, Tokyo (2009); Workout!, Martin van Zomeren, Amsterdam (2008); Capital C, Galerie Christian Nagel, Berlin (2008) and Critical Mess, Friedrich Petzel Gallery, New York (2008). Recent group shows include: Any kind of cruelty, Martin van Zomeren, Amsterdam (2009) and Self Portraits, James Fuentes, New York (2008).