Francis Bacon and the Existential Condition in Contemporary Art
05 Oct 2012 - 27 Jan 2013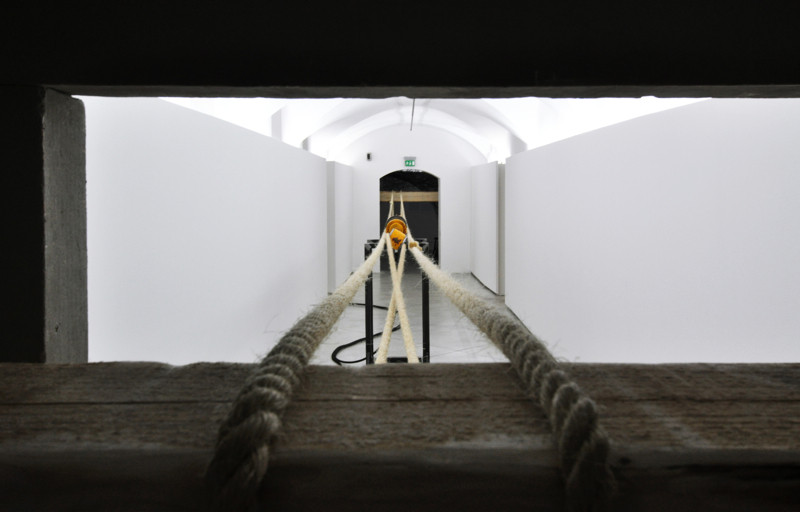 Arcangelo Sassolino
site-specific installation
Exhibition view "Francis Bacon and the Existential Condition in Contemporary Art"
CCC Strozzina, Firenze © photo Martino Margheri
FRANCIS BACON AND THE EXISTENTIAL CONDITION IN CONTEMPORARY ART
5 October 2012 - January 2013

Nathalie Djurberg, Adrian Ghenie, Arcangelo Sassolino, Chiharu Shiota, Annegret Soltau

Francis Bacon and the Existential Condition in Contemporary Art, an exhibition co-curated by Franziska Nori (Director of the CCC Strozzina) and Barbara Dawson (Director of the Dublin City Gallery The Hugh Lane), will be presenting work by contemporary artists who exam today's existential state of societal mind. Their work explores the kind of questions man asks himself in his relationship with his own interior being, his body and the outside world. At the core of the exhibition are paintings by Francis Bacon (1909-1992), whose work is placed in dialogue with that of five contemporary artists of international renown: Nathalie Djurberg, Adrian Ghenie, Arcangelo Sassolino, Chiharu Shiota and Annegret Soltau. These artists share Bacon's reflection on man's existential condition and on the depiction of the human figure.

Bacon's paintings on display are set against a selection of photographic and hardcopy material from the artist's archive: photo portraits, reproductions of masterpieces of the past, film stills, and pictures from books and magazines. This material, which Bacon used as a working tool when creating his art, is presented in the exhibition thanks to the CCC Strozzina's cooperation with the Dublin City Gallery The Hugh Lane, which acquired an authentic and perfectly preserved reconstruction of the artist's last London workshop in 1998.

His mingling of the figurative and the abstract, his bodies transfigured, his reference to autobiographical elements, his use of a variety of different iconographic sources and of tension and isolation as metaphors of man's life can also be found as crucial aspects of in the work of the five contemporary artists that is arranged in a situation of dialogue with Bacon in an effort to trigger an existential reflection on contemporary living.

Adrian Ghenie (Romania, 1977) creates paintings in which he merges personal images or images that are emblematic of recent history by dipping into such varied sources as catalogues, history books, film stills and pictures discovered on the Internet. Ghenie explores the depiction of the human figure, which he almost assaults, especially around the face, the symbol of a person's individuality.
In her installations, Chiharu Shiota (Japan, 1972) seems to translate emotional states and existential reflections onto a three-dimensional plane, addressing such issues as the memory and dreams, autobiographical elements and traces of a past that take on an evocative, collective physical form. Nathalie Djurberg (Sweden, 1978) works with clay and plasticine to create the symbolic and disturbing environments and figures which populate her installations and her video animation. Djurberg raises existential doubts and asks existential questions shifting between life and death, fear and desire, moving between unsettling taboos and such complex facets of the human condition as vulnerability, solitude, sexuality and death.
Arcangelo Sassolino (Italy, 1967) creates installations in which mechanical systems explore the effects caused by extreme forces. His works shows us both the shaping and the transience of things in their essentiality, deliberately rejecting all explicit recourse to metaphor. They are a latter-day memento mori warning, depicting man's inability to go beyond the expectation of an event, or vice-versa, beyond its end.
From the 1970s till today, Annegret Soltau (Germany, 1946) works on the themes of the body and of identity through performances, video art and photography. This experimentation with photography achieves its apex with the so-called photo sewings, in which the artist's face or fragments of different faces are criss-crossed by thin black thread. The wounds, constrictions and fragmentation of her faces and bodies are transformed into a tool for reflection on the depiction and expression of the human existential condition.

Francis Bacon and the Existential Condition in Contemporary Art is organised by the Centre di Cultura Contemporanea Strozzina in conjunction with the Dublin City Gallery The Hugh Lane (Dublin).