Virtual identities
20 May - 17 Jul 2011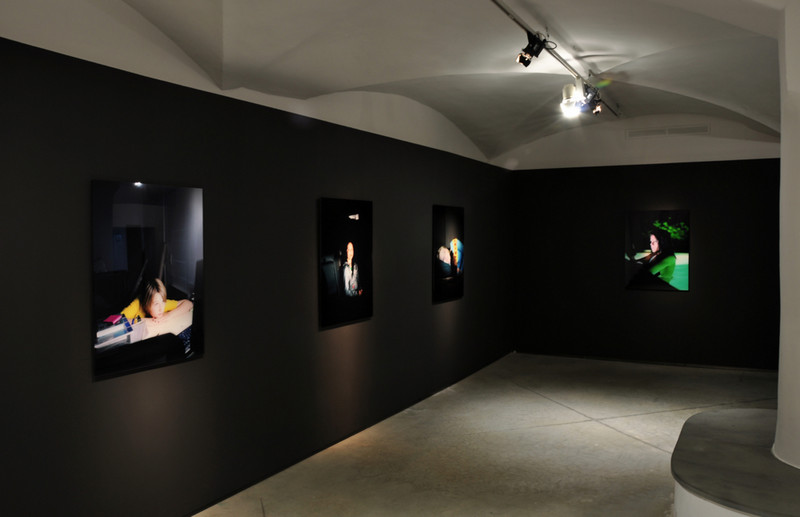 Evan Baden
Series "The Illuminati"
Installation view at CCC Strozzina, Firenze
Photo: Martino Margheri
Courtesy the artist
VIRTUAL IDENTITIES
20 May - 17 July, 2011

Evan Baden, chrisTopher Baker, Natalie Bookchin, Robbie Cooper, Etoy.corpozration, Nicholas Felton, Les Liens Invisibles, Chris Oakley, Sociable Media Group, Michael Wolf, Special Project: I AM NEDA, Special Project: ME 2.0,

Virtual identities enquires how digital culture is redefining the characteristics and boundaries of our identity, both personal and collective. Always being available and interacting with smartphones or sharing personal thoughts or experiences through social networks are elements common to the lives of most people today. In today's communication society, one seems to exist only if traceable online and in the constant flow of information.
Works and installations by international artists trigger a reflection on the new relationship between man and technology under the guise of the "virtual identity" with which we increasingly confront reality, at times without even realizing it.

In his series Paris Street View, photographer Michael Wolf takes the paradoxical relationship between art and digital technology to an extreme. Rather than taking photographs on the streets of the French capital, he simply dipped into material available on Google Street View. The photographer Evan Baden captures the faces of youngsters totally immersed in digital communication. Their faces, alienating and almost absent, are only illuminated by the lights of the screens of the different tools they use to connect them to a virtual reality which seems to be more real than the physical world they inhabit. In his video Immersion, Robbie Cooper addresses the issue of the visual and emotional feedback between individual and the digital world, dwelling on the strong emotions that appear on the faces of young and older children as they interact with a screen.
Analysing the theme of traceability and control afforded by new technologies, Chris Oakley's video entitled The Catalogue is built around a video-monitoring system in a department store, in which the people filmed and defined by their personal and traceable data become transparent and, in a certain sense, vulnerable entities/identities.
The traceability and visualisation of personal data also comprise the main focus of designer Nicholas Felton's work, in which he creates diagrams and tables in an effort to meticulously record all of the actions and data, from the most humdrum to the most significant, that make up our daily lives.
The collective etoy.CORPORATION's installation TAMATAR is part of their Mission Eternity project which addresses the issues of identity and memory starting from the various traces that we leave behind in the course of our multiple interaction with the Web and reflecting on life beyond death, also in the digital world.
The group Les Liens Invisibles focuses on online projects which, with a hint of irony but always imbued with a strong sense of political activism, reflect on distortions and paradoxes in a person's relationship with the social networks. Their Seppukoo project allowed people to regain their own identities and their anonymity by 'killing off' their profiles on Facebook and was so successful that Facebook took legal action to stop the project.
The Sociable Media Group presents Metropath(ologies), an interactive multimedia installation which allows people, by simply keying in their name, to walk through a three-dimensional environment visualizing see all the information available regarding themselves, thus highlighting the individual's transparency and visibility on the internet.
In connection with the theme of participatory online communication, the video-installation entitled Hello World! or: How I Learned to Stop Listening and Love the Noise by Christopher Baker displays a wall of videos from YouTube, in which individuals address a global public from their private home. The hundreds of voices merge into a babble of background noise.
Natalie Bookchin's work Mass Ornament explores further the theme of individual transparency and accreditation. The work creates a choreography of movement through the merger of several different videos that various people have put on YouTube, showing them dancing alone in their private rooms but in front of the eye of a webcam.
The exhibition also includes a project by the Iranian photographer Diana Djeddi that reconstructs the case of Neda Soltan-Agha, a young student killed during the demonstrations in Tehran in 2009, giving an example of the power but also of potential risks involved in the dissemination of information on the web. This episode became widely known through social networks but has given rise to a case of mistaken identity with an Iranian girl of similar name and appearance, Neda Soltani, whose Facebook profile photo became an icon of the revolution despite her lack of involvement, forcing her to leave the country for fear of retaliation.

Virtual Identities is a project by CCC Strozzina, with the scientific consultancy of Antonio Glessi (ISIA, Florence), Roberto Simanowski (Institut for Media Studies, University of Basel), Christiane Feser (artist), Franziska Nori (Director, CCC Strozzina).