Wynne Greenwood
02 Feb - 08 Mar 2008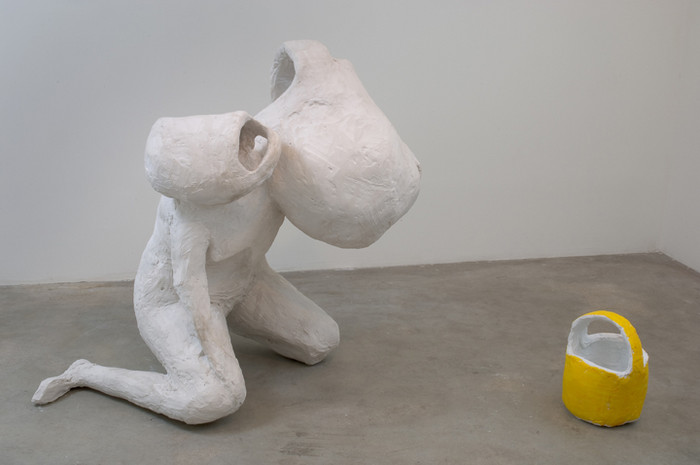 © Wynne Greenwood
"Basket Case", 2008, Plaster, gauze, wire, acrylic paint,
Figure: 43" x 60" x 42"; basket: 14" x 10" x 9"
WYNNE GREENWOOD
"Face It"

February 2 – March 8, 2008
Reception: Saturday, February 2, 6 - 8 pm

Susanne Vielmetter Projects in pleased to present new work by Wynne Greenwood in an installation entitled "Face It". The exhibition includes sculpture and a video that are linked together in larger installation. Large plaster sculptures of heads guard an archway through which viewers can enter a space of a personal civilization, a realm where signs of a presence materialize. Greenwood will videotape a music video in the installation so that the space will be activated during the exhibition through a performative action.
Greenwood, who is also known for her performances as "Tracy and the Plastics", has recently explored the intersection between her work as performer in a girl band and a wider range of expression. In an earlier project at the gallery, she activated the particular features of the gallery space through a grouping of live and recorded actions. In a recent collaborative performance with Nicole Eisenman, she explored the intersection between narrative, performance and painting. This new exhibition fuses sculptural and performative strategies into an activation of the exhibition space in which the artists explores her roots, a teenagery transformation from awe to suspicion.
Wynne Greenwood received her MFA in 2004 at the Milton Avery Graduate School for the Arts, Bard College, Annandale-on-Hudson, NY. Her work has been recently shown in solo exhibitions, partially in collaborations with Fawn Krieger, at the Moore Space, Miami, FL; at Participant, New York, at the Hayward Gallery, London, UK; at the Frye Art Museum, Seattle, WA, at Reena Spaulings, New York, Foxy Productions, New York; and at The Kitchen, New York. Group exhibitions and performances include The Way That We Rhyme: Women, Art and Politics, Yerba Buena Center for the Arts, San Francisco, 2 or 3 Things I Know About Her, Harvard University; a screening curated by Stanya Kahn and Harry Dodge, Hammer Museum, Los Angeles; Dead Already, Reena Spaulings, NY, screenings curated by Kim Gordon and Jutta Koether; USA: American Video Art at the Beginning of the 3rd Millennium, 2nd Moscow Biennale, Moscow, Russia, curated by Daniel Birnbaum, Gunnar Kvaran, and Hans Ulrich Obrist; Media Burn, TATE, London, curated by Emma Dexter; "New Report, The F Word", Andy Warhol Museum, Pittsburgh, PA, Tracy + the Plastics, TBA Festival, Portland Institute of Contemporary Art, Portland, OR, Tracy + the Plastics, Walker Art Center, Minneapolis, MN, What is Human?, Transmodern Age Festival of Experimental Performance , Baltimore, MD, Tracy + the Plastics, Whitney Biennial, Whitney Museum of American Art, New York, NY, and Hot Topic and On the Verge, videos for Le Tigre live performance, world tour 2004-2005.