Ei Arakawa & Sergei Tcherepnin
17 Dec 2011 - 14 Jan 2012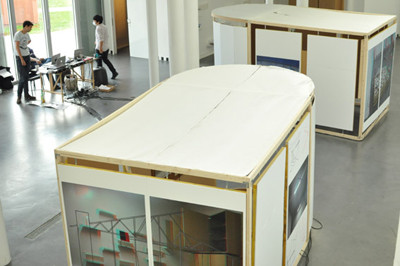 Ei Arakawa, Gela Patashuri, Sergei Tcherepnin
"Be a speaker. So be it..." 2011
Courtesy CAC Brétigny / Photo Steeve Bekouet
EI ARAKAWA & SERGEI TCHEREPNIN
17 December, 2011 - 14 January, 2012

Taka Ishii Gallery is pleased to announce a collaborative audio-visual performance installation by Ei Arakawa and Sergei Tcherepnin, on view from December 17 until January 14. Both artists will be present at the installation and on most of the exhibition dates from 3pm until 6pm with the exception of December 20, 27 and 28. The galleries will be closed for the winter holidays from December 29 until January 9.

Performances:
- Saturday, Dec 24: 3pm & 5pm
- Saturday, Jan 14: 3pm & 7pm

Ei Arakawa (b. 1977) and Sergei Tcherepnin (b. 1981), both live in New York. They began collaboration in 2007. Previous solo exhibitions and projects include: Künstlarhaus Stuttgart, Germany (2009); Tbilisi 6.Never On Sunday, Georgia (2009); Casco, Utrecht, The Netherlands (2010), Vox Populi, Philadelphia, USA(2010); The Showroom, London (2011); CAC Brétigny, Paris (2011).

Ei Arakawa is based in New York since 1998. Working almost always collaboratively, his work "structurally evades forms of production that could be ascribed to, or referred back to a single subject." Selected performances and exhibitions: Tate Modern, London (2012); Kunsthalle Zürich, Switzerland (2011 and 2009); Le Printemps de Septembre, Toulouse, France (2011); The Museum of Modern Art, New York (2011); DAAD Gallery, Berlin (2011); Kunsthaus Bregenz, Austria (2011); Wiels, Brussel, Belgium (2011); Frieze Project, London, United Kingdom (2010), Galerie Neu, Berlin (2010).

Sergei Tcherepnin is a Brooklyn-based artist who uses performance, composition, and installation to explore the materiality of sound and its physical and psychological effects on the listener. Selected performances and exhibitions: Performa11 at New Museum, New York (2011); Murray Guy, New York (2011); 47 Canal, New York (2011); Societé, Berlin (2011); Tokyo Wonder Site, Shibuya (2011); Audio Visual Arts, New York (2010); Roulette, New York (2010); The Stone, New York (2008); Merkin Hall, New York (2008). His compositions have been performed by Da Capo Chamber Players, St Luke's Chamber Ensemble, American Wind Symphony Orchestra. He is a 2012 Artists-in-Residence at ISSUE PROJECT ROOM, New York.