Group Exhibition
30 Jun - 21 Jul 2007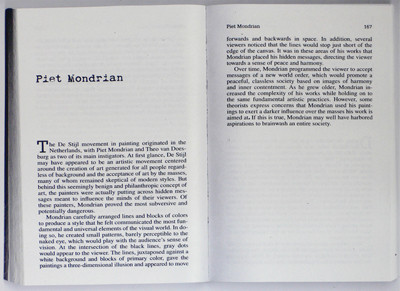 © Gardar Eide Einarsson
"Mondrian", 2007
ink-jet print on archival paper
91 x 73 cm
Courtesy of the artist and gallery.sora.
GARDAR EIDE EINARSSON, SEAN LANDERS, DARREN BADER, HELEN MIRRA, HIROSHI TESHIGAWARA

No context presents the work of five contemporary artists working in a variety of media yet each employing text as a primary element of their practice. The gallery intends to prompt an open series of dialogues exploring various approaches to text-based post-conceptual art practice.

The exhibition includes three American artists : text paintings by Sean Landers, a set of painted 16mm cotton bands by Helen Mirra and a new installation by Darren Bader. The exhibition will also include two new ink-jet prints by Norwegian artist Gardar Edie Einarsson as well as works by contemporary Japanese calligrapher Hiroshi Teshigawara.