To Multiply Is Human
10 Sep - 26 Nov 2011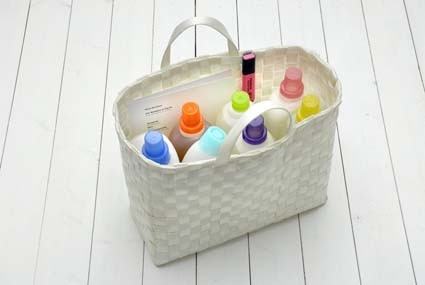 © Maria Eichhorn
Vier Multiples in Tasche, 2009
various detergents, highlighter, and folder with multiple-concepts, and instructions in braided bag
bag: 40 x 41 x 15 cm, 30 copies + 5 artists proofs,
Copyright: Edition Block, Berlin, Photograph: Uwe Walter
TO MULTIPLY IS HUMAN
45 years of Edition Block 1966-2011
10 September - 26 November, 2011

Artists: Joseph Beuys, Barbara Bloom, KP Brehmer, Marcel Broodthaers, John Cage, Henning Christiansen, Philip Corner, Maria Eichhorn, Ayşe Erkmen, Robert Filliou, Richard Hamilton, Mona Hatoum, Dick Higgins, KH Hödicke, Rebecca Horn, Šejla Kamerić, Arthur Köpcke, Jaroslaw Kozlowski, Olaf Metzel, Aydan Murtezaoğlu, Ebru Özseçen, Nam June Paik, Blinky Palermo, Sigmar Polke, Gerhard Richter, Diter Rot, Gerhard Rühm, Bülent Şangar, Carles Santos, Sarkis, Nasan Tur, Wolf Vostell, et al.

Edition Block was founded in 1966. In the early 1970s it moved into its own space in (West-) Berlin's Schaperstraße (Wilmersdorf), right next door to Galerie Block. It is among the oldest still active publishers of multiple objects and prints by contemporary international artists. The founding of the Edition tied in not only with the discussion around the object, which had been touched off in postwar years by the artists of Nouveau Réalism, but above all with the idea of a duplicated - and therefore democratized, because affordable - art, as advocated primarily by the Fluxus movement. The multiple offered not just the opportunity to discuss the problem of the "original", the social stance of artistic work, and the relationship between art and commodity; multiples at the same time assured the broad dissemination of artistic statements that reflected the state of art and took up key positions within contemporary thought.
The first editions from Edition Block were produced in collaboration with artists such as Wolf Vostell, Joseph Beuys, KP Brehmer, KH Hödicke, Sigmar Polke, Palermo, Konrad Lueg, Nam June Paik, Arthur Köpcke, Diter Rot and Robert Filliou. In subsequent years, the program expanded steadily with new artists and the latest art forms, always characterized by René Block's Fluxus principle of artistic networking and his interest in the periphery and "artistic sidestreams". In addition to the object multiples, Edition Block's interest lay (and lies) primarily in prints and the various graphic art techniques. Besides issuing single sheets by different artists, the Edition has frequently published portfolios, such as Grafik des Kapitalistischen Realismus (1967) and Weekend (1971). The principle of assembling several artists for a joint edition is also operative in En Bloc (1969-72), a roll-top cabinet made of wood, whose drawers house objects by 19 German artists as if in a museum en miniature. After the gallery closed (1979) and while Block worked with institutions (the Artists-in-Berlin Program of the DAAD 1982-92, IfA Stuttgart 1993-95 and Kunsthalle Fridericianum 1998-2006), the activities of the Edition were scaled back. It concentrated its focus on the interaction between visual art and music. During this period, editions were released mainly in the form of LPs and CDs, with works by Conrad Schnitzler, David Tudor, Ivan Wyschnegradsky, Claus Böhmler, Philip Corner, Henning Christiansen, Gerhard Rühm, Joseph Beuys, Nam June Paik and Marcel Duchamp. A special multiple in the musical field is Mozart Mix (1991) by John Cage, the artist's homage to the composer Wolfgang Amadeus Mozart. This was the first sound environment involving multiplication.

In 2005 editorial activity turned to a large graphic art project. In conjunction with the Cetinje Biennale Love It or Leave It (2004), Edition Block published the eponymous portfolio with prints by 30 artists in a variety of techniques.
In 2007 Edition Block became a corporation under the management of Anna Block and moved into new quarters at Heidestraße 50 (Tiergarten). René Block remained the artistic advisor; organizational direction now lies in the hands of Barbara Heinrich. Productions with young artists from southeastern Europe such as Bülent Şangar, Aydan Murtezaoğlu and Šejla Kamerić stand alongside new works by "old friends" like Henning Christiansen, Jaroslaw Kozlowski and Carles Santos.
In its now 45-year-long history, Edition Block has constantly taken new directions in the field of multiplied art and, in so doing, also written a chapter of art history. To date, 77 works have been produced in collaboration with more than 80 artists - all in all, a far-flung network that, building on all the experiences of the 1960s, '70s, '80s and '90s, now dedicates itself to the artistic developments of the 21st century.

The exhibition curated by Barbara Heinrich presents all the editions published since 1966, among them "milestones" such as Schlitten (1969) and Filzanzug (1970) by Joseph Beuys, ...höhere Wesen befehlen (1968) by Sigmar Polke, The Critic Laughs (1968-71) by Richard Hamilton and Der Denker (1976/78) by Nam June Paik, along with works by Maria Eichhorn, Ayşe Erkmen, Mona Hatoum, Olaf Metzel, Ebru Özseçen, Sarkis and Nasan Tur from the year 2010/11. An exhibition catalogue in the form of a ring binder contains detailed descriptions of all the editions.