Susan Philipsz
War Damaged Musical Instruments
21 Nov 2015 - 03 Apr 2016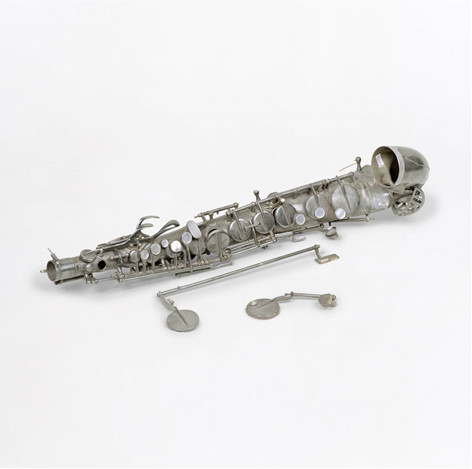 Susan Philipsz
Bild 10
Alto Saxaphone (ruin)
Brass silvered
Only the bell with two valves preserved
Salvaged from the Alte Münz bunker, Berlin, 1945
Collection Musikinstrumenten-Museum Berlin
War Damaged Musical Instruments features fourteen recordings of British and German brass and wind instruments damaged in conflicts over the last 200 years.

The notes recorded are based on the tones of the military bugle call 'The Last Post', but the tune is fragmented to such an extent that it is almost unrecognisable. The tune signalled to lost and wounded soldiers that it was safe to return to base and is used today as a final farewell in military funerals and Remembrance ceremonies.

The artist has worked with the architecture of the space devising a sequence of sounds that travel the length of the Duveen galleries. Philipsz explains, I am less interested in creating music than to see what sounds these instruments are still capable of, even if that sound is just the breath of the player as he or she exhales through the battered instrument. All the recordings have a strong human presence.

Forming part of the 14-18 NOW arts programme to commemorate the First World War centenary, the work features several instruments from that period, and has a special resonance with the history of Tate Britain, as part of the site was originally a military hospital that treated soldiers injured in the First World War.

It is also a poignant reminder that conflict and loss are present in the world today.