Making History
Art and Documentary in Britain from 1929 to Now
03 Feb - 23 Apr 2006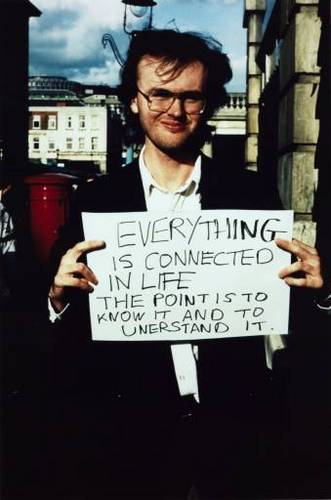 © Gillian Wearing
from Signs that Say What You Want Them To Say and Not Signs that Say What Someone Else Wants You To Say 'Everything is connected in life...' 1992-3
Courtesy Interim Art, London
Making History: Art and Documentary in Britain from 1929 to Now surveys the impact of the documentary form on art and artists and vice versa. Encompassing film, photography, painting and installation art, the exhibition focuses on works where a dialogue between art and realist documentary occurs. It seeks to question the traditional opposition between art and documentary, and to ask whether this is really a false dichotomy.

The exhibition features work by artists and practitioners such as John Grierson, William Coldstream, Humphrey Spender, Bill Brandt, Humphrey Jennings, John Bratby, Lucian Freud, Martin Parr, Isaac Julien, Jeremy Deller and Gillian Wearing. Because of the strength of the documentary tradition in Britain, the exhibition has a national bias, focusing on artists, filmmakers and their associates working in this country including a number of key émigré artists. Since much of the work addresses national identity, the representation of British society and the construction of a national culture and self-image, a subsidiary theme of the exhibition is the portrayal of Britain and Britishness.

The exhibition is arranged chronologically, divided into four sections: 'Defining Documentary' deals with the 1930s and 1940s; 'Looking at Britain' addresses the 1950s and 1960s; 'Gender, Race and Society' looks at the 1970s and 1980s; and 'Reconstructing History' examines the contemporary era from 1990 to now. Thus Making History spans the greater part of the last century to the present and reveals a sustained, though complex and changing, dialogue between art and documentary in Britain that continues today.