Anna Molska and Ciprian Mureşan
Stage and Twist
25 May - 14 Oct 2012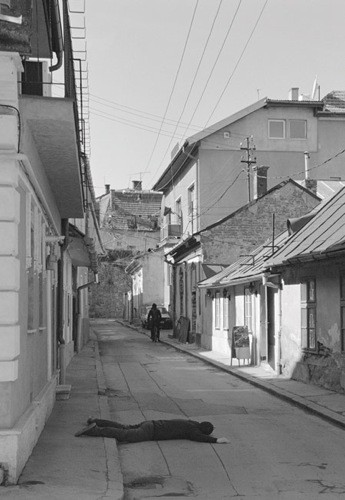 Ciprian Mureşan, Leap Into the Void, After Three Seconds, 2004
Courtesy Plan B, Cluj / Berlin and Nicodim Gallery, Los Angeles
In Stage and Twist a child drinks a mixture of Pepsi and Coca-Cola, a giant puzzle is played by two half-naked young men, an iconic work by Yves Klein is re-enacted with the artist leaping into the void and hitting the pavement below and a group of workers assemble a monumental sculpture out of scaffolding in an empty field. In all of these works history is both re-staged and twisted as a means to engage critically with the present day.

This exhibition brings together the Polish artist Anna Molska and the Romanian artist Ciprian Mureşan for their first museum exhibition in London. Molska and Mureşan draw upon historical events and art history to highlight the power of the collective experience in the post-communism era. Both artists question social mechanisms and the construction of individuality. Rather than glorifying the past, each work cheerfully accepts the uncountable failures and shortcomings of contemporary society.

The exhibition is curated by Capucine Perrot, Tate Modern and Magda Lipska, Museum of Modern Art in Warsaw.