Edward Lipski
16 Oct - 15 Nov 2008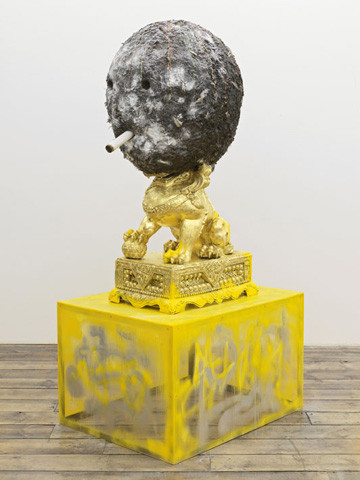 © FU DOG, (Large), 2008
Bronze, gold leaf, perspex, earth, acrylic glue, tinsle, wax, whiting powder, feathers on sprayed perspex and steel plinth, 184x65x41cm
EDWARD LIPSKI

Edward Lipski's new sculptures are opulent, terrifying idols that emerge from the disordered world of worship, superstition, taboo and the subconscious.

Lipski's free, loose chaos of materials is orchestrated into formal compositions that reflect a fascination with different cultures, pagan traditions and voodoo. The sculptures are interested in the point where a civilisation is absorbed into, or digested by another culture. Lipski explores culture being subverted, transformed or renamed (not destroyed or overtaken)– like the removal of the eyes of pagan god statuettes or graffiti on the façade of a building, Lipski's idols are transformed and made anew by each 'mutilation' or cultural 'dilution'. Animal forms and distorted human skulls in these absurd, contradictory creatures also hint at an eerie anthropological investigation of the primitive in modern man.

The sculptures amalgamate a rich and diverse array of materials and forms. Fabricated articles are contrasted with masterfully handcrafted objects, and employed as components alongside collected religious trinkets and kitsch ornaments. The culturally diverse takeaway restaurants around the artist's East London studio also inspire the twisted Colonial god kebab figures. Lipski punctuates his dark, ragged and dirty constructions with splashes of inexplicable exuberance; bright aerosol spray paint, slick reflective surfaces, feathers and flashes of gold merge with his tormented figures in a rich blend of references to Western contemporary art, ancient Chinese, Japanese and Middle Eastern art as well as tribal African art. In some of Lipski's sculptures, an imaginary connection is drawn between ancient China and Africa in an odd marriage of two cultures that never met historically.