Jack Lavender
06 Jun - 28 Jul 2013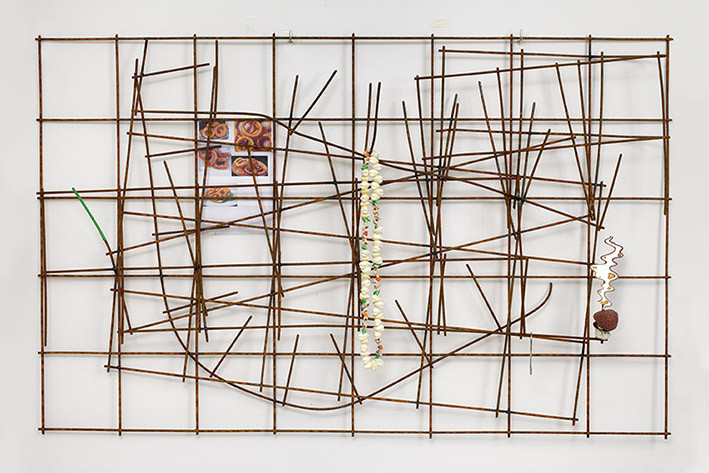 © Jack Lavender
Dreams Chunky 6, 2013
Metal, shells, magnets, rocks, paint, laminated print, hooks
100x162x18 cm
JACK LAVENDER
Dreams Chunky
6 June – 28 July 2013

Titled 'Dreams Chunky', Jack Lavender's exhibition at The Approach will be his first and will include wall grids, hanging assemblages, floor works and ambient music. Jack Lavender draws from a world of mass-produced objects, transforming their singular banality through their composition within such structures as grids and metal armatures. Sitting between the disciplines of painting, sculpture and collage, Lavender brings different elements together to create a new entity. Objects that would normally be the detritus of our lives are paired with high quality application and construction, retaining a bittersweet trace of their low origins, and re-imagined for their formal qualities within Lavender's growing aesthetic lexicon.

Jack Lavender (b. 1983, UK) lives and works in London. Selected exhibitions include; Paradise Garage, Eighty One, London (2013); Chimera Q.T.E, Cell Projects Space, London (2013); Young London, V22, London, 2012, The Approach, London, 2012, Heat, Twelve around One gallery, London, 2012, Chubby Group show, 15 Howie St, London, 2011 and Pale Blue Dot, Woodmill, London, 2010.