Lizzi Bougatsos
16 Jun - 26 Jul 2009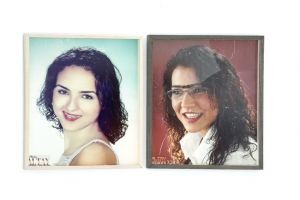 © Lizzi Bougatsos
Untitled (Istanbul), 2008
found posterm ceramic, glass, horsehair
diptych, each 50,5 x 62,5 cm
playroom

LIZZI BOUGATSOS

Opening: Tuesday 16 June 2009, 11.00-21.30
Duration: 16 June – 26 July 2009

Opening times: Tuesday 12.00-8pm, Wednesday through Friday 1.30pm-9.30pm, Saturday & Sunday 5.30-9.30pm

The Breeder announces its participation in remap 2 with the inauguration of playroom, an autonomous project space housed in the second floor of the gallery, with the first European solo exhibition of Greek-American artist Lizzi Bougatsos. Lizzi was born in Queens, New York and her practice incorporates sculpture, collage, installation, writing and performance. Since 2000, she has been a founding member and lead singer for the punk-rock band Gang Gang Dance.

According to the artist the creative process comes as a reaction to the various stimuli she receives, while the materials she is using for her works are found in the streets of New York and other cities she visits whilst on tour with her band. The installation Birdhouse for Humans (2007), a house made out of cardboard in human size, occurred from an equivalent bird house made by a homeless person in New York. Multicultural elements in her artwork and music are combined creatively and organically with each other. However, the key element of her work as an artist and a performer is "melancholy" since for Bougatsos it is synonymous to "beauty".

At her solo exhibition at the playroom Lizzi Bougatsos will be presenting among other works the continuation of the series of works "street sign", a large scale sculpture, along with collages that incorporate disparate objects in imagery related to the recent history of western civilization and established in the consciousness of the consumer. A Donald Duck portrait is attached to the half of a shoe adorned with feathers, Mickey Mouse is using a dildo, while the young and beautiful models of the old fashioned advertisements, that we see in the window fronts of pharmacies until today, are bearing braces in their perfect white teeth. Bougatsos does not hesitate to experiment and to express almost instinctively her position against the symbols of the western society, interfering with them dramatically, just as Duchamp did when he drew a moustache on Mona Lisa's face.
Lizzi Bougatsos has presented her work in a solo exhibition at James Fuentes LLC, New York (2007), in two person shows with Kim Gordon at Reena Spaulings Fine Art, New York (2005) and with Jess Holzworth at American Fine Arts, Co., New York (2000). In 2008 she participated among others in the exhibition The Station, curated by Shamim Momim and Nate Lowman in Miami, in the exhibition with works from the Astrup Fearnley Collection in the Astrup Fearnely Museet for Moderne Kunst, Oslo, in "Jekyll Island" at Honor Fraser gallery, Los Angeles as well as in the Whitney Biennial, Whitney Museum of America Art, New York. In 2007 she was included in the exhibition In/Out of Me, curated by Klaus Biesenbach, MACRO - Museo d'arte Contemporanea di Roma, Milano and Kunste Werke, Berlin as well as in the exhibition The Perfect Man, curated by Rita Ackermann, White Columns, New York.