Coming After
10 Dec 2010 - 04 Mar 2012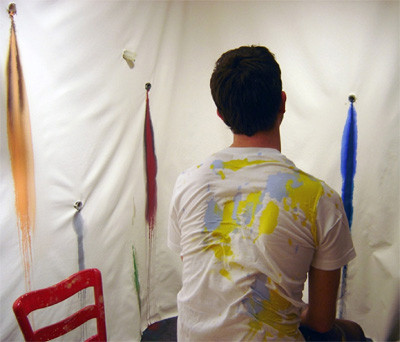 © Jonathan VanDyke
Durational Performance for Two Men, 2009. Performance with dripping paint and installation of canvas, felt and wood. Courtesy the artist.
COMING AFTER
Curated by Jon Davies, assistant curator
10 December, 2011 - 4 March, 2012
A group exhibition on queer time, arriving too late and the spectre of the recent past.
Pauline Boudry/Renate Lorenz, Aleesa Cohene, Glen Fogel, Onya Hogan-Finlay, Christian Holstad, Danny Jauregui, Adam Garnet Jones, Jean-Paul Kelly, Tim Leyendekker, Benny Nemerofsky Ramsay, James Richards, Emily Roysdon, Dean Sameshima, Jonathan VanDyke, Susanne M. Winterling
Featuring artists from New York, Los Angeles, Berlin, Toronto, and beyond, Coming After is a response to the recent renewal of interest in the period from the mid-1980s to early 1990s that was decisive for North American cultural politics. This time period witnessed the (first of many) Culture Wars, the birth of "queer" as an identity and theory, and the rise of a direct-action AIDS activist movement — epitomized by ACT UP — fighting a new plague that was devastating communities of artists, queers and people of colour. While these years were highly traumatic, they also represented a galvanizing, dynamic moment for queer citizenship — one that is arguably haunting our present and our future.
This exhibition does not focus on those artists who were, as artist Christian Holstad succinctly put it, "burying their dead" at that time, but instead those who grew up in the shadow of the crisis, whether by fate or by choice. Artist Sharon Hayes has noted, "what marks me generationally is that ... it wasn't my friends who were dying, it was the people I was just discovering, people I was just beginning to model myself after, people I longed to become."
The artists in Coming After were primarily born in 1970 or later and share a certain queer sensibility that is in dialogue with the past in some way. Rather than melding with the consumer-culture lifestyle that has been touted as LGBT citizenship over the past fifteen years, the work evidences a sense of having come after or missed out on something. The potential represented by this very recent and more faraway radical (queer) historical moments is both an open wound and a fount of inspiration. What was lost along the way from then to now? Some works are specifically referential, while others more obliquely capture a sense of having arrived too late, a kind of knotty nostalgia or even melancholic deflation. For example, one motif in the exhibition is of spaces haunted with both historical resonance and a glimmer of future potential.
Negotiating their hope and despair about the present and future of our world in complex and compelling ways, the artists in Coming After share a sense of themselves as part of queer genealogies and cultural lineages, with influence and affinity moving across time and space.
Onya Hogan-Finlay's project includes a parallel exhibition at the Canadian Lesbian & Gay Archives Gallery, 34 Isabella Street, 20 January – 10 April, 2012.
www.clga.ca
Coming After will be accompanied by a publication including a curatorial essay by Jon Davies, as well as original illustrations by Logan MacDonald, special artist projects by Ulrike Müller and Jimmy Robert, a transcribed speech by Sharon Hayes and a short text by American artist Zoe Leonard.