If We Can't Get It Together
13 Dec 2008 - 22 Feb 2009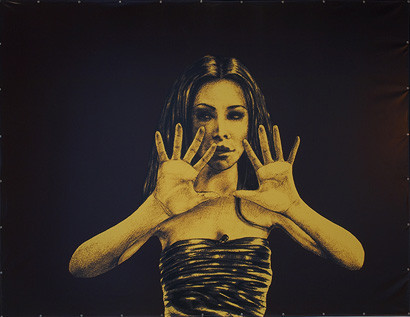 © Hassan Khan
Host, 2008.
Courtesy the artist and Galerie Chantal Crousel, Paris. Photo: Rafael Goldchain.
IF WE CAN'T GET IT TOGETHER
Artists rethinking the (mal)function of communities

Curated by Nina Möntmann

13 December 2008 – 22 February 2009

Opening Reception
Friday 12 December | 7:30 PM

Shaina Anand, Egle Budvytyte, Kajsa Dahlberg, Hadley + Maxwell, Luis Jacob, Hassan Khan, Emily Roysdon, Haegue Yang

Exploring experimental and imagined social formations, 'If We Can't Get It Together' proposes that the idea of "community" calls out for radical renewal. Sometimes organized around as-yet-unrealized ideals, the new communities explored in the exhibition implicitly ask: what effect does today's upsurge in temporary social groupings-brought on by global migration and newly fluid notions of identity-have on communal and public life?

Many of these radical new social formations incorporate subversive or covert communication strategies and secret dialects, or even reject conversation altogether. Shaina Anand, in KhirkeeYaan, 2006, takes a grassroots approach to media. Turning cheap surveillance technology against itself, Anand created an open-circuit network and feedback interface for a migrant New Delhi neighbourhood. Hassan Khan also manipulates mainstream media to unsettling effect. In a new etching that adapts the seductive image of a TV game show presenter taken with a cell phone, he suggests a closed circuit, an entirely virtual community. More covert communication strategies fascinate Egle Budvytyte. Her new fictional documentary Secta, 2006, depicts a utopian society whose members reinforce their collective values by sharing bizarre rituals, like walking backwards up an elevator, licking fruit in a supermarket and shaving their legs in public.

A tension between the desire to identify with a group and ambivalence about collective affiliation characterizes the work of several artists. Kajsa Dahlberg accompanies her video about a separatist women's camp with an etched-glass version of the contract between herself and the women. Beyond formalizing the terms of their collaboration, the agreement notes: "You are welcome on Femø if you are a woman [...] We are aware that the use of the term 'woman' activates dichotomies such as: inside-outside, constructed-biological, feminine-masculine, center-margin, public-private, and many others. Participants identify themselves as being located either inside a category, outside a category, or moving in, out and between such categories."

In Haegue Yang's work, the search for belonging emerges in the desire to convey her experience of place within abstract parameters. Her new project, Domestics of Community, 2008, embeds a video projection within an evocative installation. The video camera meanders through rainy Brazilian streets while a voiceover captures an outsider's impressions of an unfamiliar culture. Fashioned from Venetian blinds, a freezer, fan, heaters, and scent emitters, Yang's installation combines familiar objects with unexpected sensations.

Proposing that communities are constantly in process, Emily Roysdon in Strategic Form, 2006, documents the performance of an unstable human pyramid as "the body of potential." Meanwhile, Luis Jacob explores conflicts between individual and collective activities. Developing from his earlier sculpture of a flock of pigeons as a symbol of artistic collaboration, Jacob here displays a solitary swan that highlights the tension between being part of a group or standing apart from the flock, flying as part of a collective effort or remaining rooted in one's territorial space. Larger ideas about the mass movement that catalyzed the generation of 1968 and its aftermath are considered by Hadley + Maxwell. In Gloomy Sunday, 2006, they mobilize an image of a slain student from the 1970 protests at Kent State University to reflect upon the unsettled ghosts of a violent past.

Open-ended and elusive, unsettling and compelling, the approaches to community and collectivity in the exhibition combine the documentary, the fictional and the activist. New and recent works incorporate such media as film/video, sculpture, installation, photography, and ephemera. Guest-curated for The Power Plant by the leading German curator and critic Nina Möntmann, 'If We Can't Get It Together' highlights the crucial role of communication - and miscommunication - in shaping current ideas of community.

Nina Möntmann is Head of the Art Theory and the History of Ideas Department at Stockholm's Royal University College of Fine Arts. She curated the Pavilion of the Republic of Armenia at the 2007 Venice Biennale and was a curatorial advisor for Manifesta 7, 2008. A correspondent for Artforum, Möntmann is editor of Art and Its Institutions (2006) and co-editor of Manifesta 7 Companion Reader and Mapping a City (2005).