Kerry Tribe
23 Mar - 03 Jun 2012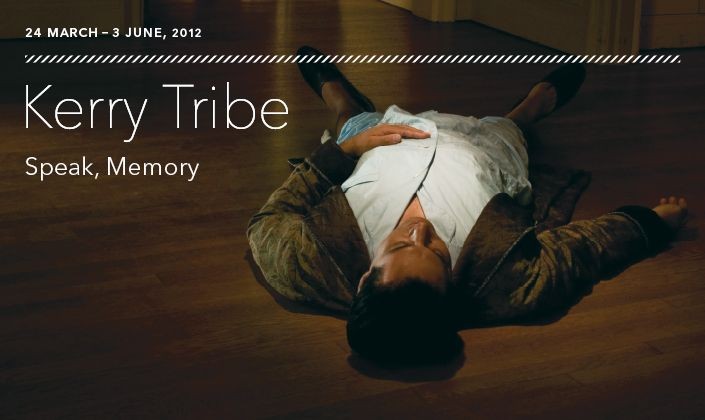 © Kerry Tribe
There Will Be ________, 2012. Pre-production still (Murder). Courtesy the artist and 1301PE, Los Angeles
KERRY TRIBE
Speak, Memory
24 March - 3 June, 2012

Based around the premiere of Kerry Tribe's new film project There Will Be ________, this exhibition examines her ongoing interest in memory and the history and apparatus of film.

CURATED BY MELANIE O'BRIAN, CURATOR & HEAD OF PROGRAMS

The Power Plant presents a major solo exhibition of work by Los Angeles-based artist Kerry Tribe. Contextualizing a new project through a selection of past works, the exhibition Speak, Memory offers insight into Tribe's ongoing interest in memory and the history and apparatus of film. Engaging image, text and sound, Tribe's work considers cognition, typically revealing its content through a kind of structural storytelling. Often working with multiple projections and timed loops, her use of the literal mechanics of the moving image suggests that the medium is capable of mirroring processes of comprehension, memory and doubt.

Seeing its Canadian premiere here at The Power Plant, Tribe's new project There Will Be ________ (2012) is a film that approaches the history of Greystone Mansion in Beverly Hills. In the late 1920s, the owner of the mansion and his personal assistant were found murdered on-site. The investigation ended abruptly and a cover-up was suspected. The family eventually moved out and by the 1950s the house was a regular Hollywood filming location. Shot on location at the mansion, Tribe's work uses actors in 20s costume to perform diverging accounts of the events leading up to the murder. All of the dialogue is appropriated from scenes of feature films that have been shot at the mansion. Although these lines are restaged and taken out of their original narrative context, Tribe's work evokes a sense of familiarity or déjà vu.

The installation of There Will Be ________ will be accompanied by two older works: H.M. (2009) and Parnassius mnemosyne (2010), and by her performance Critical Mass (2010–11), which will be staged in conjunction with the 25th Images Festival. H.M. is a two-channel presentation of a 16mm film based on the true story of an amnesiac known as "Patient H.M." At the age of 27, in the year 1953, H.M. underwent brain surgery to alleviate his epilepsy. The unintended result was a radical and persistent amnesia. Although he was no longer able to make lasting memories, his short-term recall (about twenty seconds) remained intact. His case is credited with revolutionizing the understanding of human memory. Tribe's single film plays through two adjacent synchronized projectors with a twenty-second delay between them; the viewer therefore sees two simultaneous projections of two different parts of the same film reel. The structure of the installation and the nature of the visual material produce a sensation of mnemonic dissonance much like that experienced by H.M. Drawings and photographs are shown in conjunction with the film installation.

Parnassius mnemosyne is a 16mm möbius film loop installation, featuring an image of a butterfly wing under a microscope. Parnassius mnemosyne, or Clouded Apollo, is a butterfly species. "Mnemosyne" refers to the personification of memory in Greek mythology. Author Vladimir Nabokov, also a renowned butterfly collector, included his drawing of Parnassius mnemosyne in his autobiography. The memoir is known for having been published in a string of ever-changing iterations, reflecting the instability of subjectivity and recall. In the installation, the 16mm film strip is twisted once and its head is spliced to its tail to form a möbius strip — a surface with only one side and only one boundary. Whenever the splice passes through the projector's gate, the image flips along a vertical axis.

In Critical Mass, Tribe's first live performance project, she directs two actors in a restaging of Hollis Frampton's groundbreaking experimental film of the same name from 1971. Re-enacting the repetitive, stuttering audio, along with the expected motions of a couple's circular fight, Tribe's work demonstrates her ongoing investigation into personal and historic memory.

Kerry Tribe (born in Boston, 1973) participated in the Whitney Independent Study Program in 1997–98 and received her MFA from the University of California, Los Angeles in 2002. In 2010–11, her solo exhibition Dead Star Light toured to Arnolfini, Bristol; Modern Art Oxford; and the Camden Arts Centre, London. Tribe's work has been included in recent group exhibitions at such venues as the Vancouver Art Gallery (2011), the Hammer Museum, Los Angeles (2011), Castello di Rivoli, Turin (2010), and the Generali Foundation, Vienna (2007), as well as in the 2010 Whitney Biennial, New York. Tribe's work is represented by 1301PE , Los Angeles.