Simon Starling
01 Mar - 11 May 2008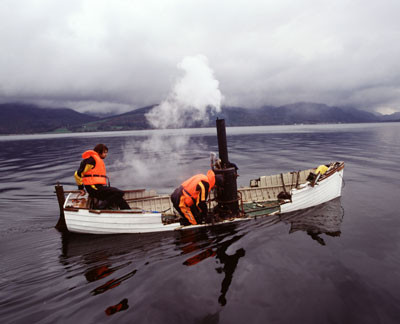 Simon Starling, Autoxylopyrocycloboros, 2006, (detail), 38 6 x 7 cm colour transparencies, Götschmann slide projector, flight case, dimensions variable. Courtesy of the artist and Casey Kaplan, New York.
SIMON STARLING
Cuttings (Supplement)
01 March—11 May 2008
'Cuttings (Supplement)' is Simon Starling's largest exhibition since winning the 2005 Turner Prize and his exhibition 'Cuttings' at Museum für Gegenwartkunst in Basel (a catalogue co-produced by The Power Plant accompanied the exhibition). 'Cuttings (Supplement)' features nine major works from 2002-07, including The Power Plant's new Henry Moore-related commission Infestation Piece (Musselled Moore), that in different ways address the various ecologies (environmental, political, economic, cultural and art historical) that Starling's works engage. Also included is Island for Weeds—Starling's work from the Venice Biennale in 2003 when he represented Scotland—as well as Bird in Space 2004, By Night, Nachbau, Autoxylopyrocycloboros, Tabernas Desert Run, 24 hr Tangenziale, and Los Angeles, 3rd-5th March 1969 // to indefinite expansion.
"When I'm making art," says Starling, "I'm thinking up novels in a way... I'm involved in an activity which is similar to that of a narrator." This approach of active narration epitomizes his new commission for The Power Plant. The work alludes to the close relationship between English sculptor Henry Moore and Toronto, which has one of the most significant collections of Moore's sculpture in the world and commissioned The Archer (1964-65), one of Moore's most important public works. The proposed sculpture provoked an outcry in Toronto, due in part to nationalist opposition over foreign artists receiving public funds. The objections were thwarted by enthusiasts who raised private money to purchase the sculpture, thereby cementing a relationship between Moore and Toronto that resulted in Moore awarding the Art Gallery of Ontario a significant selection of his plaster originals and works on paper.
Previously, a small number of Moore's sculptures entered the AGO's collection at the recommendation of gallery adviser Anthony Blunt, the art historian and member of the infamous spy ring that betrayed British secrets to the Soviet Union during WWII. They included the bronze Warrior with Shield (1953-54) that evolved, in Moore's words, from "a pebble I found on the seashore in the summer of 1952, and which reminded me of the stump of a leg, amputated at the hip." Moore's fascination with the suggestive formal possibilities of natural objects particularly interested Starling, and provided a jumping off point for his new commission.
Subsequently Starling became fascinated with the invasion of the Eastern European zebra mussel throughout the North American Great Lakes. Marine biologists speculate that the zebra mussel entered the Great Lakes in 1988 in ballast water from large ocean-going trading vessels. Native to the Black Sea, the mussels have become a dominant aquatic species in North America, with both beneficial and destructive ecological repercussions, through filtering pollutants from the lakes while also eliminating many native species. Starling combined his interests in Moore and the zebra mussel by creating a steel copy of Moore's bronze sculpture Warrior with Shield and submerging it into Lake Ontario for eighteen months where it became colonized by zebra mussels. The recently removed sculpture, covered with dried mussel shells, is the centerpiece of Starling's exhibition.
This dialogue with Moore is both an engagement with an artistic legacy and an examination of larger social, cultural and environmental contexts. The exhibition includes recent works that expand on these concerns. Island for Weeds (2003) alludes to the migration of the rhododendron and proposes a floating island to contain the non-native plant that is now being eradicated in Scotland. Bird in Space (2004) refers to Marcel Duchamp's importation of Brancusi's Bird in Space to the United States in 1927, when customs deemed it not art and imposed an import tax. Starling's work uses a large block of steel exported to the US from Romania, Brancusi's homeland, shortly after George Bush dropped tariffs designed to protect the US steel industry. As with the new commission, these works refer to multiple journeys – those that are constricted and even moulded by the processes of culture.
Born in 1967 in Epsom, England, Simon Starling is a graduate of the Glasgow School of Art. He won the Turner Prize in 2005 and was shortlisted for the Hugo Boss Prize in 2004. Currently, he lives in Copenhagen and is Professor of Fine Arts at the Staedelschule, in Frankfurt. He has exhibited widely including the Bienal de Sao Paulo (2004) and the Busan Biennal (2006) and represented Scotland at the Venice Bienniale in 2003. In the past five years, Starling has also made solo exhibitions at Villa Arson (Nice, France), Dundee Contemporary Arts (Dundee, Scotland), Museum für Gegenwartskunst (Basel, Switzerland), and Museum of Contemporary Art (Sydney, Australia). Solo exhibitions in 2008 include MASS MoCA, Kunstraum Dernbirn, The Modern Institute, and Galleria Franco Noero.
The exhibition was curated by Director Gregory Burke. The commission was initiated by former curator at The Power Plant Reid Shier. The exhibition is accompanied by a new publication, Cuttings (Supplement), with essays by Gregory Burke, Mark Godfrey, Reid Shier, and Sarah Stanners.
Exclusive Presenting Sponsor
BMO FINANCIAL GROUP
Lead Donors
JAY SMITH & LAURA RAPP
Support Donor
Jeanne Parkin
Founding Commissioners
Lonti Ebers and Bruce Flatt
Yvonne and David Fleck
The Latner Family
Phil Lind
Garnet and Evan Siddall
The Power Plant gratefully acknowledges the support and collaboration of:
The Art Gallery of Ontario, the Henry Moore Foundation, Casey Kaplan Gallery
The Simon Starling Commission was initiated by Reid Shier, former Curator of The Power Plant. We are grateful for the assistance of Hugh MacIsaac, Professor Gerry Mackie, Jay McLennan (Spire Art & Design), Sherry Phillips and Dr. W Gary Sprules.
www.thepowerplant.org