Lee Friedlander
26 Feb - 30 Apr 2011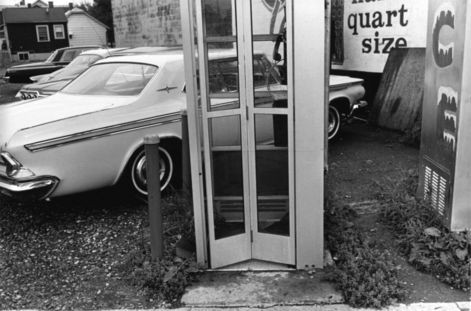 © Lee Friedlander
Untitled, 1963
From the series The New Cars: 1964
Gelatin silver print
11 x 14 inch / 28 x 36 cm
LEE FRIEDLANDER
Cars
26 February - 30 April, 2011

Galerie Thomas Zander is pleased to present in its latest exhibition a selection of works from photographer Lee Friedlander's new series "America by Car". The selection of photographs was previously on view until late November 2010 in an eponymous solo show at the Whitney Museum of American Art in New York, and a book has also been published on the series. In the Cologne show, titled "CARS", the latest works are displayed alongside a group of Lee Friedlander's earlier, unpublished, "Cadillac" photographs from the 1960s. The exhibition was realised in association with Fraenkel Gallery, San Francisco.

Lee Friedlander (b. 1934 in Aberdeen, Washington) became well known with his b/w documentary photographs of American street scenes and is considered to be a critical chronicler of the American way of life. Being one of the most important representatives of Street Photography, he captures people in urban situations and thus reflects on modern, alienated life. Apart from city and street scenes, Friedlander also covers the genres of the nude, self portrait, landscape or still life. The driving force behind his oeuvre is above all the motivation to engage with their immediate lebensraum. Lee Friedlander is one of today's most prominent American photographers. Among other awards, the photographer received the Hasselblad Foundation International Award in Photography in 2005

The current photo series "America by Car" comprises over 190 images documenting a number of road trips the photographer took during the years 1996 to 2009 through the vast reaches of his home country. Friedlander took the photos using his Leica without leaving his perch behind the driver's seat of various rental cars. The scenes glimpsed in the rear-view and/or side-view mirrors share the picture space, resulting in picture-in-a-picture shots that bear Friedlander's unmistakable signature. Door panels, dashboards, windscreens and car mirrors are integrated into the b/w images, creating intriguing collages of landscape, car interior and artist portrait. The viewer is treated to a distorted panorama of American life from the viewpoint of the photographer: barren stretches of land with herds of cattle, rows of big-city buildings, ads for ice cream cones, shop windows, pin-up posters on trucks, stop signs, American flags, skid marks on the road, war monuments, churches and hotel facades in Las Vegas, as well as unknown people or friends passing by, such as Friedlander's photographer colleague Richard Benson and John Szarkowski, the former curator of The Museum of Modern Art, who died in 2007.

Friedlander's photographs are in the collections of renowned museums, e.g. The Metropolitan Museum of Art, New York. His work is widely acknowledged through numerous publications and international exhibitions. As early as 1967, the American photographer received much attention in the exhibition New Documents at The Museum of Modern Art, New York, alongside Diane Arbus and Garry Winogrand. A large retrospective featuring work from 1956 to 2004 was mounted by Haus der Kunst in Munich in 2005/2006, organized by Peter Galassi, Chief Curator, Department of Photography at The Museum of Modern Art. The MoMA first acquired Friedlander's works in 1964 and has since presented Friedlanders work in large solo and travelling exhibitions. Lee Friedlander lives and works in New City, NY, USA.