Ryan McGinley
01 - 29 Sep 2012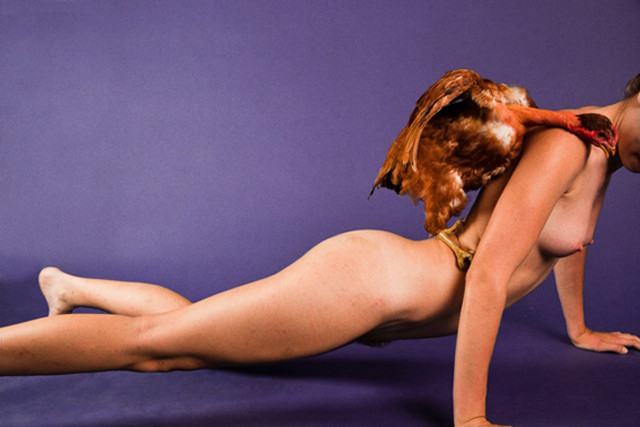 © Ryan McGinley
Turkin (Prism Violet), 2012
c-print
76.2 x 114.3 cm
Courtesy of the artist and Team Gallery, New York
RYAN MCGINLEY
Reach Out, I'm Right Here
1 - 29 September 2012

Ryan McGinley's utopian photographs, with their subtle but strong sense of composition and color, capture the essence of his generation. In 2000, at the age of 22, McGinley o pened a g uerrilla show of color photographs depicting moments in the lives of the people around him, members of New York's Lower East Side youth culture. He also produced a 50-page book of these photographs, lovingly titled The Kids Are Alright (the title is from a documentary film about the rock band, The Who) , which attracted widespread attention and ultimately led to a solo show at The Whitney Museum of American Art, making him the youngest artist ever to receive this honor.
Sylvia Wolf, a former curator at the Whitney and a current director of the Henry Art Gallery, Washington University, remarks that while McGinley's depiction of youth culture or subjects outside the mainstream remind us of works by Nan Goldin, Larry Clark, or Wolfgang Tillmans, "his subjects appear to be having much more fun than those of his predecessors. With images that are charged with spontaneity, candor, and exuberance, he adds a freshness and fervor to the genre." She also points out: "[the] breaking down of boundaries between public and private spheres of activity, and the obsessive self-examination that characterizes McGinley's early work anticipate the era of YouTube, where video clips made without attention to craft by anonymous amateurs are posted for all to see."
(Sylvia Wolf, "Out of Bounds: Photographs by Ryan McGinley", in Ryan McGinley, You and I, Twin Palms Publishers, 2011)

Over the years, McGinley's work has evolved from the documentary of his own reality towards the capturing of meticulously considered and balanced yet still wildly unpredictable moments. In the summer of 2003, McGinley was invited to spend a summer at a house in rural Vermont and began to discover the possibilities of directing the action in front of his cam era. H e specifically created situations that allowed his subjects to lose them selves in the moment, such as climbing amongst tree branches, or swimming at night. Since then he has introduced increasingly elaborate situations, adding studio-style lighting and effects to his outdoor shoots.

For his exhibition at Tomio Koyama Gallery, Ryan McGinley will present color photographs chronicling the summer road trips he has taken with groups of models across the United States. McGinley places his naked subjects in unusual and breathtaking situations, photographing them against the backdrop of the vast and varied American landscape.

At Shibuya Hikarie, selections from McGinley's recent color studio portraits of nude models and animals will be on display. The artist visited various sanctuaries, zoos, and rescue establishments across the U.S., erecting a mobile studio wherever he could. The Artsit says "When I would have the animals on set, I'd notice the way the models would interact with them and there was so much true emotion that you rarely see between two human beings. It was fun for m e to watch; the p eople were really just p rops for the anim als to climb on." (Interview by Marcuse Chang, The New York Times Magazine, May 12,2012.)There exists both tension and tenderness between the models and wild animals, as they claw, clutch, nibble, and hug one another.

McGinley's photographs are included in the collections of The Solomon R. Guggenheim Museum, the San Francisco Museum of Modern Art, the Museum of Fine Arts in Houston, the Smithsonian National Portrait Gallery in Washington D.C., and many others. The 34 year-old artist has had solo exhibitions at the Whitney Museum of Art and MoMA PS1 in New York, MUSAC in Madrid, and the Kunsthalle Vienna. Last year McGinley had solo exhibitions in London and Amsterdam. Earlier this year a monograph on his work was released by Twin Palms Press. A long-awaited book surveying his career from 1999 through the p resent, with essays by Chris Kraus and John Kelsey as well as an interview with Gus Van Sant, was published this summer by Rizzoli.