Niki de Saint Phalle
08 Nov - 21 Dec 2013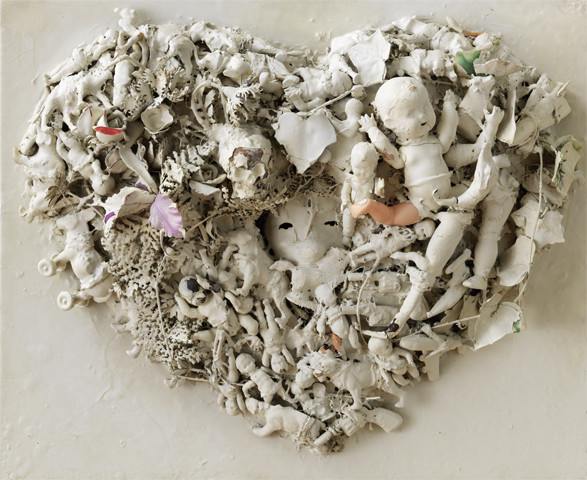 Niki de Saint Phalle
Be My Frankenstein, 1964
Paint, fence, various objects on plywood
25 5/8 x 31 1/2 x 9 7/8 in.
NIKI DE SAINT PHALLE
En joue ! Assemblages & Tirs (1958-1964)
8 November — 21 December 2013

The exhibition En joue ! Assemblages & Tirs (1958-1964) is the first solo show dedicated to Niki de Saint Phalle at Galerie Georges-Philippe & Nathalie Vallois.
To underline this new collaboration with the artist's estate, we chose to present works – some still unknown by the French public – covering a key period in Niki de Saint Phalle's work, when the young woman joined the Nouveau Réalisme movement.

This exhibition is articulated around a cusp in the artist's work when Niki Mathews chose her artist's name Niki de Saint Phalle and went from the practice of pure assemblage to a « proactive » practice which led her to the production of her famous « Tirs » (shooting-paintings.)

In 1961, Niki was invited by Jacques Villeglé to participate to the Salon Comparaisons. The work which she exhibited, Portrait of my lover – an attempt to exorcise an insistent lover – is an assemblage on a panel composed of a shirt stolen from the latter, his head figured by a target which visitors were supposed to throw darts at.

This was the first public action by Niki de Saint Phalle, her very first « Tir. » Niki herself recounted that next to her work was a large white piece by Bram Bogart. Upon seeing it, the artist got the idea of « making the artwork bleed. « She began to work frenetically and invited, only a few days later, Pierre Restany to attend a shooting-painting session done with a rifle. She was then immediately incorporated by the art critic into the Nouveaux Réalistes movement. He also invited her to have her own first solo show in Paris.

This is how she came to present her first « Tirs » during the exhibition « Tir à volonté » at Galerie J where Leo Castelli, Jasper Johns, Bob Rauschenberg were present, alongside numerous actors from the international art scene of the time. The international career of the artist was then launched with exhibitions in Los Angeles (Dwan Gallery), Amsterdam (Stedelijk Museum), and New York (Iolas Gallery.)

Each step of this burgeoning career is represented in the exhibition by major works which have punctuated it, from the miniature « landscape-assemblages » from 1958, to Portrait of my lover and the large Grand Tir – Séance de la Galerie J from 1961, the famous Pirodactyl over New York (the last big « Tir assemblage » realised in 1962) the studies for the big King Kong from 1963 today at the Moderna Museet of Stockholm, or even the Hearts and Cathedrals which figure a return to narration in this singular œuvre.

This first magical moment (there will be others in her long career) lasted for five dazzling years. These are the years we chose to present in this exhibition. It follows shortly after the publication of Catherine Francblin's biography of Niki de Saint Phalle, the first official biography of the artist to be published in French, who will be signing her book on the opening night.

The exhibition is also accompanied by a trilingual catalogue published for the occasion, written by Dr. Norbert Nobis, Catherine Francblin, Michelle Grabner (curator of the next Whitney Biennial) and Jacques Villeglé; this catalogue is published in collaboration with the Ahlers Pro Arte Foundation which will host the exhibition in February 2014 in Hannover, a city where Niki de Saint Phalle's work is very present, particularly in the collections of the Sprengel Museum.

The exhibition takes place in two locations: 36, rue de Seine and 12, rue Jacques Callot 75006 Paris.