100th Anniversary De Stijl: Lissitzky And Oud In Dialogue
part of the Mondriaan to Dutch Design year
25 Apr - 28 Jul 2017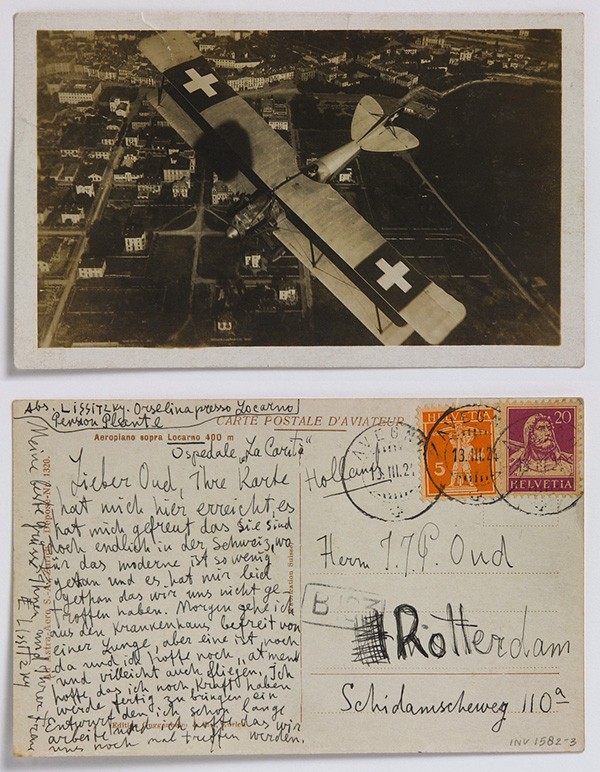 El Lissitzky, Card to J.J.P. Oud, Photo: Peter Cox, ©: Peter Cox-Eindhoven – Van Abbemuseum, Courtesy Van Abbemuseum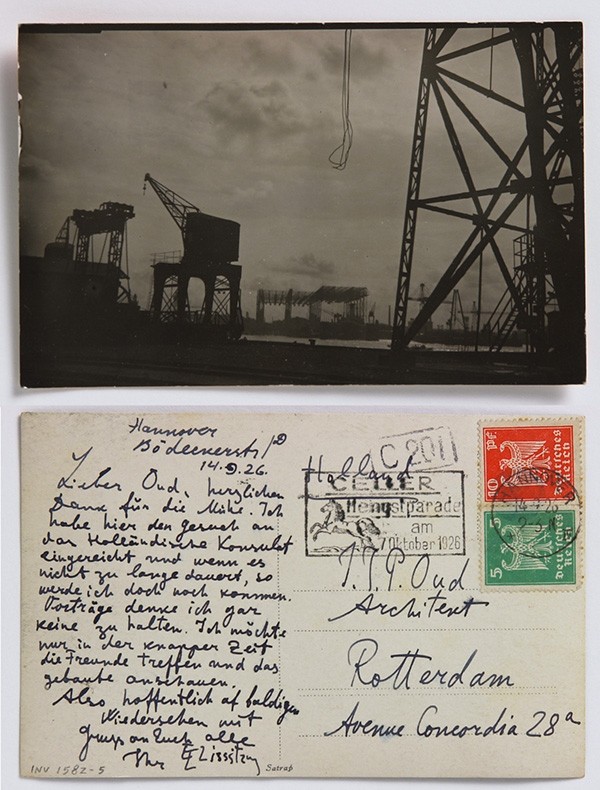 El Lissitzky, Card to J.J.P. Oud, Photo: Peter Cox, ©: Peter Cox-Eindhoven – Van Abbemuseum, Courtesy Van Abbemuseum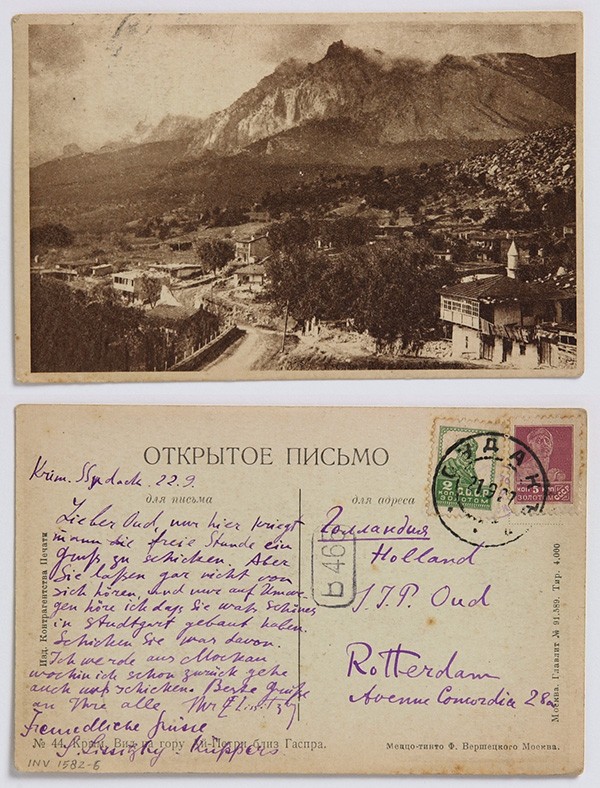 El Lissitzky, Card to J.J.P. Oud, Photo: Peter Cox, ©: Peter Cox-Eindhoven – Van Abbemuseum, Courtesy Van Abbemuseum
100TH ANNIVERSARY DE STIJL: LISSITZKY AND OUD IN DIALOGUE
part of the Mondriaan to Dutch Design year
library exhibition
25 April - 28 July 2017

Curators: Diana Franssen en Willem Smit.

In 1917 the Dutch artistic movement called 'De Stijl' (The Style) was founded, therefore 2017 has been declared the Mondriaan to Dutch Design year. The Van Abbemuseum organises four exhibitions related to this; 100th anniversary De Stijl: Lissitzky and Oud in dialogue is the first one.

In May 1923 the Russian artist El Lissitzky and the Dutch architect J.J. Oud met for the first time. Lissitzky was visiting the Netherlands in connection with the Russian Art Exhibition in the Stedelijk Museum Amsterdam in 1923. He gave lectures on the new art in Russia. The architect Oud was a member of the General Committee for Economic Reconstruction in Russia, the association which was co-responsible for organizing the exhibition in the Netherlands. An interesting correspondence developed between the two men which lasted until 1928.

This correspondence was archived in the Van Abbemuseum archives and is now exhibited in the museum library.

OPENING HOURS
The exhibition takes place in the library, which is opened from Tuesday until Friday from 11.00 am to 5.00 pm. Weekends closed. Entrance to the library is free.

2017: THE YEAR FROM MONDRIAAN TO DUTCH DESIGN
In 2017, it will be the 100th anniversary of the foundation of the Dutch artistic movement called 'De Stijl' (The Style). Established in 1917 in the Netherlands with founding members Piet Mondrian (born Mondriaan) and Theo van Doesburg, it was originally a magazine, which published Mondrian's theories on art but it grew into a wider art movement that widely influenced modern architecture, design and fashion. Over the past 25 years, the desire to modernise design and art that characterised De Stijl has been carried forward under the banner of Dutch Design.
To celebrate the anniversarye, NBTC Holland Marketing, together with its partners, has declared 2017 as the year from Mondriaan to Design. Van Abbe and De Stijl is part of the programme in Brabant.