Jan Albers
06 Nov 2009 - 16 Jan 2010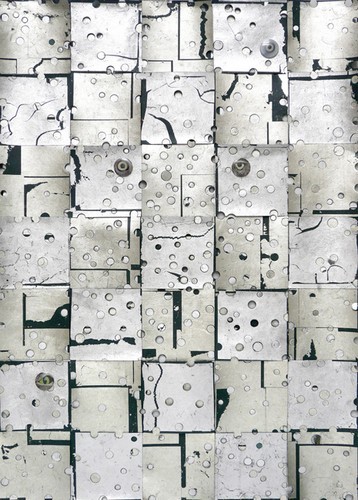 © Jan Albers
BEatSilvergold, 2009
White gold leaf, silver leaf (Sterling), collage and badges on paper
70 x 50 cm
Courtesy Van Horn, Düsseldorf
JAN ALBERS
"Die Pein"

November 6 - December 19, 2009, prolonged until January 16, 2010

"Die Pein" is the title of an exhibition revolving around a group of artworks, which deal with what we are able to bear, what humans force onto other humans, how we are dented and bent and still are strong and sturdy. It's about anger, psychological strain, empathy and the impetus which arises from this.

Everything is the result of what was forced upon it. Paper is hacked, cut up and put together anew. Lines are drifting apart and seem to explode. Metall is bent and squashed. Raw and violent powers are operating everywhere and still reveal beauty.

The works on paper, as well as the industrially made leverage, which braces the booth and puts it under pressure, are to be understood as extensive, space related drawing. On a raw, industrially pre-fabricated leverage made of anodized steel-tubes, thick, battered, powder coated tubes, which were deformed under enormous pressure, are hanging like in a slaughterhouse. They are hanging like the lines of a drawing strung up in the booth and bear witness of "Die Pein".