Timm Ulrichs
11 Jun - 30 Jul 2010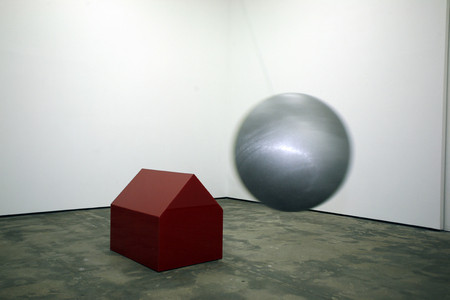 © Timm Ulrichs
Bedrohtes Haus (Projekt Damokles V), 2004
glass house, motor, steel
dimensions variable
house: 70 x 60 x 80 cm/ steel ball: 40 cm dia
TIMM ULRICHS
"Den Blitz auf sich lenken"

Jun 11 - Jul 30, 2010

Timm Ulrichs (born in 1940) is considered one of the most influential German conceptual and action artists. He writes concrete poetry, makes performance art, and works as a sculptor.

For his work, Timm Ulrichs has received numerous international prizes, but in a conscious gesture of rejection, he withdrew from the art market. Even though his early performances and happenings have art historical significance in terms of determining an avant-garde art after 1960, his entire oeuvre is often only known to insiders. As an artist's artist, Timm Ulrichs is widely respected.

Ulrichs has been active as a self-proclaimed "total artist" since 1959 when he displayed himself in a glass box and determined himself "the first living artwork". In that year, he established the Werbezentrale für Totalkunst, Banalismus und Extemporismus [Advertising agency for total art, banalism, and extemporism] in Hanover, which was to serve the propagation, development and production of total art. Under the motto "art is life, life is art", he called himself "the perfect gesamtkunstwerk".

His demonstration of total art contained about a dozen personal documents: birth certificate, inoculation certificate, school reports, military service record, dental records, x-rays, and a death certificate with the note "the missing data are to be added at the appropriate time".

Instead of found objects, Ulrichs uses his own body. A simple and simultaneously great idea: whereas with Duchamp the producer and the work were still separated, in the case of Timm Ulrichs, the artist and the work are one and the same.

Within the European art context, actions like the exhibition of himself were more than rare in the 1960s. In the US, similar art concepts of the body were developed, though more within the contexts of theatre, dance, and choreography, i.e., the performing arts. Timm Ulrichs, on the other hand, came more from the Dada movement and Duchamp.
Timm Ulrichs derives a large part of his oeuvre from postulating his body as an art object. He treats his own body as raw material – in a material as well as an intellectual sense.
Under these conditions, its individual parts, its limbs, hair, skin, nails, blood, semen can take on the characteristics of art; its internal processes and indeed its life-maintaining needs such as eating and sleeping can then be viewed differently.

In 1962, Timm Ulrichs signed his own body. His name was engraved as a tattoo on his upper arm.
In 1963, he tracked his heartbeat with a stethoscope. He broadcast it on a loudspeaker and exhibited the medical record as a musical score.
In 1966, Timm Ulrichs showed the tanning of his skin as a filmic process for the first time. The covered, untanned areas of his back, in contrast to the tanned areas, slowly reveal the word "Hautfilm" [skin film].
In 1969, Timm Ulrichs became a sperm donor at the Bremen sperm bank – ironically referring to Walter Benjamin's essay "The Work of Art in the Age of its Technological Reproducibility".
In 1973, Timm Ulrichs ate for one year according to the average consumption of Germans, precisely observing the consumption of milk, bread, and cigarettes. Four cigarettes a day.
In 1978, using professional police equipment, Timm Ulrichs had a facial composite of his own face made.

The mapping and exploration of his own body: the body becomes the object of experimentation and research, and the entire environment is related to this centre.
Timm Ulrichs's first self-exhibition had a decisive influence on body art in German-speaking countries: in the 1960s and 70s, several of his colleagues appeared with similar actions. In retrospective, it was almost a chain reaction of self-exhibitions: from Jochen Gerz, Valie Export, Joseph Beuys to Arnulf Rainer and Günther Brus all the way to Marina Abramovich.

Based on the idea of the readymade, and above all on Kurt Schwitters' Merzkunst, he takes up the artistic project of the historic avant-garde: to link art and life. He interprets the notion of an art of ideas (Duchamp) and of conceptual art since the 1960s in such a way that he makes his life, his everyday routines, his body the subject and object of his art. Since that time, Ulrichs calls himself a total artist, and since then he has been working on an interdisciplinary, heterogeneous oeuvre in which the genres of sculpture, performance, video, photography, concrete poetry and installation are all mixed. As the first 'living work of art' (Ulrichs about Ulrichs), he exhibits himself, measures his body, and exposes himself, as a living lightning rod, to the reality of life and death. That this artistic game links reality and fiction is demonstrated by his tattoo on his eye-lid: 'The End'. Ulrich creates a subtly ironic body art that intentionally distances itself from the shock effects of what is usually known as body art.

Timm Ulrichs's actions, objects, and installations do not have undoubted art historical significance, before the background of current art productions, his works gain new relevance today. Transferring conceptual approaches to social contexts and everyday situations, or questioning the role of the artist, are to this day important artistic issues. Parallels to the current artistic production are also to be found in Ulrichs's subtle analysis of language and the use of his titles as commentaries and thus as important parts of the works, but also his humour while at the same time remaining conceptually rigorous and radical.

His language games, tautologies, and actions confront the question what art is and still can be historically.

In 1969, his first total art retrospective took place at Museum Haus Lange in Krefeld, and eight years later he participated in the Documenta 6 in Kassel. Since then, Ulrichs has participated in numerous international solo and group exhibitions, among them at Stedelijk Museum Amsterdam, Kunsthalle Düsseldorf, Centre Pompidou, ZKM Karlsruhe, Museum der Moderne in Salzburg, Staatsgalerie Stuttgart and Kestnergesellschaft Hannover.

From 1969 to 1970, Timm Ulrichs was a visiting professor at Staatliche Hochschule für Bildende Künste, Braunschweig, and from 1972 to 2005 professor for sculpture at Kunstakademie Münster.

On the occasion of his 70th birthday in spring 2010, Ulrichs will be honoured with two solo exhibitions at Sprengel Museum and Kunstverein in Hanover in fall 2010.