Marcel Broodthaers
30 Aug - 30 Oct 2016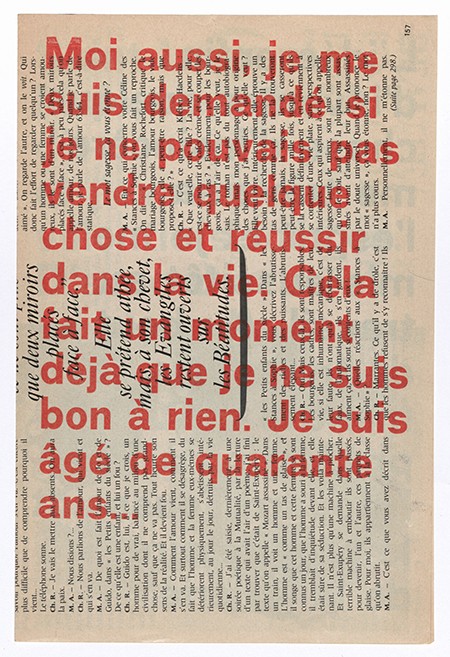 Marcel Broodthaers
MOI AUSSI... Brüssel,1964
Slg. M. Schmidt / Zentrum für Künstlerpublikationen
© Estate Marcel Broodthaers/ VG Bild-Kunst
Bonn 2016
MARCEL BROODTHAERS
Musée à vendre
6 August – 30 October 2016

Die Sammlung Schmidt

"Me too, I asked myself if I couldn't sell something and succeed in life. That was a moment when I felt good for nothing. I am forty years of age. The idea of ultimately inventing something insincere crossed my mind and I set to work immediately. After three months, I showed my production to Edouard Toussaint, the owner of the Saint Laurent gallery. 'But it's art,' he said, 'and I will gladly exhibit all this.' [...]" This sentence was composed by Marcel Broodthaers in the official invitation to his first exhibition in 1964 in the Galerie St. Laurent, Brussels. Both exhibition and statement marked, on the one hand, the end of ten years of unsuccessful activity as poet and writer, and on the other hand the inception of what was to be an uninterrupted twelve-year artistic endeavour. In its simplicity, the sentence comes across as an ironic meditation both on his thwarted poetic career and on his possible career as a visual artist.

It is precisely on the frontier, or rather in the intermediate zone, between art and literature that Marcel Broodthaers accomplished in the 1960s and 1970s a body of work that would be seminal for the future evolution of contemporary art in general and for the development of artists' publications in particular. Broodthaers continued to publish, duplicate and issue as he had been accustomed to doing as a writer, henceforth on the basis of visual parameters but without ever abandoning his literary preoccupations. Through his involvement in the circle of the Surrealists he had already become aware of the links between visual art and literature. He merely changed his position and his perspective on what interested him. Thus, from 1964 onwards, multitudinous exhibition posters, films, photographs, drawings, artist's books, multiples, open letters, tape recordings and newspapers came into being, these being not only conceived by him but also based upon his artistic specifications. Thus he was active in the domain of almost every type of artists' publication. His tape recordings complete the intermedial triad – an intermingling of visual art, experimental literature and music – of published artworks in his oeuvre.

The fascination with works situated in the intermediary zone between poetic and artistic intention is what particularly links the collector Manfred Schmidt and his wife with the oeuvre of Marcel Broodthaers. Manfred Schmidt, primarily recognised as a collector of books, is interested precisely in the connection between art and literature. And in this respect, Marcel Broodthaers has left a ground-breaking and multifaceted body of work. The Schmidt Collection includes an exceptionally representative range of works by Marcel Broodthaers in this domain, encompassing not only literary and artist's books and newspapers but also published texts and open letters, films, drawings, multiples, exhibition catalogues and posters designed by Marcel Broodthaers. In the spirit of a "Musée en miniature de Marcel Broodthaers" it represents and illustrates the whole range of the artist's production. Since 1997 the collection has been on loan to the Centre for Artists' Publications in the Weserburg museum and Manfred Schmidt has continued to enrich it over the years with further works by Broodthaers.

The exhibition in the Centre for Artists' Publications presents, in the works of Marcel Broodthaers, not only a particularly important oeuvre in the domain of artists' publications but also a collection that consistently examines the work of this artist who died 40 years ago, and that has almost doubled in size during the last 20 years. Marcel Broodthaers intention as an artist was to explore the frameworks of artistic production and reception and accordingly the relationship between art and society. Broodthaers called for the definition of art as a social convention. The question evoked in the context of this exhibition is the following: what has changed in the last 40 or 50 years?