Ray Johnson
I like funny stories
01 Jun - 01 Sep 2012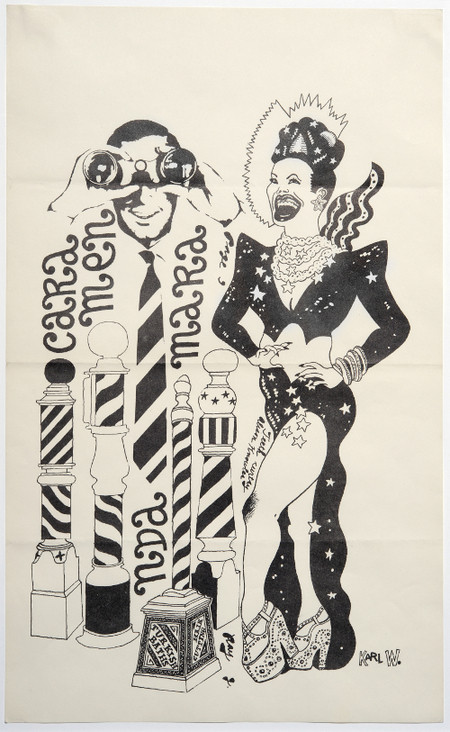 Ray Johnson
A Book About Death, 1964 (Seite 9)
Sammlung Maria und Walter Schnepel © Ray Johnson Estate, Courtesy Richard L. Feigen & Co.
RAY JOHNSON
I like funny stories
1 June - 1 September 2012

The New York Times called him "the most famous unknown artist in New York." In fact Ray Johnson (1927–1995) remained an insider's tip for a long time. The significance and influence of his oeuvre, though, cannot be valued highly enough. Ray Johnson was involved in a lively exchange of ideas with the most important artists of his era, from John Cage to Andy Warhol. For him, art was a communicative process which could also take place apart from established institutions. Pursuing this idea, he built up during the 1960s, under the name "New York Correspondance [sic] School," an extensive network of postal communications and is accordingly considered to be the founder of the international movement of Mail Art. He mailed to friends, acquaintances, and also to strangers innumerable, mostly small-sized works. These include drawings, collages, reworked photographs and postcards, as well as personal messages and short notes.

An exceptionally high quality is characteristic of Ray Johnson's collages, which include aspects and materials from the media and pop culture. He combined in a Neo-Dadaist manner cuttings from newspapers, magazines, comics, and other sources, most often mounting them on cardboard and complementing them with ink drawings, personal dedications and thoughts. The highly unusual pictorial inventions testify to an insatiable delight in experimentation, innovative energy, and a subtle sense of humor. He himself designated his collages with the term "moticos," an anagram of the word "osmotic."

Ray Johnson repeatedly revised his works and combined them with other set-pieces in an ongoing process lasting years, even decades. Individual motifs such as the famous Bunny Head, the stylized head of a rabbit which Johnson used as a sort of signet, come to the fore in various contexts and decades. There developed in this form a complex iconography which renders the oeuvre of Ray Johnson utterly distinctive. Numbering among the best-known works are his collages with portraits of Elvis Presley and James Dean as well as the Lucky Strike logo, which all emerge from the background of Pop Art.

The basis of the exhibition is the collection of Maria and Walter Schnepel in Bremen, which brings together more than 170 works and documents from the 1950s and 1960s. The private collection thereby possesses an extraordinary set of early works of the artist. Particular highlights include his "Book About Death" and the artist's book "Paper Snake", published by Dick Higgins, a Fluxus artist and friend of Johnson's. It has been possible to present almost all of the original works which were used as models for Paper Snake in the framework of the exhibition. The Weserburg thereby conveys in an impressive manner insights into the complex methods of thinking and working characteristic of the exceptional artist Ray Johnson.

The private collection of Maria and Walter Schnepel enjoys great international esteem. Its major focuses include works of the Fluxus movement as well as artistic positions closely related to the avant-garde movements of the 1960s. The collection comprises more than 1300 works by such renowned artists as Arman, Joseph Beuys, George Brecht, Robert Filliou, Richard Hamilton, Yoko Ono, Dieter Roth, Takako Saito, Ben Vautier, and many others. The collection has been represented in the Weserburg since 2002 with significant individual loans, changing presentations, and various exhibitions.

Appearing on the occasion of the exhibition "Ray Johnson. I like funny stories" is a profusely illustrated catalogue with introductory texts by Carsten Ahrens and Ingo Clauß.