Camille Henrot
21 Feb - 10 May 2015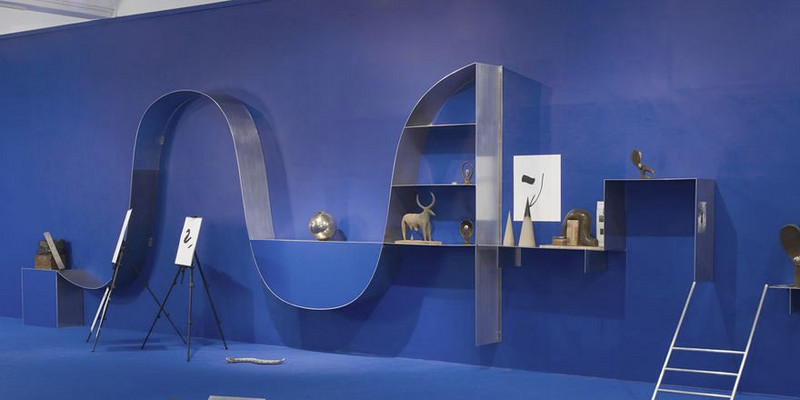 Camille Henrot
The Pale Fox, 2014
installation view, Chisenhale Gallery
Commissioned and produced by Chisenhale Gallery in partnership with Kunsthal Charlottenborg, Copenhagen; Bétonsalon – Centre for art and research, Paris and Westfälischer Kunstverein, Münster. Courtesy kamel mennour, Paris and Johann König, Berlin. Photo: Andy Keate. © ADAGP
CAMILLE HENROT
The Pale Fox
21 February - 10 May 2015

Produced by Westfälischer Kunstverein in partnership with Chisenhale Gallery, London; Kunsthal Charlottenborg, Kopenhagen and Bétonsalon – Centre d'art et de recherche, Paris.

"The Pale Fox" is dedicated to our endeavour to make sense of our world and our existence via objects that surround us and the way in which they relate to one another. Camille Henrot (b. 1978) orders and arranges over four hundred photographs, watercolours, bronzes and artefacts according to principles that obtain from the most diverse cultural, philosophical and biological contexts, primarily demonstrating, in a superimposition of this kind, the excesses of this compulsive desire for order that purportedly leads to the acquisition of knowledge. The "Pale Fox" in the title is taken from an anthropological study of the West African Dogon tribe (Griaule/Dieterlen 1965). In their religion, the pale fox stands for disorder and chaos, but equally for genesis and becoming; disorder is judged thus not as a transgression but as a necessary condition for creativity. At the same time, for Henrot, the figure of the pale fox represents a symptom of our digital age: the avid human driven by curiosity and impatience, whose pale complexion reflects the luminous play of the computer screen through which he peers at the world at night from the sanctity of his foxhole.