Katja Novitskova
Invasion Curves
27 Jun - 02 Sep 2018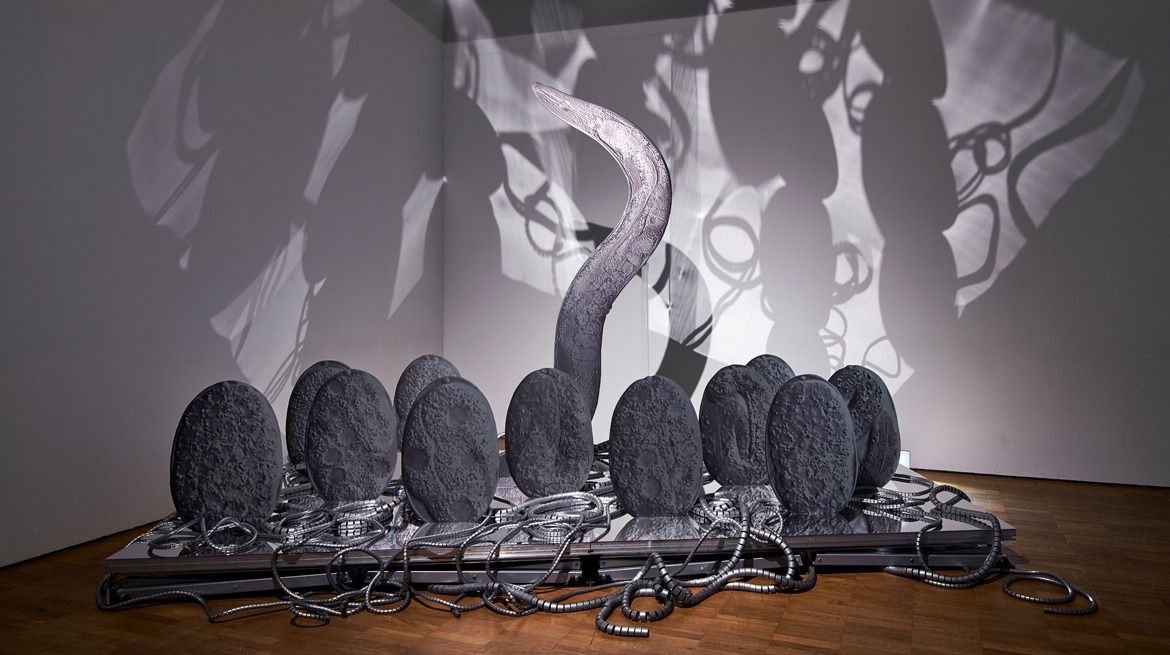 Katja Novitskova
Pattern of Activation (embryogenesis), 2018 (detail)
12 digital prints on aluminium (adult worm and eleven eggs), acrylic glass, cutout display, cable covers
dimensions variable
Courtesy of the artist; Kraupa-Tuskany Zeidler, Berlin; Greene Naftali, New York. Photo: Tõnu Tunnel
Trawling through the digital sphere's 'ocean of signs', Katja Novitskova (b. 1984, Estonia) creates immersive environments inhabited by a luminous bestiary. She is known for her dramatic, cutout images of animals at play with representations from financial and scientific sources. Her latest installation presents a landscape overcome by a 'biotic crisis', where imaging and technology are used in a process of mapping the exploitation of life.

Images captured by scanners, cameras and satellites – from the bodies of lab organisms to the flows generated by image processing algorithms – are rendered as vivid sculptures, and projections. Worms defy gravity and genetically modified life forms hatch from eggs among a tangled undergrowth of cables. At the heart of the exhibition, modified baby rockers gyrate eerily.

Surrounding this unsettling landscape, floating resin clouds are inscribed with phrases speculating on the impact of global data on our consciousness and the environment. Growth curves, derived from corporate culture, echoed in the forms of the worms and cables, offer a wry comment on humanity's drive towards advancement in the name of profit.

The display brings together elements from Novitskova's presentation at the Estonian Pavilion, 57th Venice Biennale, 2017.