Martin Kobe
26 Oct - 24 Nov 2007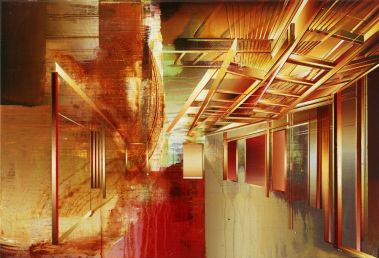 Martin Kobe
Untitled
2007
Acrylic on canvas
19 11/16 x 29 1/2 in. (50 x 75 cm)
Photo: Todd-White Art Photography

Martin Kobe
Behind True Symmetry
26 Oct—24 Nov 2007
Hoxton Square

White Cube Hoxton Square is pleased to present eight new paintings by the Leipzig-based artist, Martin Kobe. Born in Dresden during the German Democratic Republic (GDR) regime, Kobe draws from the surrounding socialist urban planning and architecture that dictates form, function and uniformity. Influenced as much by his own collection of architectural blueprints, travel photography and art historical images from Piranesi, De Stijl, International Style and the Bauhaus, Kobe deconstructs any architectural aspirations and reinvents his own living spaces.

Kobe's visionary matrices of uninhabited, yet familiar interiors implode from multiple vanishing points, jutting and traversing in a misleading convergence. The labyrinth of intersecting beams, suspended facades, recessive panelling, blinds, latticework, sloping roofs and broken window frames draw the viewer into a free-flowing space, unbound by reality and temporal limitations. Liberating them from their function, Kobe reconfigures floors for ceilings or walls for windows, playfully suggesting voids, which equally can be read as sheer surface or reflections that converge, yet never meet a horizon. In his catalogue essay Mark Rappolt suggests: 'Kobe's paintings are a remarkably true reflection of the way in which we experience space in day-to-day life. We walk down a street, into a corridor, through a doorway, into a room, up to a corner, etc. And then we assemble these fragmentary experiences and impressions to form our own idea of a whole... a mental map of space through which we have just traveled.'

Varying in their formats, Kobe's new paintings are fractured and layered with emotional dialectics of colour / light, texture / plane, internal / external, fact / fiction. The palette consists of piquant synthetic tones; cooler greens complement warmer reds or rich magentas, while multi-directional lighting enhances the artificiality of even polished planes or plastic surfaces. Autonomous details such as bridging walkways, balconies and railings slip into areas that remain unresolved. Traces of reworked drawings and gestural mark-making, where the paint has been bled, scratched or rubbed down to the bare canvas reminds us that Kobe's investigations are as much about painting as they are about distorted utopias.

Martin Kobe was awarded the Karl Schmidt-Rottluff Scholarship and had a solo exhibition entitled 'The centre cannot hold' earlier this year at the Staatliche Kunstsammlungen, Dresden. He has recently exhibited at Christian Ehrentraut, Berlin, Sammlung Essl, Austria, SAFN Reykjavik, Iceland and participated in the US museum tour of 'Life after Death: New Leipzig Paintings from the Rubell Family Collection'.

A fully illustrated catalogue, with an essay by Mark Rappolt, will accompany the exhibition.

White Cube is open Tuesday to Saturday, 10am to 6pm. For further information, please contact Honey Luard or Sara Macdonald on +44 (0)20 7930 5373.