Felix Bernstein
15 - 16 Jan 2016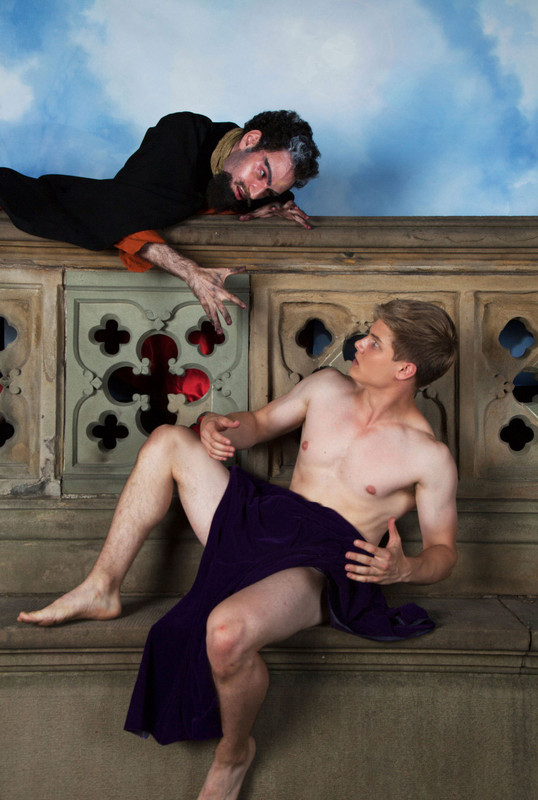 Felix Bernstein and Luke Smithers
Bieber and the Elder (promotional photograph for Bieber Bathos Elegy), 2015
Photograph by Luke Smithers
FELIX BERNSTEIN
Bieber Bathos Elegy
15 – 16 January 2016

In this hybrid work of musical performance, New York-based artist, poet, and writer Felix Bernstein shifts from poetry to cabaret drag to lonely web voyeurism to deconstructive criticism to opera. Bringing into the light issues of identity and persona, Bernstein ponders the concept of bathos—the anticlimax that comes with the descent from the sublime to the ridiculous. Set to new music by composer Rron Karahoda, pop star "Justin Bieber" visits the stage as a prophetic angel to critique Felix's perverse rapture and hysteria, while avant-garde vocal artist and pioneer Shelley Hirsch leads a youth's chorus in a rendition of "Tomorrow" from Annie. Felix's frequent collaborator Gabe Rubin directs and appears as a solemn sprite in a haunting version of Cole Porter's "Every Time We Say Goodbye."

The theater entrance features a special installation, "O Felix Culpa: Logos Spermatikos," by artist Thomas Lanigan-Schmidt.

Bieber Bathos Elegy is organized by Jay Sanders, Curator and Curator of Performance, as a co-commission with NYPAC, the New York Performance Artists Collective, with residency support from Pioneer Works.

Event tickets are required. Please note: this event has reached ticketing capacity. A limited number of standby tickets will be sold at the admissions desk on a first-come, first-served basis one-hour prior to each performance ($10 adults, $8 students and seniors; free for members and children under 18).
Major support for the Whitney's Performance Program is provided by The Andrew W. Mellon Foundation. Generous support is also provided by the Performance Committee of the Whitney Museum of American Art.