Photography and the Self
20 Dec 2006 - 11 Mar 2007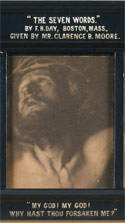 F. Holland Day, The Seven Words (Detail), 1898
7 Platinum prints in wood frames. Collection of Bruce Silverstein; courtesy of Silverstein Photography, N.Y.
Photography and the Self
The Legacy of F. Holland Day
December 20, 2006 - March 11, 2007

Soon after the dawn of photography in the nineteenth century, artists working with a camera began to photograph themselves. By the 1960s, they were using the medium extensively to explore the use of their own bodies as the raw material of their art. This exhibition includes prints from the Museum's permanent collection that reflect various types of self-portrayal from the 1960s to the present, and one work that foreshadows them all--F. Holland Day's The Seven Words, 1898. Day's bold depiction of himself as Christ provides a reminder of an aspect of the history of photography in the United States that was obscured by the long shadow of Modernism. Artists such as Charles Ray, Francesca Woodman, Robert Mapplethorpe, Cindy Sherman, Lyle Ashton Harris, and others have continued this tradition while forging new territory by using their own bodies as an integral part of their art.