Undone
20 Sep - 31 Dec 2007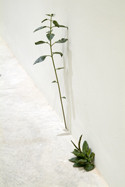 Tony Matelli, Abandon, 2005
Bronze, brass, stainless steel, and paint, dimensions variable.. Collection of Mark Vanmoerkerke; Courtesy Leo Koenig Inc., New York, and Andréhn-Schiptjenko, Stockholm
Undone: Tom Holmes, Tony Matelli, Eileen Quinlan, and Heather Rowe
September 20, 2007 - December 31, 2007
Whitney Museum of American Art at Altria

In Undone, the perceived completeness of form, space, or identity is defined by its own fragmented, unfinished, or unraveling condition. The works, commissioned for this exhibition, reference and subvert viewers' expectations about medium and exhibition space. Tony Matelli's hyperrealistic bronze weeds "overgrow" the Gallery, undoing their white box environment. Heather Rowe has created an architectural screen that at once uses and deconstructs the corporate surroundings of the Sculpture Court. Eileen Quinlan's photographs of smoke reflected in broken mirrors offer an unusually literal disclosure of process that's contradicted by their own aesthetic opacity. Tom Holmes constructs photosculptural works that mishandle and transmute the medium as a metaphor for the fracturing of identity as a contemporary condition.

This exhibition is made possible, in part, by Altria Group, Inc.